This New True Crime Series Uses Chilling Courtroom Footage To Recap Disturbing Cases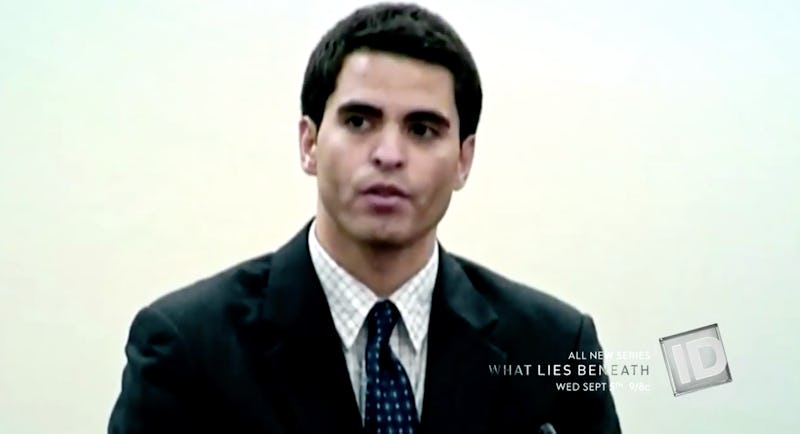 Investigation Discovery
Adding to its ever-increasing lineup of true crime shows, What Lies Beneath premieres Sept. 5 at 9 pm. ET on Investigation Discovery. According to the series synopsis, What Lies Beneath stands out from other true crime shows because of its emphasis on using trial footage "as tantalizing flash-forwards that tease the audience and create a riveting whodunit thriller." The first episode follows the case of Adam Matos, who is still in prison following his conviction on four counts of first-degree murder, according to the Tampa Bay Times. Matos was convicted in 2017, three years after he murdered his ex-girlfriend Megan Brown, her parents, and her new boyfriend. And though he was up for the death penalty, he managed to narrowly avoid it.
Even the judge, Mary Handsel, was surprised that Matos missed the death penalty by a single juror, according to another Tampa Bay Times article. In Florida, jurors must unanimously vote for the death penalty, and only 11 of 12 could agree. "If there was ever a case that I've ever heard that 12 people would have decided that death was appropriate, this was probably it," the judge said.
The details of the case are brutal, with Matos shooting and beating all four victims before leaving his and Brown's four-year-old son alone with the bodies for hours over the course of five days, according to that second Tampa Bay Times article. The child has since been adopted by Brown's cousin's mother, according to WFLA, and reportedly remembers his father's crimes in detail.
"He tells us daily what he saw and what he remembers. He tells us things along the line of, 'Daddy made a boo boo on my mommy's head and there was a lot of blood,'" Brown's cousin said, per WFLA. "And he tells us things like, 'then he put them in a car and were all gone and he never saw them again.'"
Here's A Recent Mugshot Of Matos:
Another Tampa Bay Times article reports that Matos eventually moved the bodies to a berm on the side of a Florida road and stacked them four high. He triggered police suspicion when he sold the family's dogs on Craigslist and purchased pizza with Brown's card following the murders, per another Tampa Bay Times article.
During his trial, Matos claimed he killed in self-defense. The jury didn't buy his arguments and eventually sentenced him to life in prison without the possibility of parole for all four counts according to the first Tampa Bay Times report.
Matos' testimony was nearly three hours long, according to another WFLA article. It was all caught on camera, and it's likely to be featured in the Investigation Discovery episode as part of the series' focus on courtroom footage.
A year after his conviction, Matos is still serving out his life sentence in the Blackwater River Correctional Facility, according to the Florida Department of Corrections. He's 32 years old as of 2018.
You can watch this chilling case unfold on Investigation Discovery beginning at 9 p.m. ET on Sept. 5 and see real footage of the trial that sent Matos away for life.