Adele's 2017 Tour Isn't What You Think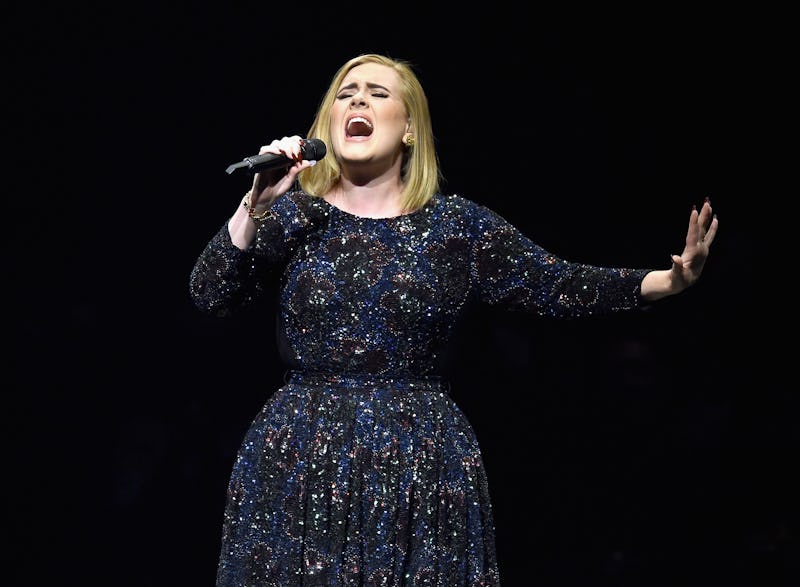 Kevin Winter/Getty Images Entertainment/Getty Images
With the Grammys just around the corner and music at the forefront of everyone's minds for the moment, you might be wondering whether or not Adele is going on tour in 2017. The answer is a bit complicated, so let's say yes and no, and I'll explain why. The 28-year-old singer and songwriter is up for a slew of awards at this year's ceremony, and most artists would want to capitalize on that publicity with a tour. You know, so they can see their popularity translate into ticket sales. But even if Adele comes away with the top awards on Sunday, she's unlikely to follow those wins up with a tour, because she already did that part.
Her most recent album 25, is up for 2017 Grammys. It actually came out in 2015, but it was released too late in the year to be eligible for the 2016 Grammys. Accordingly, Adele launched her Adele Live 2016 Tour to promote 25 in 2016, as the title suggests. It began in Belfast, Ireland, on Feb. 29, 2016, and toured throughout that year and into the next. Because of that, the tour stops she has listed in 2017 — ending at London's Wembley Stadium on Jun. 29 and Jul. 1 — are merely the third and fourth legs of that pre-existing tour, rather than the beginning of a new one.
It's a bummer, I know, especially because Adele typically takes at least a couple years in between tours, not to mention albums. But the talented singer will have been on the road on-and-off for a year and a half by the time she wraps up the Adele Live 2016 Tour, so we should probably cut her some slack. Your girl's been working hard, and she doesn't even like touring.
Plus, look on the bright side: this just gives you more time to save up for the next tour, and it gives Adele some downtime to start writing her next album. Fingers crossed that the title starts with a 2 and not with a 3, because I don't know if I can stand waiting another four years between albums. I'm not strong like you, Adele. I have needs.