'All American' Is Based On This NFL Player's Real-Life Beginnings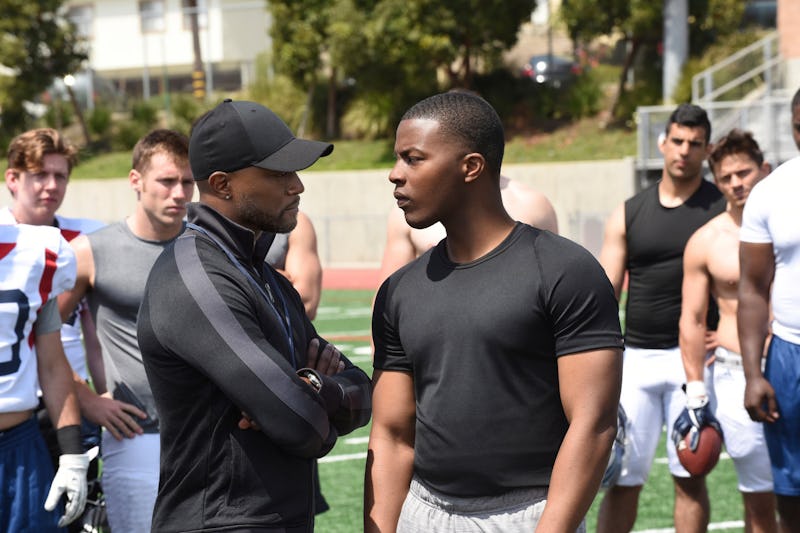 CreditCreditRay Mickshaw/CW
Long after Friday Night Lights took its final bow, a new high school football-focused drama is emerging on the CW. All American brings together Taye Diggs and Daniel Ezra as a coach and player duo who work together to build a better future and a better football experience for Ezra's character of Spencer. As the title suggests, it's a narrative deeply rooted in stories we've seen time and time again in this country, but is All American based on a true story?
As it turns out, All American is actually based on the true high school experience of one ex-NFL player. According to the Los Angeles Times, Spencer Paysinger's life serves as inspiration for All American. The show's Spencer transfers from his high school in Crenshaw, Los Angeles to a rich, affluent high school in Beverly Hills. The same thing happened to Paysinger, who the Times reports was raised in a rougher South-Central L.A. neighborhood but played ball at Beverly Hills High School. According to Forbes, Paysinger later spent 7 years in the NFL with stints with the New York Giants, the New York Jets, the Miami Dolphins and the Carolina Panthers, before seemingly putting that on hold in late 2017.
Paysinger himself is also very involved in the show, telling a local CBS news affiliate that he was consulting producer over the entire series. "I had the luxury of being a consulting producer to go within the writer's room a couple days a week and also to be on set as often as I wanted. This is something I've wanted to do since retiring from football so I'm soaking up as much as I can and being there as often as I can."
He also said that though the show is loosely based on his life, it's not a carbon copy — instead, he gave the people working on the show notes and stories about his experience at large that might help with creating something that resembles his real life. "There are a lot of similarities within the show," he continued in the same interview. "Starting out, creating the pilot everyone will see I gave a lot of stories and memories of my past to the writers to allow them the creative freedom to go and make a compelling story. It's not 100 percent my story but the bones of it are truly accurate."
Diggs' role as Spencer's coach is also based on a real experience, though not exactly one single person — according to the Miami Sun-Sentinel, Paysinger got accepted at his new school because of his talent and the work of his family members at the Beverly Hills institution. "Me and both my brothers got permits to attend Beverly because two of my uncles and my uncle's wife all taught and coached at Beverly Hills High," he told the outlet.
The vastly different backgrounds and worlds of Spencer and his Beverly Hills classmates and teammates serves to be a bit of a study in diversity and how someone's background can affect their personalities and reactions to the world around them. That's also something drawn from real life, and was a purposeful choice for Paysinger and the showrunners.
The former football player said in the same interview that he thinks that mixed exposure helped shape him as a person. "I think it gives me a good understanding of different ethnicities, different cultures and respecting them for how they were brought up, and hopefully they respect me and how I was brought up, he said. As Paysinger continues his work on the show, he's got a lifetime of experiences to draw from, and he seems perfectly prepared for the story he wants to tell.
This post was originally published on Oct. 10, 2018. It was updated on Aug. 21, 2019.