This New Freeform Comedy Is 'When Harry Met Sally' If They'd Just Stayed Friends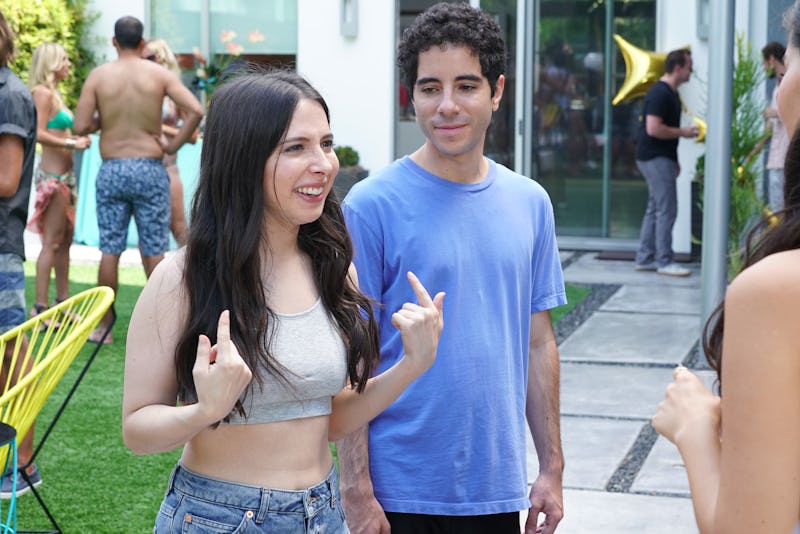 Freeform/Byron Cohen
Can a woman and man be just friends? Of course they can. And here to prove it are stand-up comedians Esther Povitsky and Benji Aflalo, stars of Freeform's quirky comedy Alone Together premiering on Jan. 10. The show follows two platonic, millennial misfit pals looking to make their mark in the socially hip city of Los Angeles. Povitsky and Aflalo's characters share the same names as them, which begs the question: is Alone Together an autobiographical show?
The new series is indeed based on the real-life friendship of Povitsky and Aflalo, according to Variety. The pair met and became close while training with improv groups and pursuing careers in comedy in California. Many of their friends apparently commented that the two had a "weird" relationship that would make a good show. From there Povitsky and Aflalo decided to turn their strictly platonic friendship, which Povitsky described as "almost like siblings," into a short film. Alone Together is based on this short.
Like the short film, Alone Together takes cues from both Povitsky and Aflalo's real lives for its storytelling. "It's me but exaggerated," Povitsky told Variety of her character Esther in the same interview. "We're both short and the youngest siblings and have parents who don't think we're that special." And since the show is based on Povitsky and Aflalo's real friendship, which their friends found strange thanks to their constant bickering and the amount of time they spend together, Esther and Benji on the show are constantly asked by their friends if they're dating, too.
Using their real lives as source material for the show gave Povitsky and Aflalo a jumping off point to be as creative as they wanted to in terms of storytelling. Povitsky told Variety that she was eager to share everything she's done in real life with the rest of the creative team, in addition to the things she'd want a fictionalized version of herself to try. In the show, that manifests with the pair doing things like "shooting their own music video, standing in line for a Lip Kit Pop Up and even trying their hand at retirement life, according to Deadline.
While the show has yet to even premiere, Alone Together was renewed for a second season by Freeform in October 2017, according to Deadline. "We are so proud of [Alone Together] as it perfectly embodies the evolving Freeform brand and our dedication to programming for the 20-something viewer," Karey Burke, Freeform's executive vice president of programming and development said to Variety. "Our audience will quickly fall in love as we did with real-life best friends Esther and Benji, who navigate a world of perfect 10's as self-proclaimed 6's."
But this isn't their first TV rodeo. In addition to their stand-up comedy pursuits, Povitsky and Aflalo have appeared on and worked for a variety of other shows individually over the years. Povitsky appears as Maya on "Crazy Ex-Girlfriend" and also worked on "New Girl," while Aflalo has wrote for Comedy Central "Roasts" of Justin Bieber and James Franco. In addition to starring in the series, the duo also serve as writers on Alone Together.
Will Esther and Benji be able to shake off stereotypes surrounding their friendship? Can they make it in Los Angeles? All this and more will be answered when Alone Together premieres Jan. 10 at 8:30 p.m. ET on Freeform.
Editor's note: After publication, we discovered this article did not meet our editorial standards: There were portions that did not correctly attribute another source. It has been updated to meet our standards.