Amber Rose Has Lilac Hair Now & She Looks COMPLETELY Different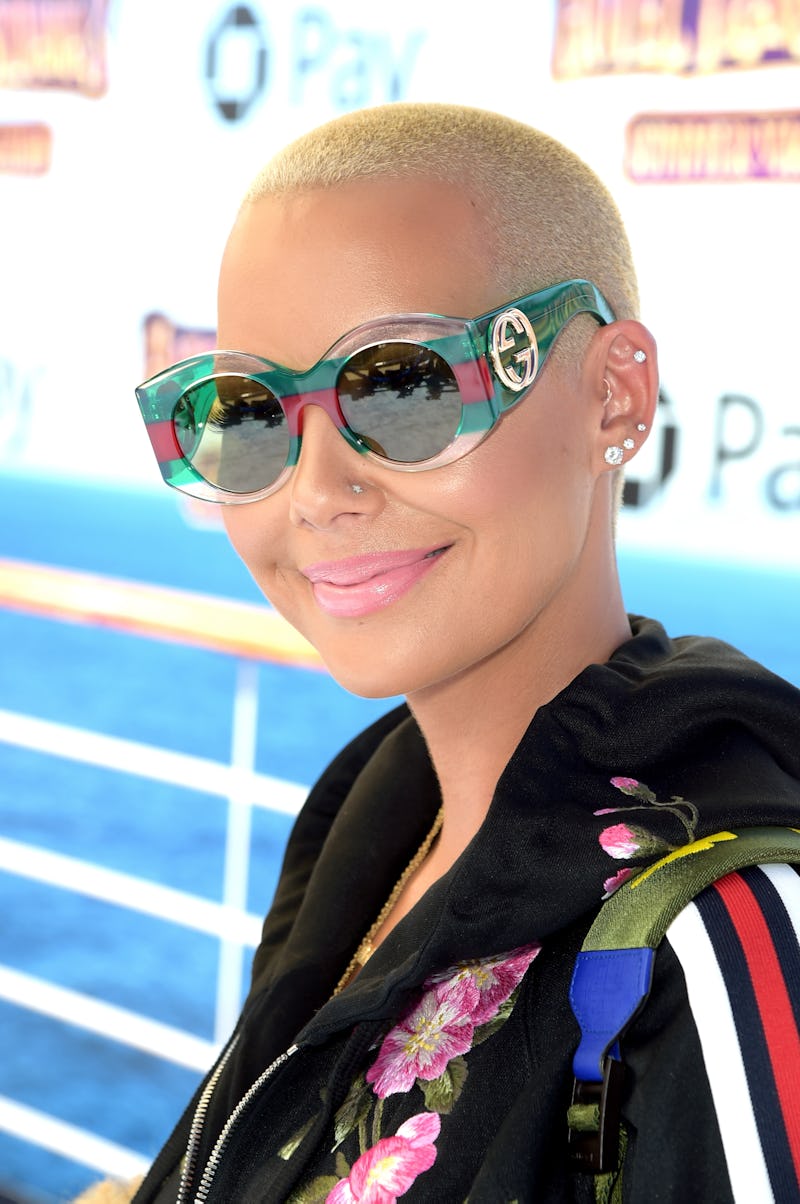 Kevin Winter/Getty Images Entertainment/Getty Images
Just when you think the pastel trend is on its last leg, another celebrity gets their hair done in a cotton candy color and the world falls in love all over again with the pale hues. Amber Rose debuted lilac hair, and the model and activist will inspire you to try out the purple trend yourself before the summer is over.
But is Rose's color permanent? As we know, going a pale shade takes a lot of consideration, bleach, and hours in the salon (if not multiple appointments,) so the hair swap takes a lot of commitment. As it turns out, Rose opted for a lilac wig rather than coloring her hair directly, choosing to keep the new style only for a day or two. Rose debuted the purple style at Ace of Diamonds in West Hollywood, where she showed up wearing a '90s-esque, from-fitting black dress, bubblegum pink nails, and her new lilac hair clicked back and made to look wet and gelled.
The cut hit her just in mid-back, but it wasn't a one-dimensional, one-color lilac hue. Instead, the wig had multiple different shades in it. The hair was the lightest at the roots, where it appeared to be slightly silver but with a light pink tint. It was nearly iridescent — think of the inside of a seashell and how it's pearly with hints of pink and purple.
After the roots, the hair darkened into a light lilac color that is so on-trend with summer's hair fashion. It had a silver pearl to it, so when the paparazzi light bulbs flashed, pops of silver would come out. It was a new and fresh take on the lilac color trend, and was a playful pop against her minimalist and slinky black dress.
While Rose hasn't posted any selfies with the new hairstyle onto her social media accounts (and hasn't tagged any stylists in the captions,) one can assume it's a wig because of the length of the hair. Rose's trademark hairstyle is her peroxide blonde buzz cut, and she has photos of her rocking that look as early as two days ago. There's no way her hair grew nearly 12 inches just over night.
Even though it was just a temporary flirtation with the light-toned color, Rose isn't the only celebrity tinkering around with the shade. Ariana Grande, for example, got pastel hair this July as well, but she changed hers almost as quickly as Rose did. She had a blue-grey tint for the first half of the month, but then ended July by swapping out the blue for a pink, debuting waist-length lilac hair on Instagram.
Then there was also Katy Perry who tinkered with the color. She didn't go with a pastel, cotton-candy like-shade, but still tried on purple. Perry's pixie cut was colored a vibrant, almost metallic purple hue.
More and more people are vibing with purple this summer, and if you're feeling it yourself, consider asking your stylist to go that route during your next appointment!