Anne Hathaway Has Red Hair Now & It's Such A Drastic Change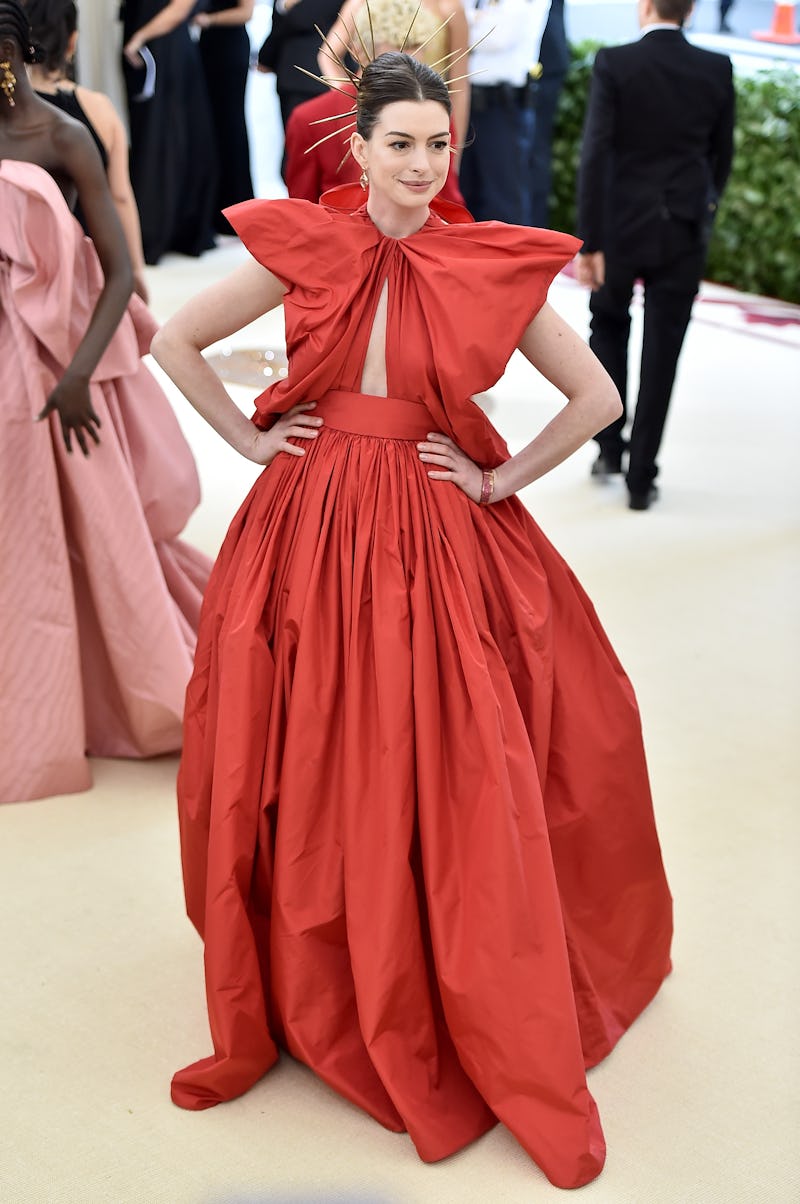 Theo Wargo/Getty Images Entertainment/Getty Images
When a celeb is largely consistent with their look, any changes are viewed as drastic. Actor Anne Hathaway is known for her signature, dark brown, and usually long locks. When she hacked her hair off into a pixie for Les Miserables, people were blown away. Anne Hathaway has red hair now and it's markedly different — simply because we are used the the Oscar winner rocking dark, long, and lush locks.
That said, a stroll down Hathaway's hair memory lane proves that she is a bit more adventurous with her hair than you might remember or give her credit for!
Hathaway was snapped on set of The Last Thing He Wanted in Puerto Rico, rocking shoulder-skimming, center-parted, and loose, flowing waves. You can see Hathaway's strawberry blonde hair here. It's more red than it is blonde — but it definitely has traits of both. It's nothing if not unique.
Since we're used to seeing the star with chocolate locks that usually tumble down her back, this felt like quite the change of pace since it is much lighter. But it's not the first time she has switched up her strands' style for her job.
Her aforementioned Les Mis pixie was a huge deal. Not only did Hathaway look gorgeous since the short cut showed off her features and her neck, but she also earned an Academy Award for her work.
She was all in then and remains fully committed to her craft — even when it means altering her follicles.
Here's Hathaway earlier this year. She rocked brunette locks with some caramel highlights, which were woven through the ends of her hair.
Based on a visual comparison, she appears to have shed some length with the new red 'do. It's not dramatically shorter but it is a noticeable difference. That said, it's the coppery hue that's most different from her usual.
Hathaway has opted for reddish and strawberry blonde-like in the past. This pic (and therefore this look) is nearly two-and-half years old. But her current red hair —both color and length— is rather similar to this reddish hair!
Yes, the Anne Hathaway faithful has expressed its support of her red locks. They are feeling it.
Fans think she is slaying that shade. Because of course she is. The actor hasn't said too much about her latest look, but she has been retweeting the mentions. She sees you.
Let's look at some of Hathaway's hairstyles through years. Rewind to 2012 when Hathaway slayed her cropped coif. She was a straight up stunner with her all-black outfit and killer heels. Like Halle Berry, the pixie totally worked for her.
Hathaway was growing out her locks in 2013. The shiny texture and sideswept bangs had such an Audrey Hepburn vibe.
The actor didn't ditch the short style immediately. She stuck with it, showed off its versatility, and went a bit lighter with her hue.
By 2015, though, Hathaway had grown out the pixie and showed off a richer, coffee-like shade.
Hathaway has gone blonde-ish — like back in 2016. This is the look most similar to what she's rocking on set RN.
She does like to go lighter from time to time.
Check out those voluminous, glossy, and dark curls from 2017. And peep that negative space neckline while you're at it.
Even though she does make subtle updates to her strands here and there, Hathaway doesn't veer to far from her signatures. But when she does...
... we notice. Like that time that she went platinum blonde.
Call it a pit stop at platinum. It was absolutely striking.
While Hathaway has had hair chameleon moments, here's a true flashback Friday moment that really demonstrates Hathaway's hair hallmarks. Long? Check. Waves that look all sorts of loose, natural, and bedhead-like? Check. Some subtle, cocoa highlighys sprinkled throughout? Check.
Hathaway looks terrific with red hair. She will likely return to her beloved brown when she is finished shooting. But we can still admire it and marvel at her lightened locks.