What's Really Going On In 'The Punisher's Private Military Corporation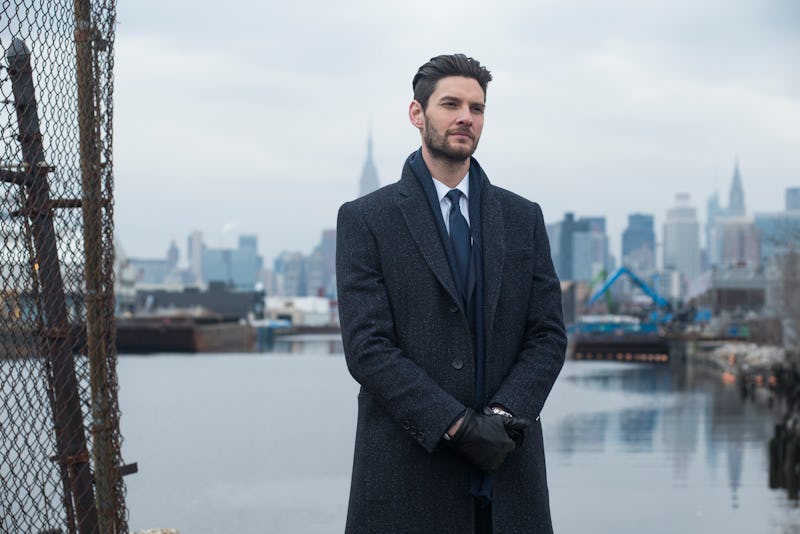 Nicole Rivelli/Netflix
In the debut season of the Daredevil spinoff The Punisher, the story delves deeper into the government corruption that was teased with Frank Castle's storyline in the former. Spoilers for Episodes 1-6. In Punisher, ANVIL is a "successful" private military contractor run by Billy Russo (played by Ben Barnes), who's a close friend of Frank Castle from their time in the Special Forces. After his service ends, Billy decides to go into private business. But is ANVIL based on a real company?
Private military corporations or PMCs definitely do exist. In fact, there are dozens of PMCs all over the world that offer the gamut of services, from surveillance to security and more. Some of the most famous and influential, according to Spec Ops Magazine, include corporations like: Academi (formerly known as Blackwater), Aegis Defense Services, and G4S Security. However, there isn't a real operation called ANVIL, as you may have guessed.
For those who may have missed the teases going back to September, here's how the show's marketing hinted at this company's importance to the story. The term "ANVIL" showed up on an Instagram photo of redacted info made to look like The Punisher's logo. And in the show itself, ANVIL is where Special Agent Dinah Madani (Amber Rose Revah) schedules a training session with her squad from Homeland Security. She does so to get in contact with the head of the company: Russo… to get information on the presumed dead Frank Castle.
But, with Billy Russo at the helm of the ANVIL, things are clearly set to go badly. And it's a fair guess also that ANVIL is the front from some illegal and dangerous dealings. While Russo was friends in active combat for years with Castle, in the comics, Billy Russo actually becomes a supervillain who faces off against the Punisher: Jigsaw. In the comics, Russo was known as "The Beaut." He was a attractive assassin who worked for the Maggia crime family. After a run-in with The Punisher, however, his handsome facade is destroyed. His face was torn apart following an explosion from The Punisher and after sewing it back on, he took the new identity: Jigsaw. Committed to continuing to kill and now wanting revenge on the Punisher, he would become a regular Punisher villain.
And it's looking as though Russo will eventually face off against Castle in the TV show, too. That seems to be the case because Barnes hinted at Frank Castle needing something of a foil in an interview with Da Man. Moreover, Barnes mentioned filming action sequences in Brooklyn, through there don't appear to be any of those in the first six episodes. So perhaps that's where the eventual Frank/Billy showdown will be.
"It was a great challenge to find a character to appear opposite the Punisher," Barnes told the publication. "When a character is compelling and violent and charismatic like that, the challenge is to find the qualities that will balance him out or complement him. It was also pretty physically grueling in the action sequences—a lot of very cold night shoots in Brooklyn, New York. I always had some injury or other during the course of the season."
In Episode 6 of this first season, it's revealed that Russo tried to double-cross Castle and turn him over to the man who had sent a death squad after him… and nearly killed him. What remains to be seen, however, is whether or not Russo is actively aware that he nearly put Castle in mortal danger and whether or not he's working with Agent Orange for his own self gain. So, will Russo turn into Jigsaw? This "foil" could turn into an all-out nemesis, especially with the fictional ANVIL organization behind him.