Ariana Grande Is Bringing Lavender Hair Back In Style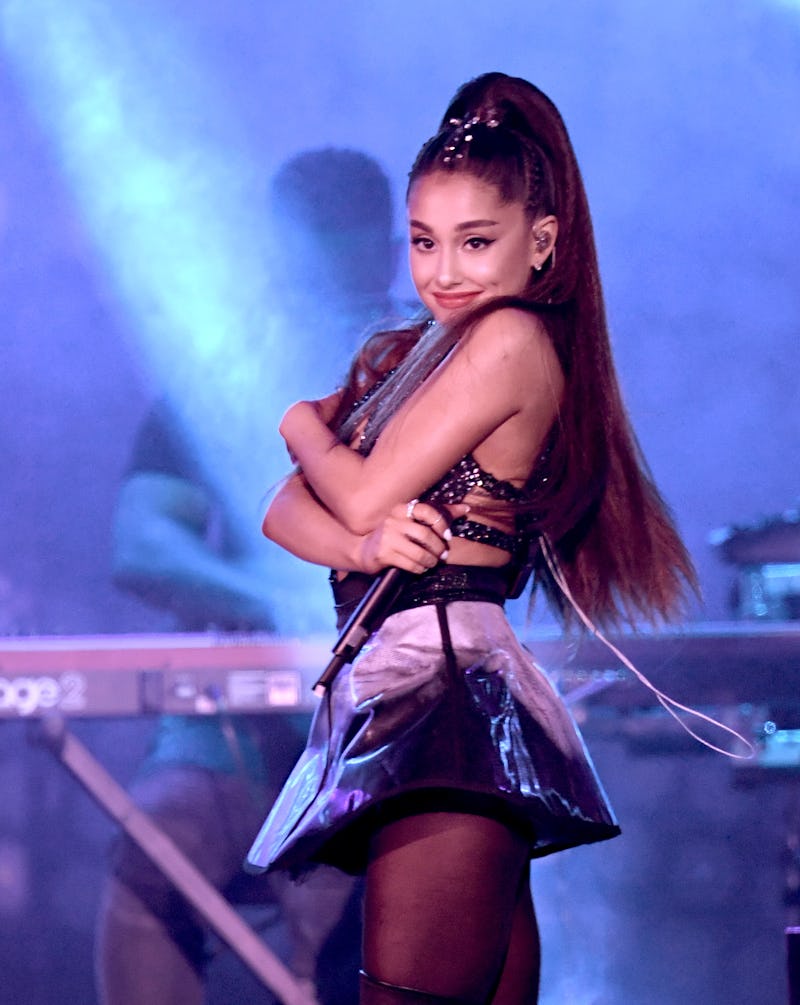 Kevin Winter/Getty Images Entertainment/Getty Images
Another day, another Ariana Grande hair transformation. The pop star has been experimenting with different colors, lengths, and styles over the last couple of months, changing her tresses on a whim and inspiring whole new summer hair trends. This time Ariana Grande got lavender hair, bringing the pastel look back into style.
The "God Is a Woman" singer sported a blue-grey tint just earlier last week, proving how quickly she's able to move in between trends. The look was created by the celebrity stylist Chris Appleton, who is best known as Kim Kardashian's long-time colorist, and who famously gave the beauty mogul her silvery-grey bob. It looked like she got the color especially for her Reebok campaign shoot, where Appleton shared a series of behind-the-scenes snapshots on his Instagram of getting her hair ready before the shoot.
Not one to leave her color sitting idle for too long, just a handful of days later Grande changed the tint from blue-grey to lilac, taking it in a completely different direction. The color was done by freelance stylist Josh Liu, who has linked up with Grande to do her hair in the past. For example, he was the one who created her paint-splattered braid in the "God is a Woman" music video, was the mastermind behind the flat ironed, bleached blonde Elle cover, and is the one who throws her hair up into her iconic high ponytail for concerts and appearances.
If you want to copy Grande's soft pink look, it won't be as easy as booking an appointment and strolling in, unfortunately.
"Lavender cannot happen in one go. The stylist must lighten your hair to platinum to be able to achieve the pastel lavender look," Maggie Miętus-Balon, who is an independent freelance stylist at Maven by Maggie for Maven Hair Studio for six years, shares with Bustle. But if you're the impatient type, there's still hope for you.
"However, it is possible to have lavender done in one salon visit. But most stylist would not suggest doing so simply because it will compromise the integrity of the hair. Going from dark to light requires multiple processes even if it is within the same visit. And that one visit can last several hours."
Basically, it's going to be a lot of work. But if you bite the bullet and sit in the chair for hours on end, then you will probably want to know how to keep the color fresh and lasting after.
In order to maintain pastel colored hair, Miętus-Balon says it is important to follow a few rules. "Try to go more days between washes, and make dry shampoo your new best friend," Miętus-Balon shares. When it is time to wash your hair, Miętus-Balon recommends shampooing and conditioning the hair in cold water to keep it from fading. Bust most importantly, make sure you're using the correct products.
"Use the right products! Sulfate-free, color safe shampoos, and color depositing conditioners are the best products to keep pastel colors in your hair. Salon-quality silver or purple shampoos and conditioners are the best items to use," Miętus-Balon explains.
And while it might be pricey, buying salon-quality products is definitely a deal breaker. Just check out how much faster color fades when you use drugstore rinses.
If you have been itching to go pastel this summer, then you officially have Grande's endorsement to follow in her footsteps. Summer is all about experimenting after all!