Why Anti-Sex Trafficking Groups Are Protesting Netflix's New Italian Teen Drama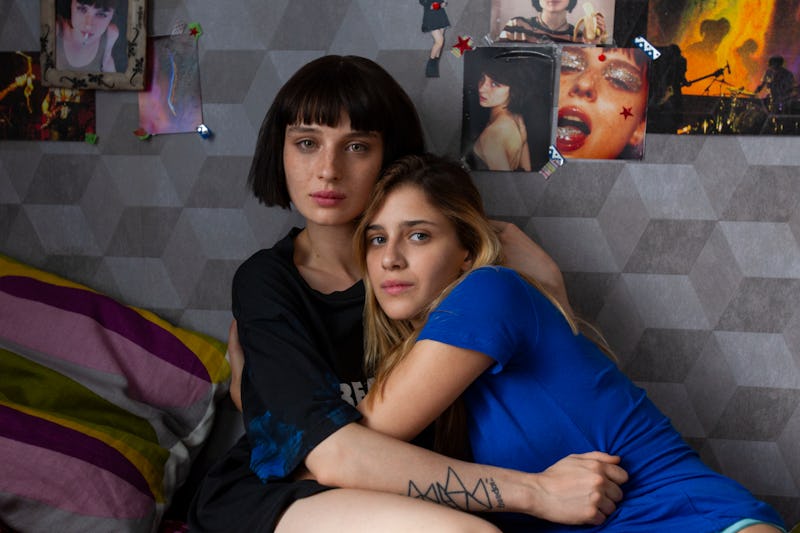 Francesco Berardinelli/Netflix
Following in the footsteps of Italian shows like Suburra, the Rome-set Baby premieres Friday, Nov. 30 on Netflix. The series depicts two Roman high schoolers, Chiara (Benedetta Porcaroli) and Ludovica (Alice Pagani), who begin moonlighting as prostitutes in order to make money. It's a scandalous and frankly troubling story, which makes it even more surprising that Netflix's Baby is based on a true story.
According to Variety, the series was inspired by a real teen prostitution scandal, which was uncovered in Parioli, Rome, in 2014. "We tried to be as faithful as possible to their conflicts and their choices," one of the show's directors, Andrea De Sica, said at a Baby screening, per Variety. However, the director said that the series isn't "a chronicle of real life events" — what's more, audiences are meant to draw their own conclusions.
The case, which is referred to as "Baby Squillo," which roughly translates to "baby call girl," involved two Roman high schoolers in an upscale neighborhood. According to an article from La Repubblica, they went by the pseudonyms Jenny and Lalla. The Daily Beast reported in 2014 that the two girls, who were 14 and 16 years old at the time the article was published, googled "easy money" and reportedly found their two pimps: Mirko Ieni and Nunzio Pizzacalla. The 14-year-old's mother allegedly told her to get into prostitution to help pay the bills, per the same Daily Beast article.
"I wanted a lot of money, and I didn't want to miss out on having on anything," she told the prosecutors, according to documents obtained by the Daily Beast. The two girls reportedly spent the money they earned on smartphones, makeup, and designer clothes, among other things, per the report.
Although prostitution itself is legal in Italy, underage or organized prostitution is against the law, per the Daily Beast. What's more, many of their clients knew that Jenny and Lalla were minors. Ieni said in his deposition, per the Daily Beast, that the girls' young age helped attract customers. "There is a real market for young, fresh girls like that," he said in the report.
According to the Daily Beast, Ieni set their fee at €300 per "performance." "They made a lot of money, more than 500-600 euro a day, which they didn't want to give up," assistant prosecutor Maria Monteleone said, per the Daily Beast. According to the Italian Insider, the girls' alleged clients included Alessandra Mussolini's husband, Mauro Floriani. If that name sounds familiar, that's because Mussolini is the granddaughter of "Il Duce" himself, Benito Mussolini, per the Insider.
Furthermore, 38-year-old Ieni, was arrested in 2013, according to La Repubblica. According to a 2014 Roma Today report, Ieni ultimately received a ten-year sentence (the longest punishment) for his involvement, and the mother who coerced her daughter into prostitution received six years. Per the aforementioned Italian Insider piece, Pizzacalla was given seven years. As for Floriani, according to an October 2015 article from Italian Insider, he pled guilty to participating in child prostitution and received a one-year suspension and €1800 fine. It's estimated that about 50 men had been clients of the two girls, including a senator's son, per the Insider.
Since Baby has such scandalous inspiration, Netflix has received some pushback regarding the series. The series was ordered back in Nov. 2017, per the Hollywood Reporter, and not soon after, in January 2018, the National Center on Sexual Exploitation (NCOSE) sent an open letter to Netflix, expressing their displeasure with their production of the show. Bustle's request for comment from Netflix regarding the criticisms of the show was not immediately returned.
More recently, the NCOSE denounced Baby in a second statement on Thursday, Nov. 29. "Despite being at ground zero of the #MeToo movement, Netflix appears to have gone completely tone-deaf on the realities of sexual exploitation," Dawn Hawkins, executive director of the National Center on Sexual Exploitation, said. "Despite the outcry from survivors of sex trafficking, subject matter experts, and social service providers, Netflix promotes sex trafficking by insisting on streaming Baby. Clearly, Netflix is prioritizing profits over victims of abuse."
However, producer Nicola De Angelis told Variety in the same article that Netflix's response was, "Go forward. We believe in this product. We believe that this generation needs to be depicted in the most natural and authentic way."
That said, it remains to be seen how audiences respond to Baby and how the two girls' experience will ultimately be depicted. According to Daily Beast, per 2014, the younger girl was allegedly "suffering from severe psychological trauma." So if Baby proves to be too risqué for viewers, they may want to try out My Brilliant Friend instead. That story, at least, is fictional.
If you or someone you know has been sexually assaulted, call the National Sexual Assault Telephone Hotline at 800-656-HOPE (4673) or visit online.rainn.org.