This Lifetime Thriller Is Every Babysitter's Worst Nightmare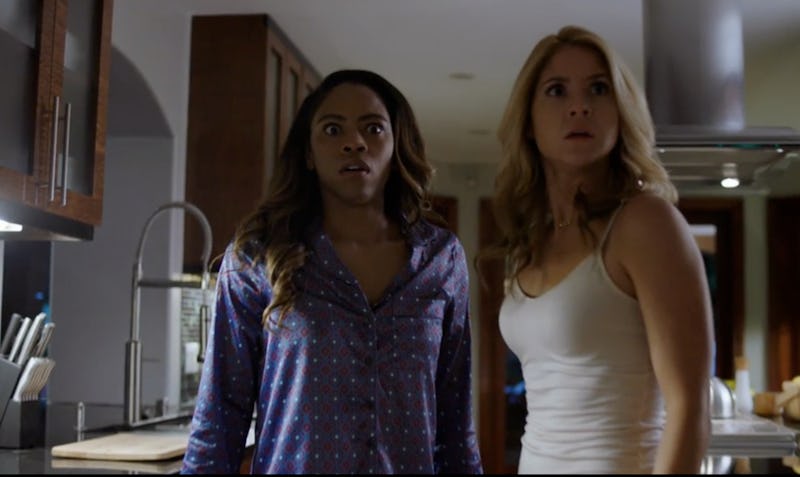 Lifetime
Not to be confused with Nanny Nightmare — the story of a busy mom who hires a young dude to watch her baby, and it goes terribly wrong — or any of the other Lifetime flicks with the word "babysitter" in the title like Babysitter's Black Book, in which high schoolers prostitute themselves to pay for college, a new film called Babysitter's Nightmare premieres on Lifetime on August 12 at 8p.m. ET. Unlike Babysitter's Black Book, Babysitter's Nightmare is not based on a true story. But that's not to say all once-babysitters alike haven't feared the horrifying turn of events that takes place in this eery thriller that was written and directed by Jake Helgren.
The film stars Brittany Underwood as Daphne Hart, an out-of-work registered nurse who was wrongfully accused of patient negligence, according to the film's IMDb page. In an effort to make ends meet, she offers to babysit a wealthy doctor's diabetic son for the weekend at their glamorous, but mysteriously secluded, suburban estate.
There's not much info out there on the rest of the plot just yet, but the 30 second trailer reveals a few things: while babysitting, Daphne calls her nurse friend while she's at work with a few concerns involving a pizza guy, the friend ends up joining Daphne at the wealthy doctor's home, and there is an unidentified villain who appears to wear a black hood. He also might be the pizza guy.
"There was this pizza guy here earlier and he just started asking me all of this weird stuff," Daphne says to her friend on the phone. "Like do you want anchovies on your tombstone?" she asks.
According to the movie's IMDb summary, Daphne catches wind that another babysitter in the area has been murdered, and that's when she knows she's in danger. Ironically, at the beginning of the trailer, she promises the wealthy doctor that she will protect her son with her life. And by the looks of it, she might actually have to.
It sounds like the film is appropriately named, because it's safe to say every babysitter's nightmare is not being able to protect the children they're responsible for. Thankfully, though, this alleged serial killer-pizza guy character isn't a real one, and the story isn't based off of true events. After all, if the boy Daphne's babysitting is diabetic, why would he be ordering and eating pizza anyway? Most of the sauces and bread are full of sugar.
Regardless, if this movie ends like many fictional Lifetime thrillers that are similar to it, Daphne, her friend, and the little boy will be subjected to some terrifying scenarios (apparently one that involves a butcher knife being dragged, chillingly, up a staircase bannister), but they will most likely make it out alive. It does make you think twice about who you'd be willing to answer the doorbell for, though — especially in an unfamiliar neighborhood. Because like in Babysitter's Nightmare, even the pizza guy could deliver danger to your door.