The Legality Of Banning Reporters From White House Press Briefings Is A Fine Line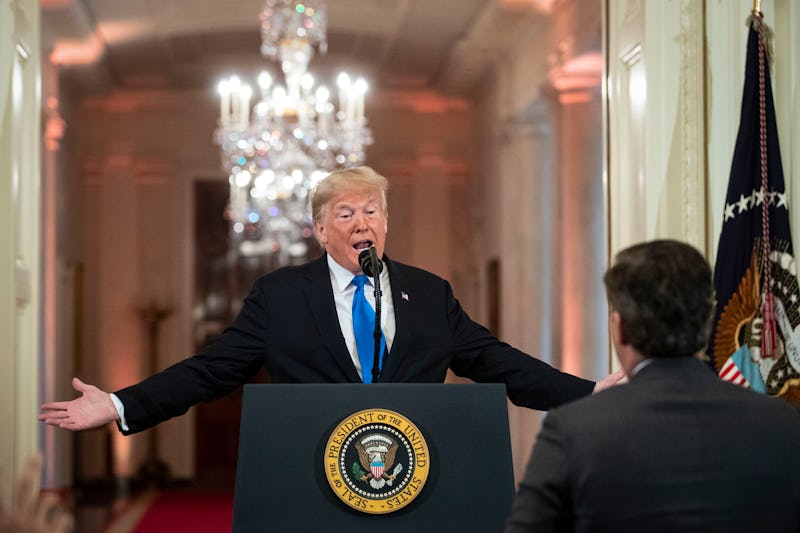 Pool/Getty Images News/Getty Images
On Wednesday, in a press conference following the midterm elections, POTUS got into an explosive argument with CNN's Jim Acosta. Following that press conference, Sarah Sanders soon released a statement revealing that Acosta's White House press pass had been suspended. For those wondering if banning reporters from the White House is legal, you might be disappointed to know that the laws around freedom of the press don't explicitly address this. So, there isn't a clear answer to the question.
Though the First Amendment offers a wide umbrella of free speech for all citizens, the level of access it guarantees to elected officials, events, and documents is largely uncertain, according to Frank LoMonte, director of the Brachner Center for Freedom of Information at the University of Florida. LoMonte wrote for the Conversation,
While journalists have a clearly established First Amendment right to publish the news they've gathered – even in extreme cases, like the leak of stolen Pentagon documents – it's much less clear that the First Amendment protects the right to gather the news in the first place.
What's more, LoMonte adds that a 1972 Supreme Court ruling established that journalists have no right to insist greater access than the general public. However, there's a distinction here: Though journalists might not have a guaranteed "right" to a press pass, LoMonte also clarifies that the government does not have a "right" to retaliate against a journalist, simply by virtue of their practicing their freedom of speech.
Another additional factor to consider is viewpoint discrimination. Jameel Jaffer, the director of the Knight First Amendment Institute at Columbia University, said to the New York Times, "If you exclude reporters from briefings that they otherwise have a right to attend because you don't like their reporting, then you have engaged in viewpoint discrimination."
The New York Times further stipulates that although public officials are not technically required to give reporters completely equal access to themselves, "the allocation of government resources like press passes and access to public forums like news conferences" must be distributed based off of neutral criteria, rather than what a journalist has written.
Acosta's suspension from White House press briefings is not the first instance that has occurred with the Trump administration. In February of 2017, then-Press Secretary Sean Spicer barred journalists from the New York Times, BuzzFeed News, CNN, the Los Angeles Times, Politico, BBC, and the Huffington Post from a briefing. Then in July, CNN's Kaitlan Collins was blocked from attending a press event after asking POTUS questions earlier in the day about whether he thought Michael Cohen had betrayed him.
For now, although CNN has released a statement in support of Acosta and condemning the decision to revoke his press pass for the indefinite future, the news publication has not accused the Trump administration of any sort of First Amendment rights violation. However, the White House Correspondents' Association released a statement urging the White House to reconsider its decision.
The statement read in part, "We urge the White House to immediately reverse this weak and misguided action."