CC From 'Beaches' Has A Surprising Inspiration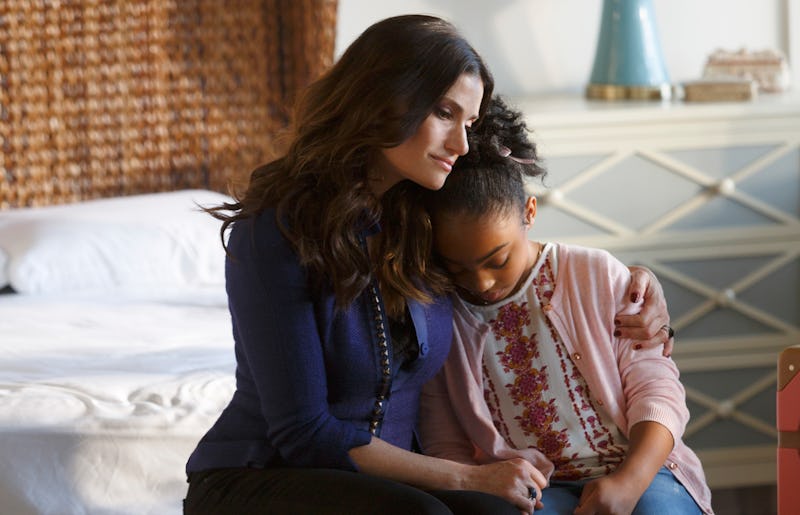 A&E Television Networks, LLC.
The melodramatic saga of female friendship chronicled in Beaches, starring Bette Midler and Barbara Hershey, has been beloved by a cult following of women (and men too, but mostly women) since it was released in 1988. Now, nearly 30 years laters, the story of sisterhood in the face of adversity is getting a modern update on Saturday, Jan. 21. With the reboot coming to Lifetime, a network known for its ripped-from-the-headlines movies, fans may be wondering if Beaches is based on a true story, or if the 1988 script was a pure work of fiction.
It's a valid question, because the plot isn't very far-fetched. Beaches follows two women's journeys through the window of their life long friendship. CC Bloom (originally played by Milder, now by Idina Menzel) and Hillary Whitney (first Hershey, now Nia Long) meet on the beach as children, become pen pals, and later reconnect in person as adults. The women face relationships, heartache, arguments, and a harrowing illness together. It's an emotional, yet plausible, story of female friendship.
While a little research shows that Beaches is not based on true story, it does have interesting origins. The original film was based on a novel of the same name by Iris Rainer Dart that was published in 1985. The book may be a work of fiction, but the character of CC Bloom was loosely inspired by a surprising muse.
According to Broadway World, Rainer Dart wrote for The Sonny and Cher Show in the 1970s and it was working with Cher that loosely inspired her to create a "no holds barred outrageous person." The character later evolved into the beloved CC Bloom, who Bette Midler brought to life in the 1988 film.
So there you have it, one songstress inspired another. And now, with Menzel playing CC in the Lifetime remake, another vocal powerhouse is taking the reins. While remakes are always scrutinized and compared to the original, I think the character is in good hands with this Broadway legend and I can't wait to see her new interpretation when Lifetime's Beaches premieres on Jan. 21.