Lifetime's 'Believe Me' Retraces This Real, Harrowing Survival Story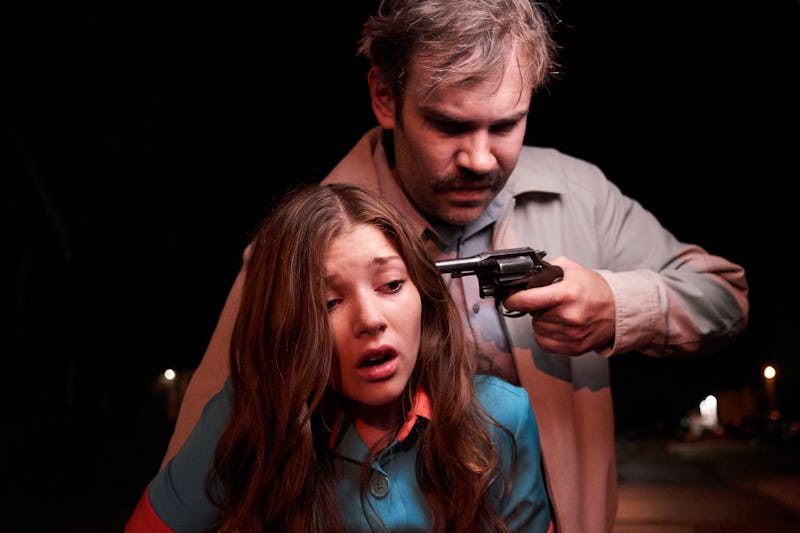 Lifetime
What if something horrible happened to you, but no one would believe you? That's the true story Lifetime's Believe Me is based on. Not only does the movie — titled in full Believe Me: The Lisa McVey Story — follow a harrowing tale of survival, but it also draws from real life, recounting the decades-old case of Lisa McVey.
Warning: This article contains information about sexual assault, which some may find triggering.
According to FBI archives, a then-17-year-old McVey was abducted in 1984, then allegedly blindfolded and held at gunpoint for 26 hours. McVey claimed she was raped repeatedly during that time, and that it was only through reverse psychology that she was able to survive — something she'd learned from years of alleged childhood abuse. "I said, 'Listen, it's unfortunate how we met, but I can be your girlfriend. I could take care of you, and no one ever has to know,'" she told Fox News in 2015. "[I talked to my abductor] like a 4-year-old. And it worked."
Eventually, McVey was able to convince her kidnapper to release her. She reported the crime, hoping to prevent the assailant from striking again. "I was calm when I told my story, but I knew I had to help [the police]," she told Fox News in another article, published earlier this month. "I had to find this guy before he struck again."
As Hillsborough County Sheriff's Office Captain Gary Terry wrote in his FBI report, the investigation soon led to Robert "Bobby" Joe Long, who was linked to the murders of 10 young women in the Tampa area throughout the mid-'80s. He was arrested in 1984, and pled guilty to eight counts of murder, as well as the kidnapping and rape of McVey. He was sentenced to death, and per Fox, remains on death row today.
The Lifetime movie sounds as though it will take some creative liberties, speculating that initially, no one believed McVey and thought she'd made up the story for attention. As the official synopsis reads, in part:
"Once Lisa is safely home, she discovers police and even her own family refuse to believe her. It's only when a veteran detective hears the details of her story that Lisa finally finds someone she can open up to. As they piece together her story, they realize that her abductor is the notorious serial killer that the Tampa PD is hotly pursuing. Since Lisa left a trail of clues, the police are on his trail, but will they find him before he strikes again?"
However, this is a concept that feels all-too-familiar in the era of #MeToo. And hopefully, Believe Me will help shed light on the struggles survivors of sexual assault have (and still) go through. Catch Believe Me: The Lisa McVey Story when it premieres Sunday, Sept. 30 at 8 p.m. ET on Lifetime.
If you or someone you know has been sexually assaulted, call the National Sexual Assault Telephone Hotline at 800-656-HOPE (4673) or visit online.rainn.org.