Bella Hadid Sported A Chic New Hairstyle At The 2017 Met Gala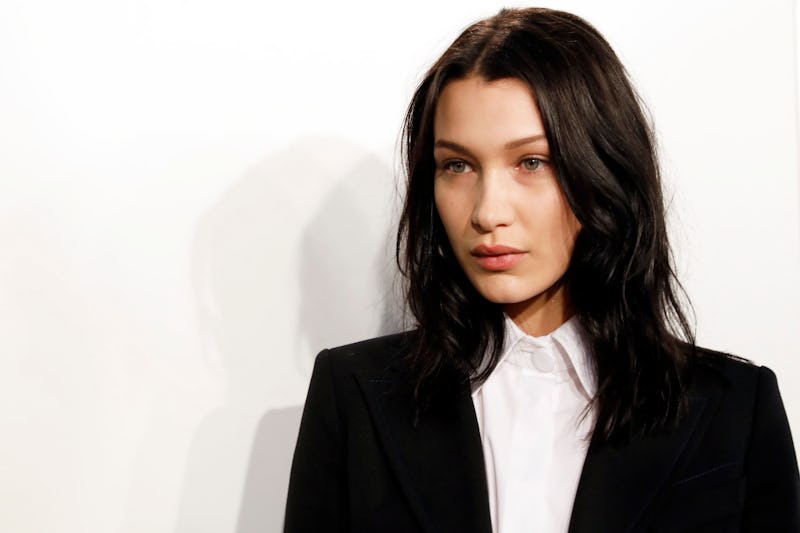 Tristan Fewings/Getty Images Entertainment/Getty Images
You can never be too certain of celeb hairstyles. Sometimes, they actually make the chop, but more often than not, they've just put their amazing stylists to work to create a trompe l'oiel effect with their mane. Is Bella Hadid's bob haircut from the 2017 Met Gala real? The model posted about her new locks on Instagram and revealed that this blunt cut is in fact the real deal.
Her sister, Gigi Hadid, has definitely fooled everyone with a faux bob on the red carpet before, so when I first saw Bella step out at the Met Gala, I wasn't sure if I could believe what I was seeing. I mean, had she really shortened her strands? According to her Instgram post, she most certainly did commit to this 'do. She had a great reason for cutting her locks, too. Apparently, she lobbed off the length for an Italian Vogue photo shoot. So, yeah. There's really no better excuse than that.
Besides — this style is super trendy at the moment. All in all, Hadid nailed the timing of her haircut. Not only is it "in" for spring 2017, but she also got to debut it at none other than the Met Gala. Not a bad move on her part. Not a bad move at all!
Well, hello there, new hair.
Her sleek, straight (and short!) strands couldn't look more amazing.
This debut couldn't have been better.
Fans are in love with her look, for good reason.
Hadid's no stranger to faux hairstyles. She did pull off temporary bangs at the 2016 Cannes Festival, after all.
People are pleased to see that this is an actual cut, and honestly, so am I.
Seriously, if Hadid's on board with this hairstyle, then who am I to disagree? Long live the bob for 2017.