Is Bernie Sanders At The March For Science?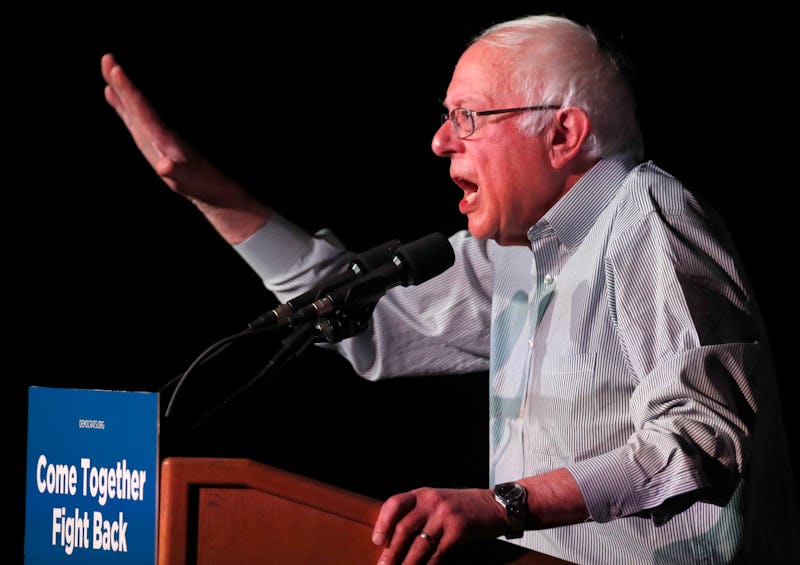 George Frey/Getty Images News/Getty Images
As the Trump administration continues to threaten funding for the science community, activists are finally breaking down the wall between the laboratory and politics. Thousands of scientists and lovers of science gathered across the country on Earth Day to proclaim, loud and proud, that they are willing to step up to fight for science. On the campaign trail, Bernie Sanders made promises that he would protect and forward scientific research. So is Sanders at the March for Science?
In January, shortly after the March for Science was announced, Sanders praised the organizers in a Facebook post:
Science is not Democratic or Republican, progressive or conservative. Science is science. There are no 'alternative facts.' A modern society cannot survive unless decisions are made on evidence-based research. Congratulations to those scientists and researchers who are fighting back.
So certainly Sanders supports the march, but it doesn't appear as if the former presidential hopeful made it to Washington, D.C. for the main event or any of the hundreds of satellite marches. In fact, the event overall seems much less star-studded than, say, the Women's March in January. Not that the lack of big names has kept crowds away—600 satellite marches are taking place across the world.
In January, Sanders ripped Trump for picking Scott Pruitt, who has cast doubt on the existence of climate change, to lead the EPA. And for good reason. Pruitt tried to sue the agency that he now leads 14 times, accusing the agency under President Obama of overregulation. Still, Sanders' ire must have faded enough for him to sit out the march. (Pruitt, meanwhile, did go to an Earth Day event in Texas. It got weird.)
Sanders has been keeping busy, though. He's been on a cross-country jaunt with Democratic National Committee Chairman Tom Perez, which they are calling the "Democratic Unity Tour." The tour has hit some rough spots. A recent stop in Omaha provoked the ire of abortion rights activists when Sanders and Perez endorsed an anti-choice Democrat for mayor.
Sanders seems like a strange choice to partner with Perez. After all, he isn't even a member of the party that Perez leads, the party that Sanders is supposedly trying to unify.
Anyway, Sanders didn't show at the march, but if he wants to drop in on one where ever his next adventure takes him, here's how he can find a march even while he's on the road. You're welcome, Bernie.