Daveed Diggs' New Movie Shows The Good & Bad Of His Own Hometown In A Powerful Way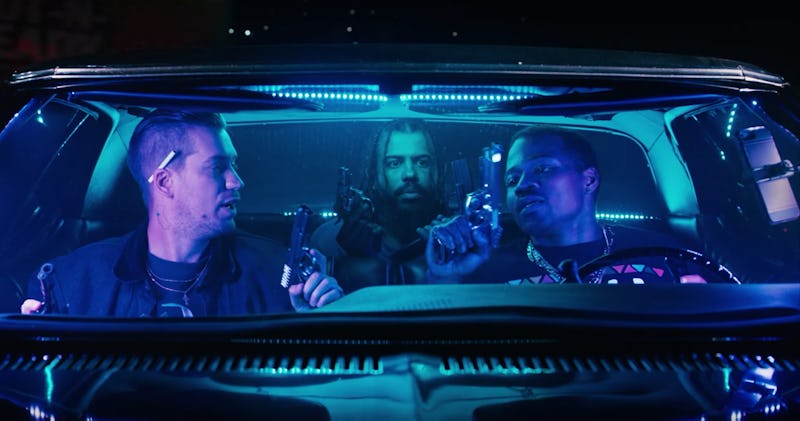 Lionsgate
The upcoming dramedy Blindspotting delves into the role that race and class play in Oakland, California, following the lives of Collin (Hamilton's Daveed Diggs) and Miles (Rafael Casal). The film tackles its themes in a way that feels very realistic, but actually, Blindspotting isn't based on a true story. It is, however, based on some real experiences that the film's stars and screenwriters, Casal and Diggs, noticed while growing up in Oakland.
In an interview with Los Angeles Times, Diggs expressed why it was so vital for the duo to write a film about their hometown. "It is a place that is so alive and it has such an interesting perspective sort of woven into its history," he explained. "It is such an intellectual hotbed, the birthplace of the Black Panther Party… all of these things are in the DNA of the place and it comes through in everyday life if you pay attention to it. But I had never seen it portrayed on a film."
It's true that despite the vast history that Oakland is home to, there aren't many movies that use it as a setting to tell these stories. Marvel's Black Panther is partially set in Oakland and Fruitvale Station, which is based on a true story, takes place there — but not much else. With this new film, Diggs and Casal want to show the various sides to Oakland that not many people know about. "A lot of times when people do site-specific films about different places, […] the ideas will capture it but make it universal and have the nuance of the place but don't go too far," said Casal to the Times. "And we initially rebelled against that and were like 'No, it's the obscure and strange elements that make the Bay Area the Bay Area."
Casal believed that everything about Blindspotting had to be completely accurate — from the accent to the lingo used by the characters. Another thing that was important to Casal and Diggs was showing the concept of gentrification in Oakland through the eyes of those who have grown up witnessing it. In the Times interview, director Carlos López Estrada noted that to accurately portray this shift in Oakland, Diggs and Casal took him around their neighborhood. "I understood the concept of gentrification but seeing it through their eyes became a whole other story," said López Estrada. The writers took López Estrada to various places they grew up with that no longer exist and their favorite childhood hangouts that have now changed into gentrified spots like coffee shops.
Another thing Diggs and Casal helped López Estrada understand was that even though certain things seemed unrealistic, they were actually eerily accurate. "There are a lot of things in the film that I think to outsiders feel fantastical. There were these funny moments where the crew were up there [in Oakland] working and folks who weren't from there realized that we were actually toning things down," explained Diggs. Added López Estrada: "It happened so often that we would meet people or see situations and we would just look at each other like 'Oh man, this is real! These people exist!'"
In an interview with No Film School, Diggs expanded on how important it was to create an accurate portrayal of Oakland, saying, "We'd constantly be checking in, being like, 'Does this feel right?' And we drew on all of the characters, too. While they're not specifically one person that we know, or either of us, they're all compilations of people that we grew up around, and because we grew up in the same place, they're very real to us."
While Blindspotting is not directly based on the real experiences Diggs and Casal went through in Oakland, it's evident the duo are trying to remain true to the stories of those they grew up with. Creating a film that shows Oakland accurately means showing a side of their hometown that'll make those who didn't grow up there appreciate it, while also delving into its dark side by tackling issues such as racism, gentrification, and police brutality.