Former Skiing "Bad Boy" Bode Miller Has An Entirely New Role At This Year's Olympics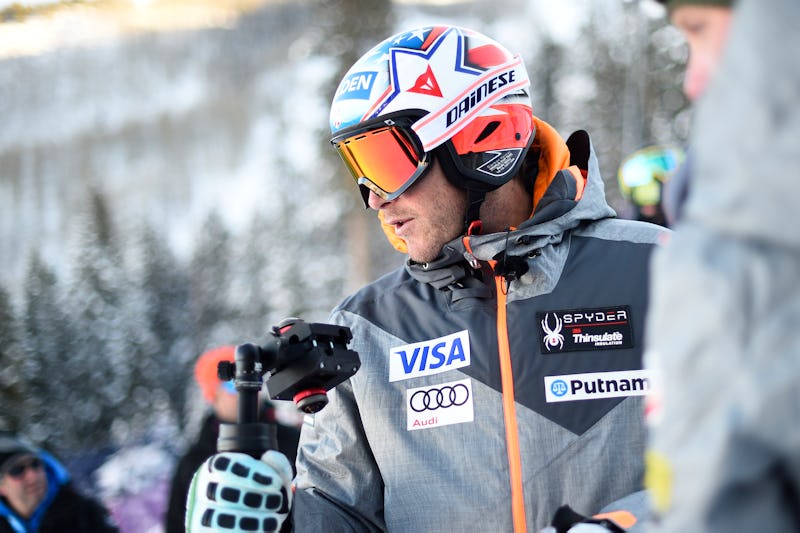 Alain Grosclaude/Agence Zoom/Getty Images Sport/Getty Images
After competing for about two decades, retired alpine skier Bode Miller is at the Winter Olympics — this time, though, the six-time Olympic medalist will be present in a much different (and non-athletic) role. Miller is at the 2018 PyeongChang Games as a sports commentator for NBC News. It's a role that some other famous Olympic athletes, in their retired capacity, have taken on to share their thoughts on competitors' skills and strengths.
While talking to Sports Illustrated this month, Miller said his experience as a former skier will help him give useful commentary:
It's critical, actually. It's not a terribly tough thing for me to figure out how to do but there's still a certain cadence to it. There's few things that it helps to be used to, like with the timing of things or when they talk in your ear while you're trying to talk. Those are all things that take a little getting used to, so it definitely helps.
Miller, who has a stunning professional record as a skier, has won one gold medal, two bronze medals, and three silver medals during his time competing at various Olympic Games through his career. But that's not all: CBS Sports calls him "ski racing's former bad boy" for his casual attitude about a controversial past in professional sports.
The "bad boy" title creatively references Miller's shocking 0-for-5 result that he scored at the 2006 Turin Games. That defeat became a significant hurdle for the athlete in terms of public image. That said, Miller told CBS Sports that he's actually pretty okay with that embarrassing finish. "I was 11 hundredths off the podium in the [downhill]," he said. "If you can click your watch on your stopwatch and get 11 hundredths, you'll realize how quick that is after a couple minutes of racing and all the variables with wind and snow condition and start position and all that stuff."
Miller retired in 2017 at the age of 40. The last time he took on skiing at a competitive level was during the World Championships situated in Beaver Creek three years ago. The former skier has bagged over 30 World Cup trophies during different giant slalom and combined games, and has also scored the highly-coveted Super-G title in alpine skiing in 2005.
Right now, though, Miller has other and more seemingly corporate things to do. He's the chief innovation officer for a skiwear production company known as Aztech Mountain. While speaking with Sports Illustrated, Miller talked about how this would be the very first time in his decades long career when he wasn't competing but only commenting at the Olympic games.
The retired skier said that he thought "the spectacle of the Olympics is so much more prevalent and much more culturally relevant for Americans. So to be able to experience that the way that the rest of country and friends and family have for the last five Olympics, I think that will be way more fun for me."
As for currently competing athletes, Miller told Reuters that he had a good feeling that professional skier Mikaela Shiffrin would be amazing. Miller sang praise for the young skier and said she really impressed her. "I think she's maybe the best ski racer I've ever seen, male or female. She's so balanced, dynamic, intense and focused, so for me, I think she's got a chance in any event she skis in," Miller said. He even added, "I would say it's likely she wins two [Olympic] golds, I would say an outside shot at five medals, and I think probably, at her best, maybe three or four of them are golds." Miller is a solid skier but only time will if his predicting ability proves to be as impressive as his sports record.