Is Brangelina's Divorce Finalized?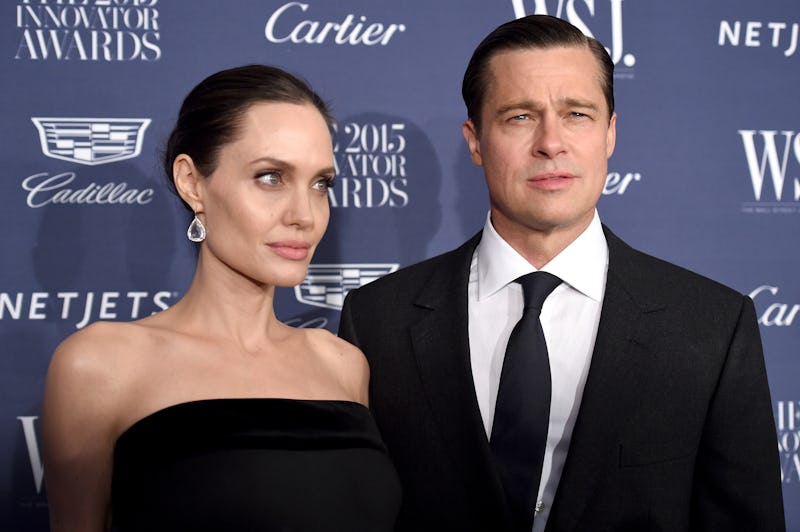 Dimitrios Kambouris/Getty Images Entertainment/Getty Images
Although Hollywood was rocked last year by the announcement of this A-list couple's separation, Angelina Jolie and Brad Pitt have reportedly not finalized their divorce just yet, according to a report from Us Weekly. A source claimed to the magazine, "They haven't done anything to move it forward in several months and no one thinks they are ever going to." Jolie and Pitt have not commented on the idea of calling off the divorce, and so far, it's only the one report. Bustle has reached out to reps for Jolie and Pitt for comment, but did not receive a response at the time of publication.
Jolie filed for divorce in September 2016, and her lawyer released the following statement to People:
Angelina Jolie Pitt has filed for dissolution of the marriage. This decision was made for the health of the family. She will not be commenting at this time, and asks that the family be given their privacy during this difficult time.
Pitt told People in a statement:
I am very saddened by this, but what matters most now is the well being of our kids. I kindly ask the press to give them the space they deserve during this challenging time.
Since then, both actors have spoken out about their split in interviews. Pitt told GQ in May:
"We're both doing our best. I heard one lawyer say, 'No one wins in court — it's just a matter of who gets hurt worse.' And it seems to be true, you spend a year just focused on building a case to prove your point and why you're right and why they're wrong, and it's just an investment in vitriolic hatred. I just refuse. And fortunately my partner in this agrees."
Meanwhile, Jolie told Vanity Fair in June that she and her brood were ready for a much needed fresh start in a new house in Los Feliz, California. "It's just been the hardest time, and we're just kind of coming up for air," she told VF. "[This house] is a big jump forward for us, and we're all trying to do our best to heal our family."
Although, sources claimed to Us Weekly that "it wouldn't be surprising" if Jolie and Pitt called off their divorce, a firm decision remains to be seen.