Why Gabrielle Union's New Movie Will Have You Calling Your Mom ASAP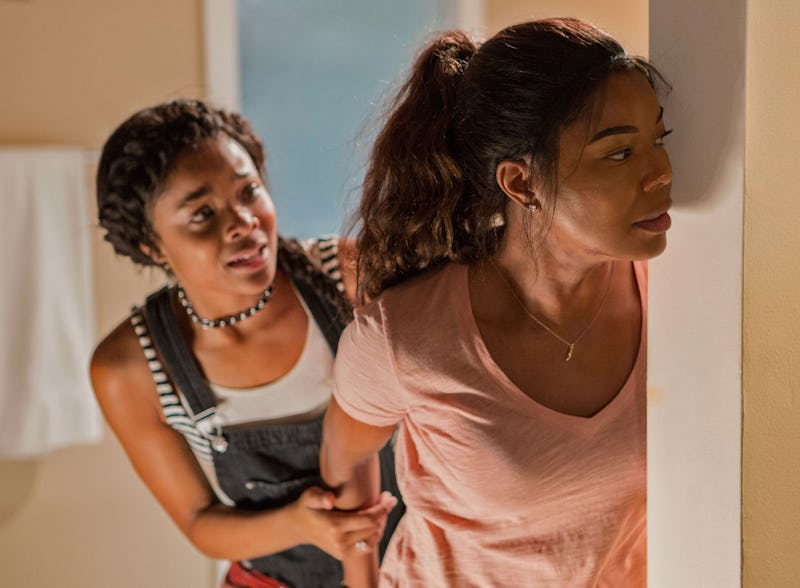 Universal Pictures
If you're looking for a flick to check out alongside your mom this Mother's Day, look no further than Breaking In. Gabrielle Union stars in the action movie as Shaun, a single mother who travels to her deceased father's Malibu mansion with her two children to settle his estate. Their trip quickly goes awry when they face a group of convicts who hold the children hostage, and it's up to Shaun to do everything to save her children, navigating the house's impenetrable security and battling bad guys along the way. The movie is so intense and will have you so invested that it'll make you think Breaking In is a true story, but in actuality, it's not based on real events.
According to Deadline, the concept of the story was created by executive producer Jaime Primak Sullivan, whose name might sound familiar to avid Bravo fans who remember her short-lived 2014 reality show Jersey Belle. As a mother of three who throughout her own show discussed how much she fiercely loves her children and wants to do anything to protect them, she clearly understands the power of a mother's love. To make Breaking In, Ryan Engle adapted Primak Sullivan's pitch into a screenplay that captures that relatable message.
In a recent interview on The Today Show, Union expressed how much she loved working on an action film with an independent, determined mom as the protagonist. "What I love about it is she's not waiting for anyone to come save her. She's like 'I'm going to use my wits, I'm going to use my passion, my adrenaline, and do anything that it takes to save my kids and there's nobody coming to help me," said Union.
Breaking In isn't Union's first action flick. She starred in 2007's The Box, as well as Bad Boys II; she's even set to star in a spinoff TV show of the latter on NBC. Yet while the actor's no stranger to kicking butt, this new movie is vastly different from her other action-packed ones because it focuses on the unwavering determination of a mother willing to do anything to protect her children. In action films, mothers are often portrayed as secondary characters who support their husbands as they fend off the bad guys. They rarely get a chance to be a part of the action. And when characters who are mothers do get to be a large part of the plot, they're frequently portrayed as deeply flawed and absentee parents, as seen in the Terminator movies, for instance.
Breaking In changes that. It shows that women can be great mothers while fighting evil, even using their own motherly instincts as fuel to do so. Those involved in the film took notice of the importance of this narrative. In an interview with Flickering Myth, director James McTeige, who also made the equally feminist-focused V for Vendetta, discussed how having a mother as the protagonist attracted him to direct the movie. "The thing that hooked me was that it was like a reverse panic room situation, which was kind of great. The protagonist in it is unusual. It turns this convention, this kind of movie—home invasion movie, whatever you want to call it—on its head," said McTeigue.
In the same interview, producer Will Packer discussed how important is was to make everything about Union's character feel realistic and relatable, including her fight scenes. "[The production team] wanted to make sure that it wasn't that this woman had specific, special set of skills that allowed her to have a leg up, that put her in a position where only she would be able to overcome or use the skills that she learned as a navy SEAL or a cop or something like that. We really wanted her to be a relatable character and somebody who was a mom," explained Packer.
In the past, hostage-focused action movies like Taken have put the focus on men saving their daughters, but Breaking In proves that a mother can be just as strong and capable of doing the same.