Freeform's New Mermaid Show Takes Place In A Town With A Dark, Secret Past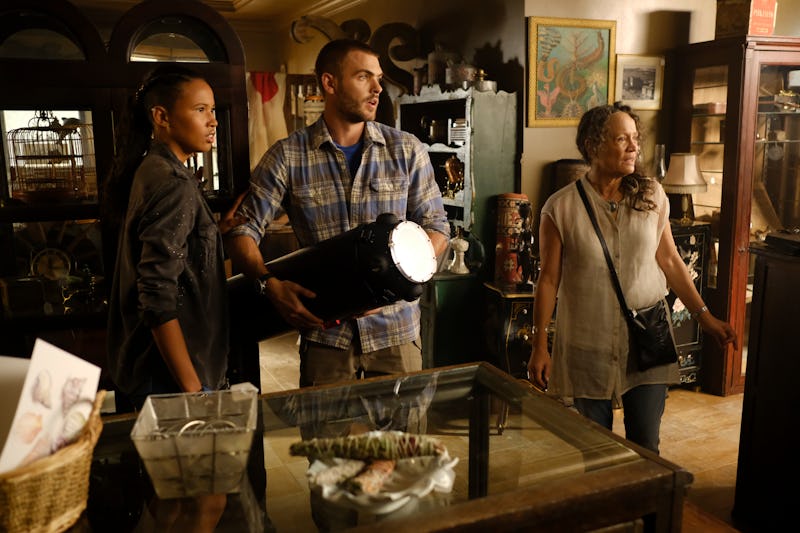 Eike Schroter/Freeform
Freeform's new mermaid show Siren has quite a unique location with some terrifying legends. Luckily, Siren's Bristol Cove is not a real town. But, it does share characteristics with real places.
In the last few years, TV and film have featured their fair share of mythical creatures. Werewolves, vampires, zombies, witches, and more litter the landscape. However, in Siren, mermaids will get their chance to splash into the spotlight. According to Deadline, the series will focus on the story of a mysterious girl who appears in town and is discovered to be a mermaid, the likes of which have filled Bristol Cove folklore for decades.
According to the trailers for Siren, which premieres March 29, Bristol Cove appears to be a normal, small, American coastal town. It houses a seemingly friendly community that has mom and pop shops and restaurants, a fishing industry, and an annual festival called Mermaid Days. It is also home to a marine research center. That's something that's sure to come into play over the course of the series.
Alex Roe, who plays Ben, a marine biologist on the series, confirmed Bristol Cove is a fictional town. In an interview with Bustle, he shares that it does remind him of a certain British area however. "It's a made up town, I'm sure there's a town like it. It kind of reminds me of Cornwall in England," he says. "But yeah in Cornwall it's sort of more centered around witchcraft whereas Bristol Cove is this made up town centered all around legends of mermaids."
So where is this fictional place supposed to be exactly? According to the series' IMDB page, Siren was filmed at various locations in British Columbia, including Vancouver and Port Moody. But, that's not where the show's plot takes place. A look at the trailer reveals more information about Bristol Cove. On the Mermaid Days banner, it says the festival includes live music, rides, a photo booth, beach events, and perhaps most tellingly, a clambake.
According to a blog post from chef Marcus Samuelsson, Native American tribes have been eating clams and lobster, cooked in pits, well before there was ever a United States. Although clambakes are a staple of many coastal towns, Samuelsson writes that there's a 2,000 year tradition of clambakes in the New England area, like Rhode Island, Massachusetts, Connecticut, and Maine. As a result, this geographical location is more closely associated with clambakes than anywhere else in the United States. So, despite the fact that Siren wasn't filmed in New England, it feels like Bristol Cove could be located somewhere along the East coast. After all, British Columbia shares a similar climate and is also a coastal area.
So no, Siren's Bristol Cove is not a real city. That doesn't mean that fans of mermaids do not have real-life places to travel to though. Florida's Weeki Wachee even has a "mermaid show" featuring human performances of the mythical creature.
And, cities filled with mythic folklore are abundant worldwide. Siren actor Alex Roe told Bustle during the Freeform Upfronts in 2017 that Bristol Cove is "a made up town, [but he's] sure there's a town like it. For instance, Roe said that Bristol Cove "reminds [him] of Cornwall in England," which is heavily centered around witchcraft, sort of similarly to the Siren town's penchant for the mythic mermaids.
With a story that is basically a twisted version of a classic Disney tale, and a town with a dark past — Siren is turning out to be just as alluring as the creature from which it draws its name.
Additional reporting by Martha Sorren