Veronica Mars' Dad Is Taking On A Whole New Kind Of Role In This New Mob Series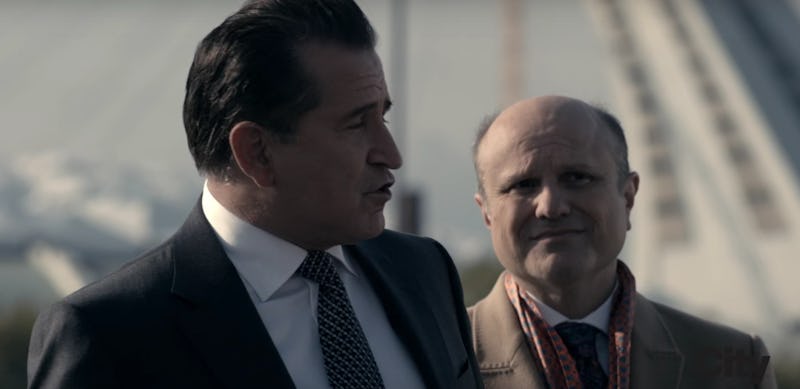 Screenshot/Youtube
Netflix's Bad Blood will introduce audiences to members of Montreal's real Rizzuto crime family, but anyone hoping for a comprehensive, entirely true and accurate recollection of the final years of one of Montreal's most infamous criminal organization may be disappointed. Bad Blood mixes truth with fiction, including creating entirely new characters such as Bruno Bonsignori, who is not based on anyone real. However, although Bonsignori is a fictional creation, actor Enrico Colantoni explained to TV-eh.com that there was a factual basis for the character of Bruno — the writers just couldn't use that real person as a character in this show. "He's based on a real character," Colantoni explains, "but the story I was told is that the reason they changed his name is because of the liberties that the script takes."
Some of the characters around Bruno are real people, including crime Rizzuto family boss Vito Rizzuto and family founder Nicolo Rizzuto, but the most likely inspiration for Colantoni's character isn't a Rizzuto — instead, he's likely based off of someone who married in. Bruno is a Rizzuto family consigliere, a role that until 2010, was filled by Paolo Renda according to La Press. Renda and Rizzuto's friendship grew after Renda married Vito's sister Maria Rizzuto, and Renda assisted Vito in his rise to power. While he spent a few years helping run the most powerful crime family in Montreal, he was reported missing following a suspected kidnapping in 2010, and hasn't been seen since.
While Renda may have exited the real Vito Rizzuto's life a few years before Vito's death in 2013, it seems as though Bruno Bonsignori will be there until the bitter end on Bad Blood, despite being an atypical mobster. Colantoni told TV-eh.com in the same interview that he initially wasn't interested in playing a mobster, but was intrigued both by the ability to play a mobster that shared his Italian heritage and to play someone who isn't as typically brutish as most mafia-associated characters. "He's sort of buffoonish, clownish," Colantoni points out. "There's gotta be that guy who is just the business-minded guy, who is good with the money. Who is good with talking. [Bruno] is that guy," he added.
While Colantoni hasn't played an Italian gangster before, he's played just about every other type of character on film and television. He's perhaps most recognizable for his roles as photographer Elliot DiMauro on Just Shoot Me!, Sgt. Gregory Parker on the Canadian police drama Flashpoint, and as Keith Mars on the teenaged detective drama Veronica Mars.
Bruno is a rare villainous turn for the actor compared to his most popular previous roles, but in Colantoni's eyes "Some of these guys just want to make a living," per TV-eh.com. Bruno Bonsignori may not be a perfect stand-in to tell the true story of Paolo Renda or any other real Rizzuto crime family member he's meant to represent, but Colantoni's could provide a much-needed new spin on familiar tropes of mafia fiction, and remind everyone that sometimes a fictitious touch is the best way to tell a true story.