Cardi B's Sister May Have Accidentally Shared The Sex Of The Rapper's Baby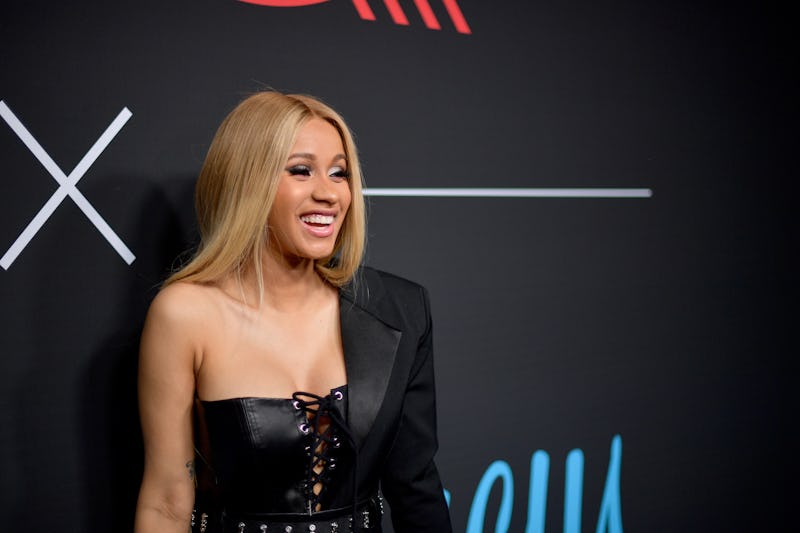 Matt Winkelmeyer/Getty Images Entertainment/Getty Images
As you've probably heard, Cardi B revealed that she was pregnant during her appearance on Saturday Night Live on April 7. You might be wondering now: Is Cardi B having a girl or a boy? Well, the singer's younger sister, Hennessy Carolina, might have revealed some key info about Cardi's little one, according to E! News.
The publication reported that Hennessy went on Instagram to write a tribute to her sister and about the happy news. She started off her post, which included a photo from Cardi's SNL appearance, by saying, "A baby is truly a blessing from god I know how much you always wanted to be a mom!" She then went on to say that she knows that the "Bodak Yellow" rapper will be a great mom because she cared for her younger siblings as though she was their parent. But it was one particular line of Hennessy's post that captured a lot of attention and may have revealed the baby's sex.
In a snap of the post, as seen on The Shade Room's Instagram, Hennessy reportedly said, "I'm going to be able to hold baby you and give her all the kisses and hugs!" E! also reported that Hennessy has since changed the caption to "I'm going to be able to hold ur baby and give the baby all the kisses and hugs!" (which is what it currently reads on her Instagram post).
So, was this reported edit on Hennessy's post a sign that Cardi is having a baby girl? It's possible. But it also could be that Hennessy edited the post to make it clearer. Before the part about holding "baby you", she was talking about wishing she had been older than Cardi so she would've gotten to know her as a baby. Maybe she said "her" because she was talking about baby Cardi. Either way, since Cardi herself hasn't spoken out about the sex of her child just yet, it's likely that fans will have to wait until she confirms the news to find out. (Bustle reached out to reps for Hennessy and Cardi for comment, but did not receive a response at the time of publication.)
As previously stated, Cardi revealed her pregnancy when she appeared as the musical guest on SNL. During her rendition of "Be Careful," one of the songs on her new album, Invasion of Privacy, she surprised viewers everywhere with her reveal. She appeared on stage in a gorgeous white gown, where her growing baby bump was on full display.
Cardi's confirmation of the news came after months of speculation as to whether she was set to welcome her first child with her fiancé, Offset. Rumors first emerged in February about the "Bartier Cardi" rapper possibly being pregnant, per E! News. However, she shut them down at the time and replied to one commenter about the rumor by jokingly saying that she was "just getting fat" and "Let me fat in peace."
More recently, in an interview for Beats 1 Radio, Cardi spoke to Ebro Darden on April 2 and addressed the pregnancy rumors. In response to them, she said, "I just feel like people gotta tune in a little bit on album and they will know a little bit more. Because it's like I can't address all the rumors and everything." She also said that she can't be open about everything in her life and wants to keep some things private.
But, Cardi did finally reveal to her fans everywhere that the news was true. And she, and Offset, couldn't help but open up about their news on Twitter. The Migos rapper posted that he was looking forward to "our next chapter together" with the mom-to-be. As for Cardi, she said that there was no way that she could fail now that she'll have her little one to take care of.
As for why the singer waited to reveal the good news, following months of rumors, it seems like it had a lot to do with social media. E! reported that Cardi said in an Instagram story that she chose not to say anything because, "People be so thirsty to scrutinize and try to destroy something that is suppose to be a blessing." It's completely understandable that Cardi would want to keep her pregnancy private, especially for this reason. Why would she want to be bogged down by negativity during what seems to be such a happy time for her?
Only time will tell whether Cardi will now choose to open up even further about her pregnancy, including whether she's having a boy or a girl, or whether she'll keep things on this more private route.