Why You Need To Follow Cardi B On Social Media, If You Aren't Already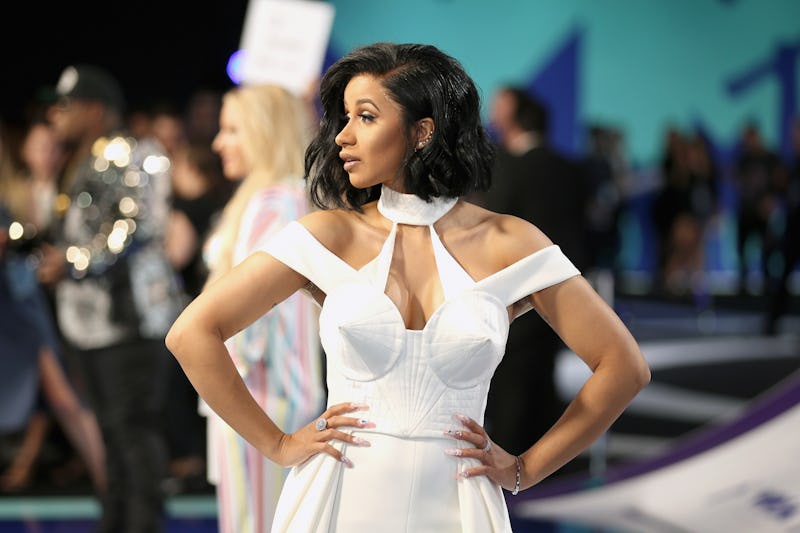 Phillip Faraone/Getty Images Entertainment/Getty Images
One of hip-hop's most recent and biggest breakout stars, Cardi B, has had a good year. A great year, in fact. Fans have been bopping to her hit "Bodak Yellow" all of summer 2017, and there are no signs that she is going to slow down anytime soon. There's no doubt her fans want to keep up with her, so is Cardi B on Snapchat?
Her rise to fame is obviously due to her music and her time on the VH1 reality series Love & Hip Hop: New York, but she is also huge on social media. She is active on most social networks, but sadly, Cardi B is not currently on Snapchat.
Don't worry, though, you can still check the 24-year-old singer out out on other social media platforms. Cardi B keeps her fans updated on Facebook, Twitter, and Instagram. Her Instagram page is where the rapper really shines, with her page boasting nearly 10 million followers and over 5,000 posts.
Before Cardi B was dominating the charts, she was garnering tons of fans by staring on Love & Hip-Hop discovering her own talent for rapping, and sharing every moment of it with her fans on social media. Even though Cardi B is now a household name, she is still staying true to her roots and updating her fans who have been there the whole time on her social media journey.
If you aren't already following Cardi B on social media, you are missing out. The uncensored rapper shares behind the scenes photos and videos from award shows, concerts, and so much more. If you decide to take the plunge and follow her on social media, here are some things you can expect:
Fan Love
If you want to see adorable fan videos and reactions to her music, you need to follow the rapper on social media ASAP.
Celebrity Reactions
Being a star on the rise, it only makes sense that Cardi B has garnered some celebrity fans of her own, and her social accounts feature a constant stream of celebrity faces.
Red Carpet Looks
Getting to see what celebrities do when they are attending award shows and walking red carpets is something that fans live for, and Cardi B always comes through with BTS action for her followers.
Relatable Posts
Cardi's interactions with celebrities on Twitter are so authentic and relatable. She shows she's just like you when getting tweeted at by Bruno Mars and her reaction to meeting Beyoncé is basically everyone's reaction to meeting Beyoncé.
Real Tweets
Her tweets are real and hilarious. The tweets sound like your one friend who always tells it like it is and constantly tells you to dump your boyfriend.
In addition to the content that she creates and posts herself, she also extends her sense of humor to other users' content. She has a constant stream of hysterical Twitter retweets and Facebook shares that will keep you in stitches.
In an interview with The Fader earlier this summer, the interviewer, Rawiya Kameir, perfectly described Cardi's personal brand of openness with her fans.
"It's not quite that Cardi is unfiltered. There is very much a filter, actually, a strategic self-censoring that keeps private things she doesn't want to share," Kameir writes. "But when it comes to the mechanics of existing, and thriving, as a human being, she's unashamed, unpolished, unapologetic — a stream-of-consciousness genius."
This authentic, refreshing, entertaining content is exactly what you'll get if you follow Cardi B on social media and, honestly, what could be better than that?