'Cardinal' Digs Deep Into Its Source Material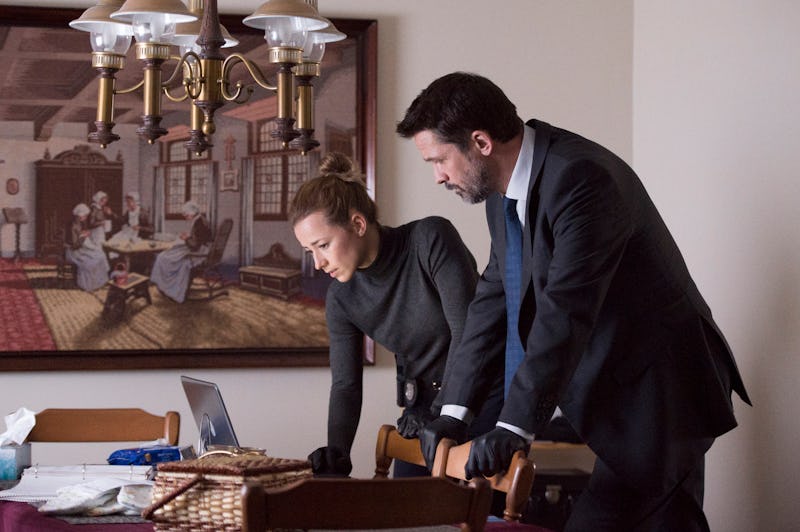 Hulu
Hulu's latest import, Cardinal, follows a police force hunting for a serial killer terrorizing a small town in Northern Ontario. Canada is often stereotyped by a penchant for kindness and a need to be polite, but the characters of Cardinal are far from stereotypical Canadians. A murder is still a murder, and the characters of Cardinal don't take that lightly no matter what country they're from. The crimes investigated in the series are gruesome at best, but those worried that Cardinal is based off a true story need not worry. The terrifying crimes committed in the series are completely fictional.
Northern Ontario isn't the most obvious choice for a serial killer story, but the story isn't just about its killer. While a series of murders give the characters of Cardinal a reason to come together, it's the characters themselves and the distinct snowy setting of Algonquin Bay that give Cardinal its definition. While the crimes, the characters, and the setting are all entirely fictional, that doesn't stop the stakes of the show from feeling real. This is all in thanks to the show's strong cast of actors both from America and native to the Canadian setting in which the show takes place.
The story of Cardinal revolves around troubled police officer John Cardinal, played by Billy Campbell, whose brooding and solitary nature makes him far from a trustworthy partner. Cardinal's sense of justice and ability to tell when there's something going on beneath the surface make him an effective officer, but the suspicions of others could end up being his largest obstacles. Cardinal begins with the officer being asked to rejoin the homicide division after nearly ruining his career, and he could fully ruin it if he's not careful.
Alongside John Cardinal is his newly appointed partner Lise Delorme played by Karine Vanasse, who may not be as troubled as John Cardinal but still has her fair share of secrets. Her biggest secret is that she isn't actually there to investigate the murder that has all of Algonquin Bay up in arms. Lise's job is actually to investigate John Cardinal under suspicion that he may be involved with some criminal activity in exchange for information. Despite her underlying motives, Delorme and Cardinal are able to agree on one thing – that there's a repeat killer on the loose and that if they don't stop them, more bodies will turn up.
According to The Hollywood Reporter, the story and characters of Cardinal's first season is pulled from the novel Forty Words for Sorrow, which introduced a line of John Cardinal detective novels that featured five additional novels. While the investigations performed by John Cardinal and Lise Delorme are not based off a true story, there is more than enough source material to continue to bring Cardinal to life.