Why 'The Resident' Is Unlike Any Other Medical TV Drama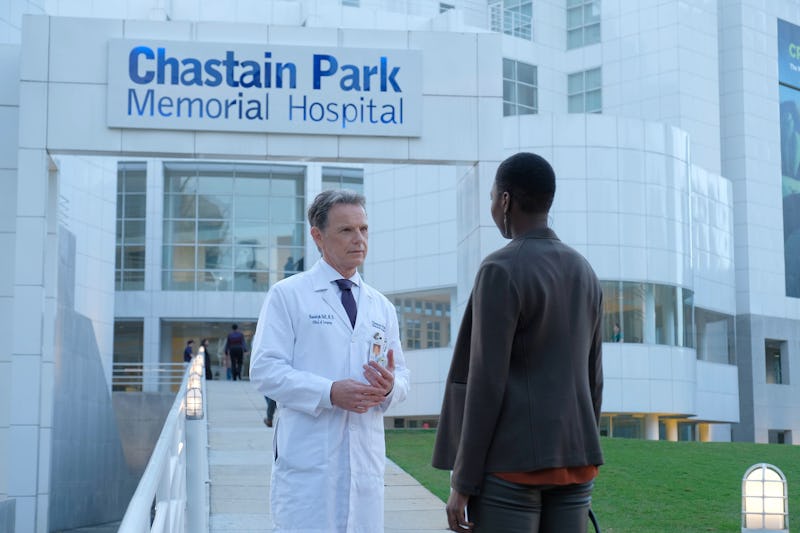 Guy D'Alema/FOX
For medical dramas, the hospitals in which they're set can often be as integral as their characters. It's where days bleed into nights, where relationships are forged, where lives are saved and lost. And while Chastain Park Memorial Hospital isn't real on The Resident (executive producer: Amy Holden Jones), the show does add an authentic perspective rarely explored on TV.
As Dave Nemetz noted in his review for TV Line, the medical genre often favors schmaltzy melodrama over hard worn truths. And though The Resident is not without its sentimental moments ("If it were easy everyone would be a doctor, because this is the best job in the world," star Matt Czuchry proclaims in the trailer), it also has a deeply cynical core. At Chastain Park, Nemetz writes, "Doctors aren't superheroes, or even particularly good people," and issues of money, ego, and status tend to outweigh ethical patient care. It's the kind of place where an ailing congressman can cut in line for a heart transplant, where healthcare is run like a for-profit business, and where patients are just as likely to be killed by human error as they are actual disease.
The Resident stars Czuchry, most known for his roles in Gilmore Girls and The Good Wife, as Dr. Conrad Hawkins, a hotshot resident jaded by his superiors' cold, pragmatic approach to medicine. His brilliance is only outmatched by his arrogance, and he's constantly at odds with Dr. Bell (Bruce Greenwood), Chastain Park's despotic, self-seeking chief of surgery. When Devon (Manish Dayal), a wide-eyed intern just out of Harvard, is assigned to Conrad, he gives him a crash course in pushing back against an unjust system.
The story is, of course, dramatized for television, but it's not all that far-fetched. A 2016 study by researchers at Johns Hopkins Medicine found that medical errors are the third leading cause of death — a fact largely glossed over by other shows, but in The Resident, seems to be a recurring theme. In the premiere's opening sequence, a shaky-handed Dr. Bell botches a routine appendectomy, killing the patient, while a remorseful Conrad admits in the trailer that he prematurely caused a young cancer patient to die by giving her too much potassium. "All we want to do is help our patients, but what they don't teach us in medical school is that there are so many ways to do harm," his voiceover warns.
In fact, Huffington Post contributor Dave Chase, who writes that he's worked in over 50 hospitals in the last 30 years, goes as far as to say it's, "the most realistic depiction of a hospital" he's ever seen. He goes on to point to things like the financial incentivizing that drives high-volume and sometimes dangerous treatment, another area in which The Resident seems to mirror real-life concerns. Last year, The Seattle Times published an exposé about the city's Cherry Hill hospital, where the outlet claimed the "aggressive pursuit of more patients, more surgeries, and more dollars" had allegedly put "patient care in jeopardy." State regulators subsequently launched an investigation, and by August, had uncovered "numerous" issues related to patient safety at the facility. (Cherry Hill is now reportedly taking steps to improve its practices, and was cleared to continue participating in the Medicare program last September).
With that in mind, it makes sense that The Resident wouldn't want to set the series in a real hospital, as it would paint that facility in a negative, and likely unsubstantiated, light. The name, however, is an homage to the show's backdrop: Chastain Memorial is the largest city park in Atlanta, where according to IMDb, The Resident was filmed. So, it may not be an actual hospital, but there are certainly plenty of real-life parallels to be drawn.