A Judge Just Ruled Coffee Should Come With A Cancer Warning — Here's Why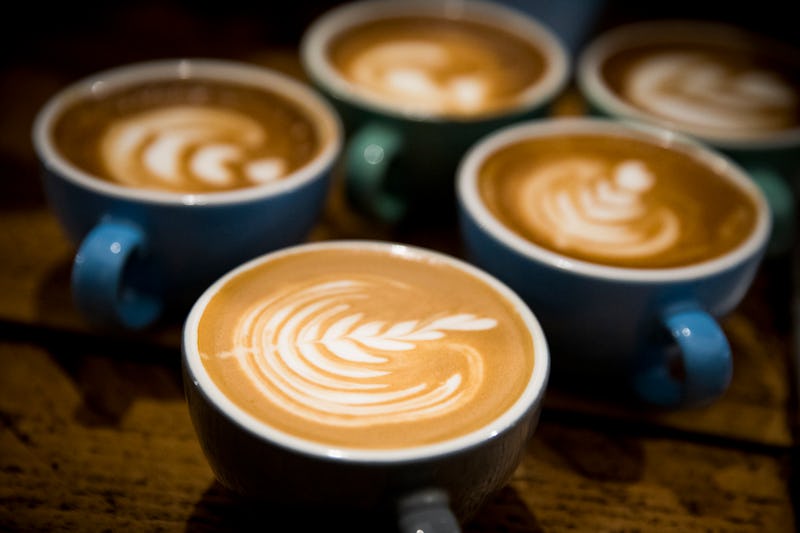 Tristan Fewings/Getty Images News/Getty Images
While numerous studies have linked drinking coffee to longevity, the Associated Press reported that a recent ruling in California will require coffee sellers to post a warning about your beloved java's potential link to cancer — an ingredient called called acrylamide, which is actually found in numerous foods from French fries and potato chips to cereal and bread. The chemical is said to be a natural part of the coffee-roasting process. But is coffee cancerous? The truth is, you shouldn't worry about it just yet.
"The story about coffee being a cause of cancer has been an ongoing hotly contested discussion for the past 25 years," Dr. Joseph Galati, medical director for the Center of Liver Disease and Transplantation at The Methodist Hospital in Houston, tells Bustle. Dr. Galati says that panic is premature. "Time and time again, well-designed research has not shown a link between coffee consumption and the development of cancer. In fact, properties within brewed coffee are beneficial to our health and wellbeing," Dr. Galati explains. "Coffee is a significant source of antioxidants in our diet, as well as playing a positive role in our intestinal microbiome."
Here's what happened: In a 2010 lawsuit, Council for Education and Research on Toxics v. Starbucks Corporation, et al., Metzger Law Group argued that if companies cannot reduce the acrylamide content of their food products, those products should come with a warning so consumers can make informed decisions.
On March 28, Los Angeles Superior Court Judge Elihu Berle ruled that the 90 coffee companies named in the lawsuit hadn't presented enough evidence to prove that there isn't a potential risk, according to the AP. "While plaintiff offered evidence that consumption of coffee increases the risk of harm to the fetus, to infants, to children and to adults, defendants' medical and epidemiology experts testified that they had no opinion on causation," Berle wrote in his proposed ruling, the AP reported. "Defendants failed to satisfy their burden of proving [...] that consumption of coffee confers a benefit to human health." However, there are competing reports as to whether coffee causes or prevents cancer.
The Cleveland Clinic reported that two recent studies found that drinking black coffee actually lowers your risk for cancer. "[Coffee drinkers] lived longer and had decreased immune dysfunction, decreased cancer rates, decreased cardiovascular disease rates, decreased liver dysfunction and decreased immune dysfunction," Dr. Michael Roizen, a wellness expert at Cleveland Clinic who did not take part in the study, told the Cleveland Clinic's Health Essentials news site.
I live in California, and you can't go into most buildings without seeing a cancer warning, which is the result of Proposition 65, also known as The Safe Drinking Water and Toxic Enforcement Act. According to the State of California Department of Justice website, "A Proposition 65 warning informs a consumer that [they are] being exposed to carcinogens or reproductive toxins that exceed certain threshold levels. This is not the same as a regulatory decision that a product is 'safe' or 'unsafe.' A consumer can seek information about the actual levels of exposure from the business that produces the product or causes the exposure in order to decide whether to accept, avoid, or take measures to mitigate the exposure risk."
Californians are used to seeing these warnings, and some coffee drinkers told the AP that the recent ruling is unlikely to curb their coffee habits. "I just don't think it would stop me," Jen Bitterman, a digital marketing technologist, told the AP. "I love the taste, I love the ritual, I love the high, the energy, and I think I'm addicted to it." Additionally, defendants in the coffee case claimed that the ruling is going too far. "This lawsuit has made a mockery of Prop. 65, has confused consumers, and does nothing to improve public health," William Murray, president and CEO of the National Coffee Association, told the AP.
Additionally, the Wall Street Journal reported in 2017 that the World Health Organization officially removed coffee from its list of items containing carcinogens with a potential to cause cancer. "The scientists found that many epidemiological studies showed that coffee drinking had no carcinogenic effects for cancers of the pancreas, female breast and prostate, and that 'reduced risks were seen for cancers of the liver and uterine endometrium. For more than 20 other cancers, the evidence was inconclusive," the Journal reported.
According to the American Institute for Cancer Research website, "Coffee contains a variety of phytochemicals, many of which have antioxidant properties. Coffee's possible link to cancer is a well studied one, with over 1,000 studies on the topic. Early in the research, some studies hinted that coffee might increase cancer risk. Larger and more well-designed studies now suggest the opposite: it may be protective for some cancers." The AP reported that the defendants named in the lawsuit have a few weeks to appeal the ruling. In the meantime, Dr. Galati tells Bustle that there's no need reason to abandon coffee. "I would not let this latest revelation deter you in anyway from enjoying one or two cups of coffee each day."