Why Colin Kaepernick's Fans Are Protesting The NFL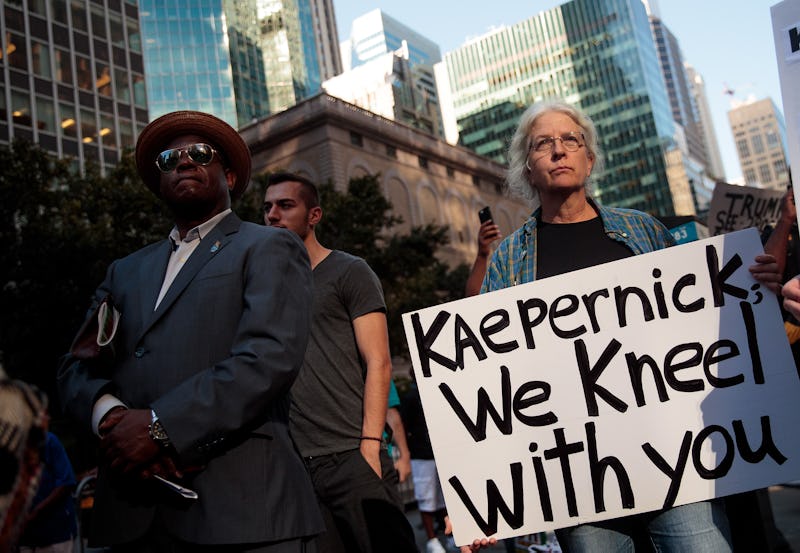 Drew Angerer/Getty Images News/Getty Images
Ever since he began kneeling as the national anthem played during NFL football games to protest police brutality, former San Francisco 49ers quarterback Colin Kaepernick has become a controversial figure. While his actions earned rebuke from many conservatives who consider him a privileged football player, he's also gained a loyal group of supporters who want to advance the cause of standing against police brutality and are willing to stick up for him. But why are people protesting on Kaepernick's behalf?
After opting out of his contract with the 49ers in March, Kaepernick hasn't been signed by any other NFL team, even though the 2017 NFL season is about start. His supporters argue that his inability to be signed by another team is not because of his skill level — he did carry the 49ers to a Super Bowl, after all — but because of his decision to kneel at games. Therefore, groups have been organizing protests of the NFL for what they see as blowback for Kaepernick standing up for what he believes.
Various groups have held protests in Kaepernick's name outside the NFL's New York headquarters. The NAACP sent a letter to NFL Commissioner Roger Goodell to request a meeting in order to talk about Kaepernick's situation. In it, the group says that there is "no sheer coincidence" over why Kaepernick really remains out of a job.
The NAACP's interim president, Derrick Johnson, wrote, "No player should be victimized and discriminated against because of his exercise of free speech. To do so is in violation of his rights under the Constitution and the NFL's own regulations."
On Wednesday, a group held a "United We Stand Rally for Colin Kaepernick." According to CBS, more than 1,000 people came out to support Kaepernick and justice for police brutality. Actress Susan Sarandon was in attendance along with thousands of others who wore various shirts supporting the former quarterback, including his jersey. Even a group of current and former NYPD officers joined the protests for Kaepernick outside the NFL headquarters in New York.
Protesters not only called for justice for Kaepernick, but also a boycott of the NFL should the league refuse to stand up for a football player expressing his First Amendment rights by kneeling during the anthem. Some argue that the inaction by the NFL shows that the league will not protect its players against discrimination.
While Kaepernick's employment has been up in the air since last season, several other players have been signed by other teams, adding to the tension surrounding his situation.