'Crazy Rich Asians' Star Constance Wu Is Super Private About Her Love Life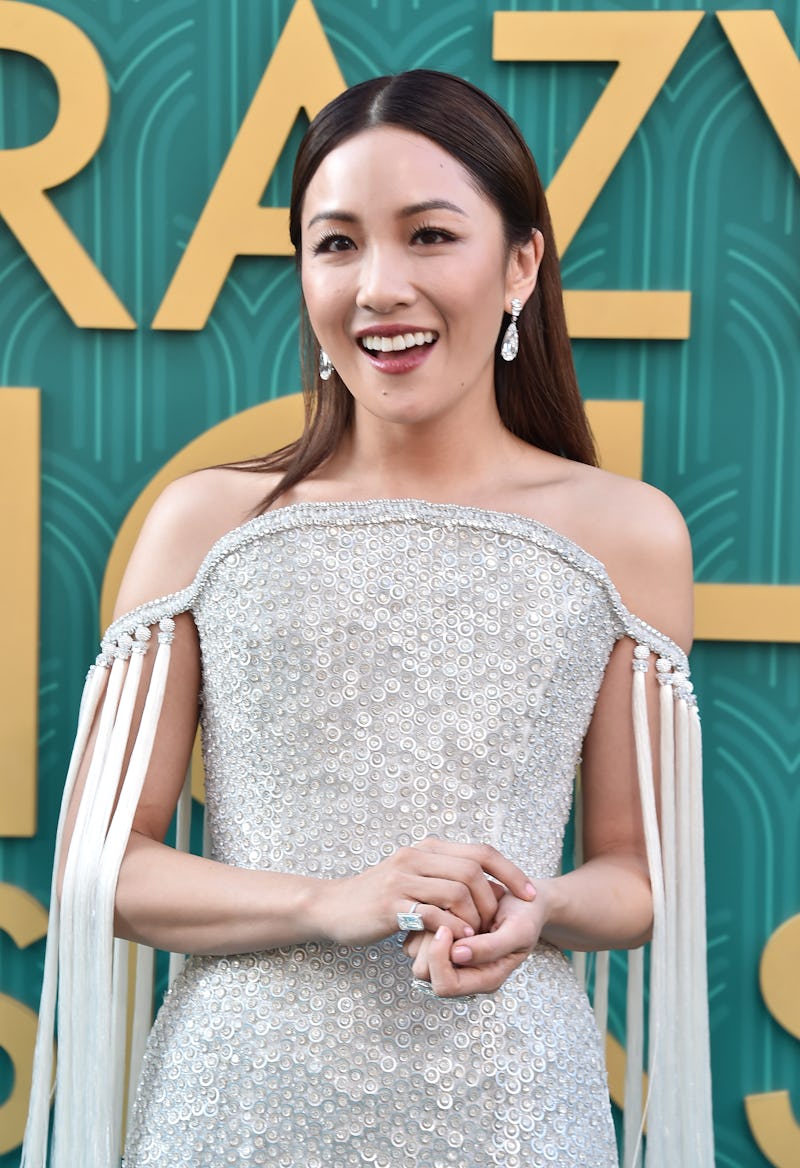 Alberto E. Rodriguez/Getty Images Entertainment/Getty Images
36-year-old actor Constance Wu is changing the game. She's the star of two major projects, Crazy Rich Asians and Fresh Off the Boat, which are making major Hollywood history and paving the way for Asian representation in pop culture. Next, Wu will be presenting at the 2018 Emmys, so fans may understandably be wondering: Is Constance Wu single? Sorry, hopefuls. Although she's very private about her love life, it seems the star is in fact taken.
The actor never really discusses her love life and usually attends public events solo or with costars. However, Wu recently posted about her Bust cover story on Instagram. In the August/September issue of the magazine, Wu did say she had a boyfriend but didn't give a name. She mentioned this mystery man when discussing the other love of her life, her bunny Lida Rose. Wu said, "When I see a bunny, my heart melts." And although she said she brings Lida with her on the FOTB set, Wu admitted her boyfriend wasn't as smitten by her fury BFF, and perhaps that's something that made her like him even more. She explained:
"When some guys come over, they try to act like they love my bunny, but it's fake. With my boyfriend, he was just himself when he first met my bunny, which was a while ago. He's not really an animal person, but he's a great person person."
So who's the guy? There's one man lovingly featured in a recent Instagram post on Wu's page, but he doesn't seem to be her boyfriend. (Although, Wu did turn off the comments section of this particular post and featured bunny and heart emojis in the caption. Maybe it was to nip speculation in the butt?)
Wu posted a photo with English actor Jim Sturgess, featuring the caption: "One of the best guys ever 💗🐰🐰 Me and @officialjimsturgess at the #crazyrichasians screening in London tonight 💗." Sturgess has starred in a handful of films including 2011's One Day with Anne Hathaway.
In mid-August, Sturgess reciprocated the love with a lengthy post about Wu and watching her rise to stardom after knowing her in her early days in Hollywood. "I come across this fierce and brilliant article about an up and coming actress and her frustrations about the misrepresentation of Asian men and woman in Hollywood," he wrote. "Her name is Constance Wu....? Wasn't that the name of that lovely driver I had all those years ago? Constance Wu? There can only be one Constance Wu?... And there is!!"
And although Sturgess talked about being single in a 2016 interview with The Telegraph, the actor has recently posted numerous photos of a mystery woman who isn't Wu. It seems he and Wu just go way back and are super close friends.
Another man Wu was linked to was LA-based filmmaker Ben Hethcoat. In 2015, Wu tweeted about him and when they first met a few years prior. Their last public sighting together was at the 2016 Critics' Choice Awards. Although numerous fan YouTube videos acknowledge Hethcoat as the last man Wu was tied to, a February report by Super Hub claimed the two broke up.
And although Wu is private about her personal love life, she was super vocal about her CRA's character Rachel Chu's romantic life. In an interview with the Huffington Post, director Jon M. Chu revealed Wu convinced him to remove dialogue her character had, boasting about never dating Asian men. Chu said she wanted to "help the film portray Asians as... emotional, funny, sarcastic and unapologetic. Confident."
Right now, Wu seems focused on continuing to kick butt in the business and help make huge strides. While FOAT makes history with its fifth season, CRA continues to dominate the box office. If she can squeeze some romance in in the meantime, more power to her.