Was 'The Bachelor's Corinne In A Music Video?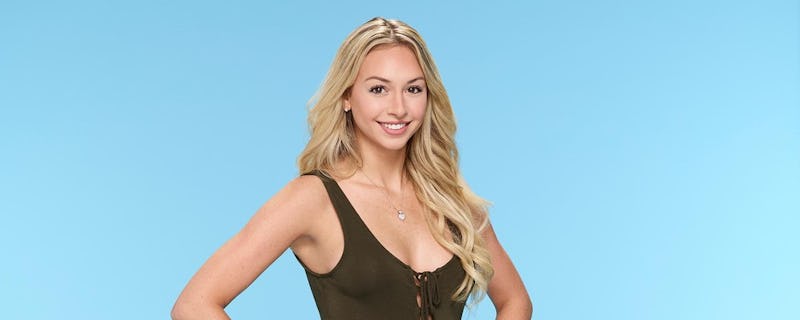 ABC
Not that the #wrongreasons flames need any more fuel thrown on them this season, but is that The Bachelor's Corinne in this 2 Chainz music video that I see? You know her as the nanny-having, sliced cucumber-eating, nap-taking, dry-humping recipient of the villain edit on Nick Viall's season of The Bachelor, currently airing. But this might not be the reality show contestant's first baby step into the spotlight.
Barstool Sports noticed a familiar face in the 2011 video for Juicy J, 2 Chainz, and Tha Joker's track "Zip & A Double Cup," and it sure looks like Corinne. Even more so because the girl in question has her eyes closed throughout the clip and appears to be snoozing. It's almost too on game for Corinne.
In the video, a blond-haired woman resembling Corinne appears as an extra in a club or party scene, rolling her head around, eyes closed, as strobe lights flash and the beat pumps in the background. She's onscreen only in glimpses, making her first appearance in the seconds between 1:46 and 1:49, and then in scattered moments after that. That's why it's hard to state definitively one way or the other if the woman seen is Corinne.
But it certainly does look like her. Here's the video for "Zip & A Double Cup" if you'd like to judge for yourself.
As of right now, it's just speculation that Corinne is in the video. Bustle reached out to ABC for confirmation, but the network declined to respond. So, while there's no official word from on high, a music video appearance like this one would certainly make sense for what I know of Corinne's past.
On the show, the 24-year-old blonde labels herself as a "Business Owner," and has repeatedly informed other contestants that she runs her family's "multi-billion dollar business." However, Reality Steve reports that Corinne is also an aspiring model and links out to Corinne's Explore Talent page, where a list of her credits includes the line:
I have worked on music videos with artists such as Pitpul, Akon, Acehood, DJ Kahled, and lil Jon, Two chainzz, and juicy j.
I'm trying dutifully to ignore the multiple spelling and capitalization errors here, but it sure does seem like those last two artists are intended to be 2Chainz and Juicy J, which would match up with the video above.
That said, it's important to bear in mind that there's no guarantee that the Explore Talent page was a) created by Corinne herself or b) accurate, especially as it has some discrepancies from Corinne's official Bachelor bio. In Corinne's bio on ABC, her age is 24 and her height is 5'1", which is different than the information provided on Explore Talent, which lists her age as 25 and her height as 5'4". Hmmm.
So, yeah, it sure does look like Corinne in that video, but I'll let you decide what you think for yourself while we wait on official confirmation. Possibly from her nanny Raquel?