Lifetime's 'Custody' Isn't Just About The Law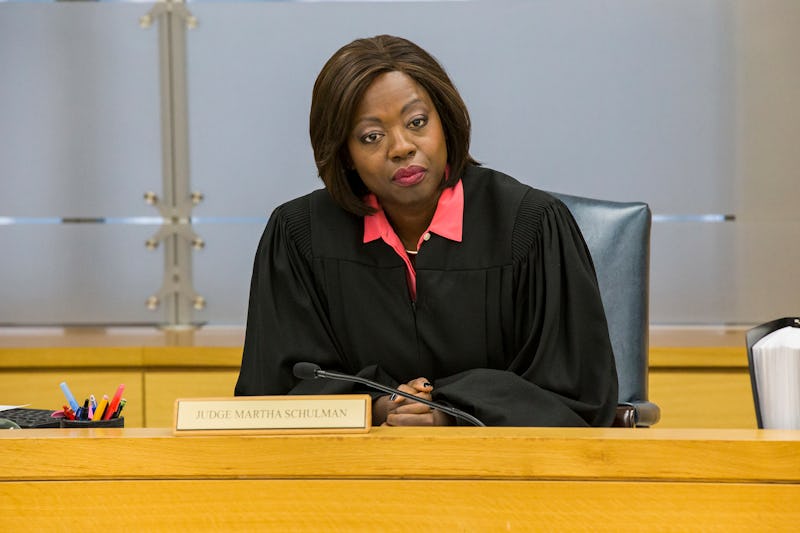 ©2016 A&E Television Networks, LLC.
Believe it or not, the first movie starring Viola Davis to premiere since she got that Academy Award in her hands is a Lifetime movie. Custody makes it world premiere on the network on Saturday, March 4 at 8 p.m. ET. But don't think that just because Lifetime has a reputation for serving up over-the-top, drama-filled films means that Custody won't be a quality movie. With its star-studded cast and heartbreaking subject matter, Custody is sure to have you looking at Lifetime in a whole new way. But is Custody based on a true story, as so many Lifetime movies before it have been?
Custody certainly deals with a serious subject matter. Davis plays Judge Martha Schulman in the movie, which she also executive produces. Her character will hear a case of a mother, Sara Diaz (Catalina Sandino Moreno) fighting to get her children back after she is suspected of injuring her son. Sara even goes so far as to kidnap her children when she feels as though the courts are failing her. Hayden Panetierre plays Sara's lawyer, Ally Fisher. The movie explores the issues in all three women's lives, the legal system, and what it means to be a good parent.
James Lapine, the writer and director of Custody, told The New Yorker that he was inspired to create the film after witnessing some real-life courtroom drama when he asked his friend, then-family court Judge Jody Adams, if he could spend some time in her courtroom about a decade ago.
Lapine even previewed the movie in April 2016 "for a dozen or so judges, court officials, and other legal workers whose courts and chambers had served as inspiration and as film locations," according to The New Yorker. Some of the people in the audience at the screening even appear as extras in Custody.
The article quotes a few current and former judges praising Custody for its accurate portrayal of the nuances and the bureaucracy of the family court system, as well as the weight of the responsibility put on the judge to make a fair and just ruling. "The thing the movie captured well is the caution on the part of the judge," Judge Douglas Hoffman, then-supervising judge for New York City Family Court, told The New Yorker. "It's never clear that this is going to be a fatality. If you knew that was going to be the case, you wouldn't let that child return home."
The New Yorker also points out that the part of Custody featuring the starvation of a 5-year-old girl after the Administration for Children's Services determined that her mother was fit to raise her is "a deliberate echo" of the real-life Nixzmary Brown case. The 7-year-old was found dead in 2006 after being beaten, abused, and neglected by her mother and stepfather at her home in Brooklyn, even after child welfare workers received warnings that she was being abused.
Brown's stepfather, Cesar Rodriguez, was convicted of first-degree manslaughter and unlawful imprisonment in March 2008, The New York Times reported at the time. He was sentenced with the maximum term of 26 1/3 to 29 years in prison. Rodriguez admitted to authorities that he had beaten Brown the night she died as punishment for jamming his computer printer. Still, Rodriguez said before his sentence was handed out, "I can honestly say that I'm being accused of something I did not do," according to The New York Times.
Brown's mother, Nixzaliz Santiago, was sentenced to up to 43 years in prison after being convicted of manslaughter in October 2008, The New York Times reported. She did not speak in court but told The New York Post in an interview in prison while awaiting her trial that she told her husband to leave her daughter alone, but she also feared that speaking up any further about the beatings would inspire violence against herself. "I was afraid of him," she told The New York Post in January 2006. "If I were to interfere with the discipline of the children, he would have hit me." During the trial, Santiago's lawyers argued that she did not completely ignore Brown's beatings and took care of her the best way she knew how given her background, according to The New York Times.
So as you can see, Lapine wasn't inspired by one specific true story of how the family court system deals with child abuse; he pulled inspiration from real-life instances that he watched unfold in court and heard about. Unfortunately, we hear about these sorts of cases all too often in the news, be it in true crime sections of websites or in regional sections of newspapers. Sometimes, theses cases revolve around parents being accused of abusing their children. Other times, a spouse may use child abuse allegations in his or her case in an effort to win custody of children.
When you mix family matters and the court system, it is often a horrific and heartbreaking experience for all involved. So it's no surprise that this is something that has been dramatized in Custody and other films. For starters, let me just point out that Lifetime already aired a movie with the title of Custody about 10 years ago. This film seems slightly more lighthearted than the Custody that's premiering on Lifetime on Saturday night since it revolves around a dad (Rob Morrow) who has raised his 13-year-old daughter Amanda (Kay Panabaker) since the death of his wife and her mother, and then all of a sudden her biological father (James Denton) walks into their lives wanting custody of his child.
Antwone Fisher is a film that explores the lasting impact of abuse and the childcare system on an individual. The titular character, played by Derek Luke, confronts his painful past after being ordered to receive psychiatric treatment following an altercation with a fellow sailor in the U.S. Navy. Other films, such as Kramer vs. Kramer and Mrs. Doubtfire chronicle custody battles as the result of divorce. A movie like I Am Sam also looks at what it means to be a suitable parent.
Just like life, stories like these don't always have happy endings, but they definitely need to be told.