This New Colombian Netflix Series Shares a Lot of DNA with 'Narcos'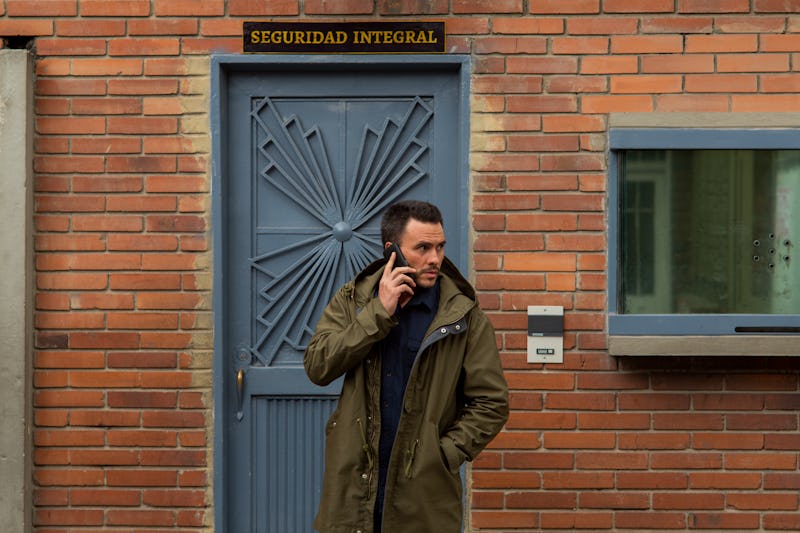 Pablo Arellano/Netflix
It's obvious by now that Netflix is a global juggernaut, and its latest Spanish-language offering only reinforces that. Distrito Salvaje (or Wild District) is a new Colombian Netflix series, which premiered Friday, Oct. 19 on the streaming platform. Jhon Jeiver (Juan Pablo Raba) is an ex-guerilla fighter who escapes to Bogotá in an attempt to start over. However, his past keeps sneaking up on him, and he ends up working undercover for the police to infiltrate government corruption. And while Distrito Salvaje isn't a true story, it definitely sounds realistic enough to be one.
After turning himself in, Jhon learns he'll be working undercover for Giselle (Camila Sodi). "I can assure you the corrupt, privileged class's days are numbered," Daniela León (Cristina Umaña) says in the trailer. "And that may upset many." Audiences also learn that a DA has been murdered — one who was investigating government corruption, to boot. The police know the culprit is, and they plan to use guerrilla fighters to infiltrate this inner circle. "In order to fight back, we need to use the same weapons," a police officer says in the trailer. "War dogs. A one-man army." He is, of course, speaking of Jhon, whom they plan to weaponize against the government.
Distrito Salvaje sounds like an exciting get for Colombia, which will be its third original series, per Variety. It joins the previously announced Green Inferno and Siempre Bruja (both of which drop in 2019, per Remezcla). However, Distrito is the first of these three shows to come out, so its arrival is a big deal for Colombia. And while Narcos was arguably the first large Netflix show set in Colombia, Distrito Salvaje is (mostly) made by and for Colombians, while Narcos was made in partnership with the U.S. According to Variety, the ten-episode series was shot entirely in Colombia.
The upcoming Spanish-language drama was produced by Dynamo, per Variety, which also co-produced the first three seasons of Narcos. Not to mention the fact that Distrito Salvaje was created by Cristian Conti — Dynamo's co-founder and producer. And, according to the same Variety piece, the Colombian series was directed by Javier Fuentes-León and Carlos Moreno, who are Peruvian and Colombian, respectively.
What's more, the cast is largely Colombian. Per Juan Pablo Raba's IMDb, the Distrito Salvaje actor was born in Bogotá but was raised in Spain by his Argentine father. And the actor may be a familiar face to some audiences — not only was he in Jennifer Garner's recent action movie, Peppermint, but Raba also played Gustavo Gaviria in Narcos, as well as Joey Gutierrez in Agents of S.H.I.E.L.D. What's more, Cristina Umaña also appeared in Narcos as Judy Moncada, and the Colombian actress will appear in Season 2 of Tom Clancy's Jack Ryan, which is out in 2019.
As for Raba's character, he's searching for identity throughout the show. According to an interview in the local publication El Espectador, Cristian Conti said that Distrito is less about the political conflict and more about Jhon's inner turmoil. After living in the jungle for so long, the soldier is bound to feel out-of-place in Colombia's bustling capital. "I would say that if there is one characteristic of John Jeiver, it is that it represents how human beings have to adapt to the circumstances that surround us," Raba said in a translated version of the same article. "And in particular, for him, it is much more traumatic, because he is a person who's never been able to make decisions for himself."
So while it remains to be seen how audiences will respond to Distrito Salvaje, the show promises to be an exciting — and thankfully fictional — story.