If You're Obsessed With Crime Shows, Add This Netflix Drama To Your Watch List Stat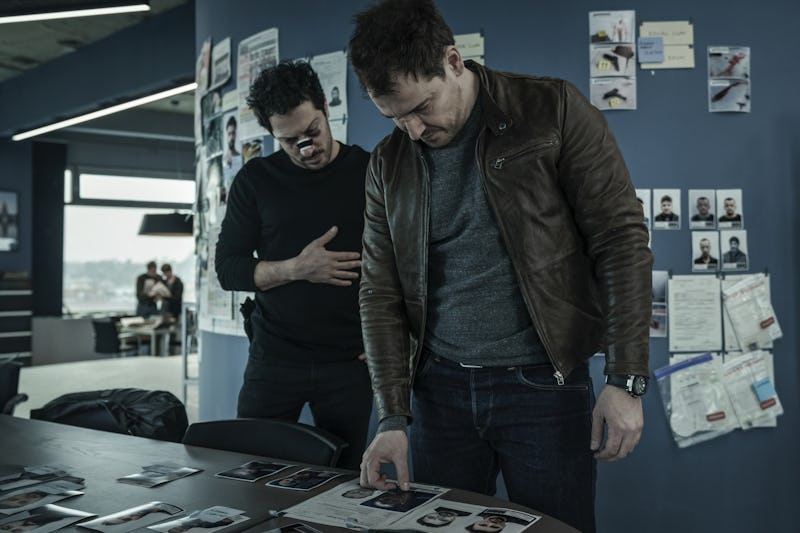 Stefan Erhard / Netflix
As the saying goes, Berlin is poor but sexy, and it's this combination that makes it the perfect setting for Netflix's Dogs of Berlin. The German crime drama follows Erol Birkan (played by Fahri Yardım) and Kurt Grimmer (played by Felix Kramer), two cops investigating the murder of a famous soccer star named Orkan Erdem. The show is filmed in and around Berlin, which gives the whole story an authentic look and feel, but you'll be relieved to know that Dogs of Berlin isn't based on a real story.
Rather than hopping on the true crime bandwagon still saturating American television, the series adds to the classic buddy cop genre. According to Variety, it's an original concept from writer and director Christian Alvart and Syrreal production company. And, back when the project was first announced in 2017, Alvart said in a press release that the idea for Dogs of Berlin had been on his mind for some time before the show started to take shape at Netflix.
"To develop a 10-episode show that combines innovative storytelling with complex and unique characters is incredibly exciting for me as an author and director," Alvart explained. "I wanted to tell the story of these 'Dogs' for quite some time and am very much looking forward to finally bringing them to life together with Netflix's creative team. They couldn't have found a better home."
In the official press release from Netflix, Sigi Kamml, one of Alvart's co-producers, issued a statement explaining that Netflix became the perfect home for Dogs of Berlin, letting the creative team move with complete freedom to tell the story on their own terms. "Netflix gave us the freedom of creative storytelling and we developed a narrative that goes far beyond conventional crime thrillers," he said. "Dogs of Berlin digs deep into the swamp of organized crime in Berlin — and soon our heroes themselves are on the verge of drowning in it."
Netflix, too, seems more than pleased with the partnership. Eric Barmack, the vice president of international original series, added that Alvart and his project were a great fit for the streaming service. "Dogs of Berlin is a cutting-edge crime drama series with thriller elements set in the different sub-worlds of modern Berlin," he said. "It's gripping, fast-paced, tense, and emotional in a way that can only be realized at Netflix."
But while Dogs of Berlin isn't based on a true story, it is based on very real issues that affect Berlin today. The tension between racial groups, far-right parties, politicians, and police are all factors that heavily influence the city in real life, and haven't often been explored on-screen — especially on a scale as large, and with an audience as broad, as Netflix. That's a lot of pressure resting on Alvart and his team, but from the sounds of things, the streaming service is confident they'll be able to rise to the occasion. Judge for yourself when Dogs of Berlin hits Netflix on Friday, Dec. 7.