Trump Will Be At The Super Bowl In Spirit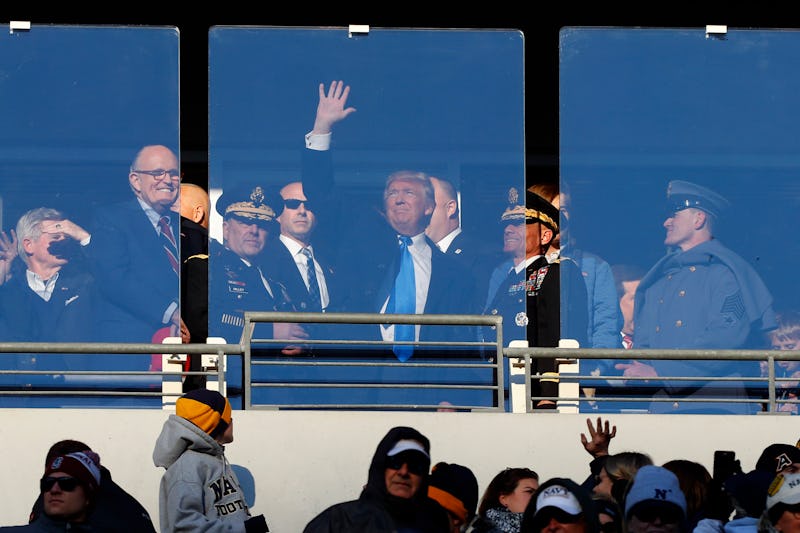 Aaron P. Bernstein/Getty Images News/Getty Images
On Sunday, millions of Americans will watch what could be the biggest television event of the year, as the Atlanta Falcons take on the New England Patriots in Super Bowl LI. Where there's a chance for record-breaking audiences, it would seem logical to find a certain new president, but it remains unclear if President Trump will be at the Super Bowl. Even if he's absent for the big game, he's still likely to capture some of the attention.
As President Obama did before him, Trump will sit for an interview before Sunday's prime-time game. According to CNN, Fox News host Bill O'Reilly will interview Trump for a segment that will air at 4 p.m. EST during Fox's pregame show. The interview will take place at the White House, but it will be taped ahead of time. In other words, it's anybody's guess where Trump will actually be on the day of the game.
Regardless, it seems that Trump doesn't need to make the trip to Houston to have his fair share of attention on Sunday. In some ways, this year's Super Bowl match-up has become symbolic of the division that Trump's presidency has created (or, perhaps, deepened) within the country's population.
On one side of Sunday's big game are Patriots quarterback Tom Brady, head coach Bill Belichick, and owner Robert Kraft, who all have ties to Trump. Brady is a friend and golfing buddy. Belichick is also a friend and, at least once, was a guest at Trump's Mar-a-Lago country club. Kraft has a friendship with the president, as well, and he even attended Trump's most recent wedding in 2005.
Meanwhile, the other side of Sunday's field will be occupied by the team from Rep. John Lewis's congressional district, which, if you ask Trump, is "in horrible shape and falling apart." Not to mention, Falcons owner Arthur Blank expressed concern over Trump's presidency during a pre-Super Bowl event on Tuesday. "I'm troubled by anything directionally in our country that separates people," Blank reportedly said.
Then, there's the woman in the middle of the show. Lady Gaga, who will perform Sunday's halftime show, has previously spoken out against Trump. She wrote an essay for Harper's Bazaar after a leaked video showed Trump using vulgar and crude language to describe his exploits with women. She also joined protests outside of Trump Tower in New York City after he won November's presidential election.
With a handful of days left until the big game, Trump may have already stolen the spotlight. It's unclear if he'll attend the Falcons-Patriots match-up in Houston on Sunday, but his controversial presidency has a tendency for stirring up drama in public. Either way, it's probably not a secret who he's rooting for — and there may be plenty of people at the game rooting against him.