Ed Sheeran Was Reportedly Asked To Play A Role In The Royal Wedding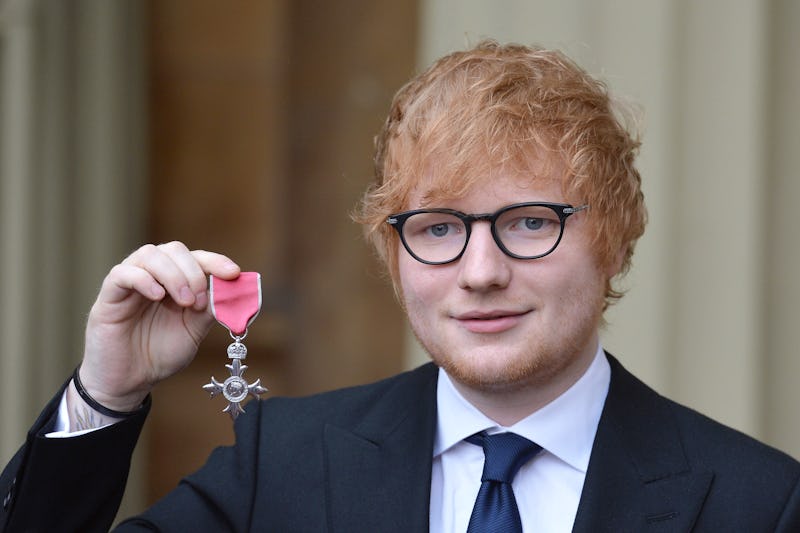 WPA Pool/Getty Images Entertainment/Getty Images
Details surrounding Meghan Markle and Prince Harry's royal wedding are slowly unfolding. Now, it looks like there's even a chance that Ed Sheeran will sing at Markle and Harry's wedding on May 19. According to Entertainment Tonight, a source revealed that the Divide artist has been asked to play at their upcoming nuptials. Bustle has reached out to Sheeran's rep for comment, but did not receive a response at the time of publication.
For those who are big Sheeran fans (*raises hand*), the singer performing at the wedding would be truly magical. He has some of the best love songs that would make any wedding even more romantic, including Markle and Harry's. From "Perfect" to "Photograph" to "Thinking Out Loud" to "Kiss Me", the 26-year-old British musician definitely knows how to make hearts go pitter-patter.
Singing at the royal wedding is something Sheeran discussed in December 2017 after being awarded with the Most Excellent Order of the British Empire by Harry's father, Prince Charles. Reporters asked (via People) if he would sing during their first dance and he replied, "Yeah, why not?!"
That same December, ET asked if he'd perform at the ceremony and he said "if I was free." He added, "I get asked this all the time like I know the royal family. I've met Harry once! [And] that was in 2011 at his grans' Jubilee, and it was like, 'Hey.' 'Hey'... I barely know him!"
However, seeing as Sheeran will be touring and is scheduled to play in Dublin, Ireland on May 19, it doesn't seem likely that he'll be performing at their wedding, unless, of course, he was to cancel that tour date. The royal wedding would be a once in a lifetime opportunity
There's also been speculation that Elton John will play at the royal wedding. They could both perform, right? Now that would be a wedding. As revealed on the singer's official website, Feb. 9, John rescheduled two performances at Caesars Palace originally set for May 18 and May 19 "due to a scheduling conflict". Hmm... that sure sounds suspicious, especially since Markle and Harry are getting married on May 19.
So, does this mean the 70-year-old musician will sing at the wedding? Or does it mean he's only invited? It's unclear at this point in time. Bustle reached out to John's rep for comment, but didn't receive an immediate response.
Seeing as John has a close connection to Harry, it would make sense for him to at least attend the royal's wedding. Not only did John sing "Candle in the Wind" at Princess Diana's funeral in 1997, but he's been vocal about his happiness for Harry's future with Markle. "Well, I spent some time with him in Sicily last summer, and I could tell that he was totally in love," the "Tiny Dancer" singer said on ITV's Lorraine in January (via People). "He didn't really discuss much personally, but he said 'I'm in love,' and I thought, good for you."
Furthermore, John attended Kate Middleton and Prince William's wedding, so it seems likely he'll at least score an invite to Harry's big day. Who knows if either John or Sheeran will sing at the wedding, but there's a good chance someone well known will perform. After all, Ellie Goulding sang for Prince William and Kate Middleton at their April 2011 wedding reception. She even sang her own version of John's "Your Song". See? He's always present.
As meaningful as it would be for John to sing for Harry and Markle, it would also be special for Sheeran to perform — he could even cover an Elton John song, too.
Correction: A previous version of this story lacked the full information about Ed Sheeran's touring schedule. It has been updated.