Netflix's New Teen Drama Is The 'Gossip Girl' Replacement You've Been Waiting For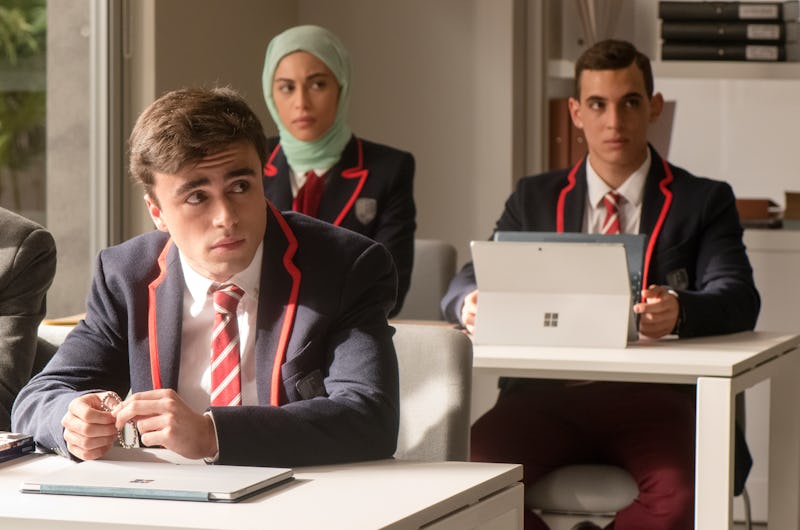 Manuel Fernandez-Valdes/Netflix
If you've been looking for the perfect dose of televised teen melodrama combined with the chance to practice your high school Spanish, then look no further than Netflix's newest Spanish original series, Elite. According to the synopsis from Entertainment Weekly, Elite follows three students from working-class families that are sent to one of the best boarding schools in Spain, where they find themselves tangled up with entitled teens and a mysterious murder. Elite hits Netflix on Oct. 5, but before you and your friends tuck in for an all-weekend marathon sesh, you might find yourself wanting to know if it was a book series beforehand, or if Elite is based on a true story, or at least inspire by IRL events.
Teen Vogue's Allie Gemmill described Elite as "Gossip Girl meets How To Get Away With Murder," and I'm going to go ahead and say it sounds a little Pretty Little Liars-y, too. Netflix itself made the connection between Elite and both Gossip Girl and Big Little Lies with an announcement from their official Twitter account, See What's Next, which read: "It's #GossipGirl meets #BigLittleLies: prepare yourself for the insanely addictive new series #Elite."
While the comparison does seem pretty apt — the whole trailer for Elite plays out suspiciously like the swimming pool episode from Season 1 of Gossip Girl — it seems like more of a marketing tactic to help existing fandoms find their way to the new series, rather than an official confirmation that Elite was actually inspired by either show. As it currently stands, Elite is an original work of fiction from Spanish writing duo Darío Madrona and Carlos Montero.
While the general premise of Elite does sound a tad familiar — poor kids and rich kids hating and dating each other while wearing plaid skirts and blazers — some of the more specific elements of the plot do seem to illustrate a story that hasn't been told before. The series announcement from Deadline explains that the three students that enroll at Las Encinas do so because of a hurricane that destroyed their own school, and that its the tensions between the different students that ultimately leads to the murder. (Am I the only one getting some serious Riverdale vibes here, too?)
Francisco Ramos, the executive producer of the series, explained to Deadline that setting the story in high school was a natural choice in order to turn up the intensity in this high stakes drama. "Making shows for teens is very exciting," he said. "[I]t is the time of your life when things matter the most. We are delighted to work on a show about the desire and the need to fit into an elite world where all can be great and yet all can go terribly wrong."
So whatever story you think Elite reminds you of, it does look scandalous and stylish as heck. Will the suspicious new youths of Las Encinas turn out to be as sexy and scheming as the girls of Constance Billard and the boys of St. Jude's? You know you love them a little already... xoxo.