This U.S. Luge Olympian Was Sent To The Hospital After A Hard Crash On Her Final Run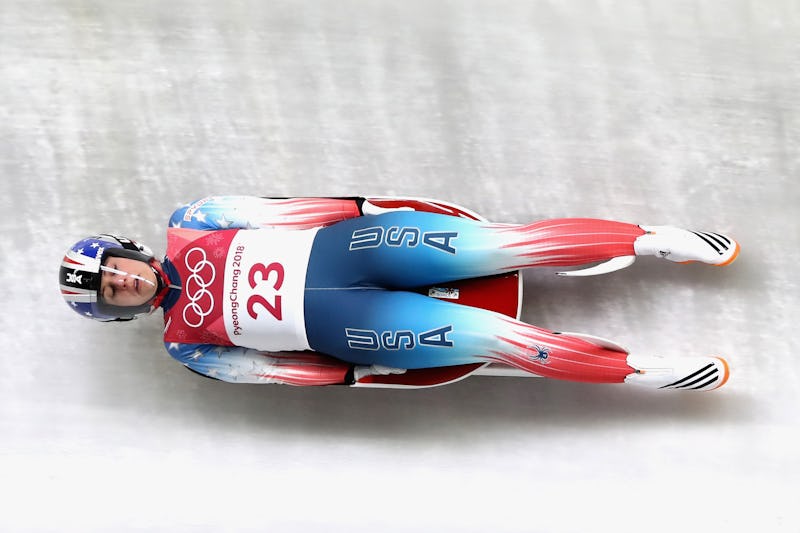 Alexander Hassenstein/Getty Images Sport/Getty Images
The 2018 Winter Olympics in PyeongChang, South Korea didn't end well for one athlete. U.S. competitor Emily Sweeney crashed her luge during the women's singles competition on Tuesday. CNN reported that Sweeney was conscious after the crash, eventually standing up and walking off the ice very slowly with the help of on-site medical personnel. She's currently in a hospital in PyeongChang.
Sweeney, 24, made her Olympic debut this year, and was in her fourth and final run when she suffered the crash. As she was taking curve nine, she lost control and began bouncing around the track before crashing. She ended up sliding feet-first up one curve toward the track roof and was then thrown from her sled, eventually tumbling to a stop. The rowdy crowds at the Olympic Sliding Centre immediately went quiet.
After about ten minutes, Sweeney was able to stand and leave the track. There was a brief delay, and the competition resumed.
Curve nine is the most treacherous portion of that particular run, according to reports, and has caused issues for athletes in the past. While it generally leads to Olympiads skidding and losing time, crashes aren't as common as they were in years prior.
Before Sweeney's crash, Austrian luger Birgit Platzer went airborne as she was taking curve nine. She lost control, went sideways, and was briefly suspended in the air above the track during her second run on Monday night in the women's singles competition. Miraculously, Platzer didn't sustain any injuries, but the same couldn't be said for the sled.
"I feel better than the toboggan," she told reporters.
And not long after Sweeney's crash, American luger Summer Britcher also lost control during her run, only at the beginning. She ended up colliding with some walls, but managed to get down the track without crashing or suffering any serious injuries.
The extent of Sweeney's injuries were not immediately made clear, but an International Luge Federation representative told CNN that she didn't have any broken bones. She's still being treated at a hospital near the games, but has officially crashed out of the competition.
This was Sweeney's very first time at the Winter Olympics, after missing out on a spot in Sochi 2014. She also didn't qualify in 2010 for Vancouver, losing the spot to her sister Megan, a former luger. PyeongChang was Sweeney's third attempt to make the games.
"She's resilient, right?" Megan told the Associated Press. "She had a goal and she went for it. She was so aggressive. She's way better than I ever was."
Sweeney became the Junior World Champion in 2013 and had always wanted to compete in the Olympics. As she told AP:
Not making the team in 2010 is one thing. It was fine. It obviously wasn't fine. I would have loved to have been there and competed with my sister. Not making the team in 2014 was a little crushing to me. It took me a long time to come back from that.
When she eventually found out she'd made the Olympic team — the decision came down to the final weekend — she was doing laundry alone at the Olympic Training Center.
"It doesn't feel real," she said after clinching a position on the U.S. team. "I feel exactly the same as I did before."
After all of her hard work, however, Sweeney will unfortunately end her Olympics in a hospital instead of standing on a podium. "I'm OK," Sweeney said after receiving treatment. But despite not suffering any serious injuries, it was a scary few moments for her and her teammates.
"I've never been so relieved than when I saw her getting up and walking," Britcher said after the accident with tears in her eyes.
Sweeney's currently ranked eighth in the current World Cup standings and won a gold medal in a sprint race in Germany earlier this season. But, it looks like this accident has derailed her dreams of becoming an Olympic medalist — at least for now.