Emma Roberts Super Short Bob Is The Shortest Her Hair Has Ever Been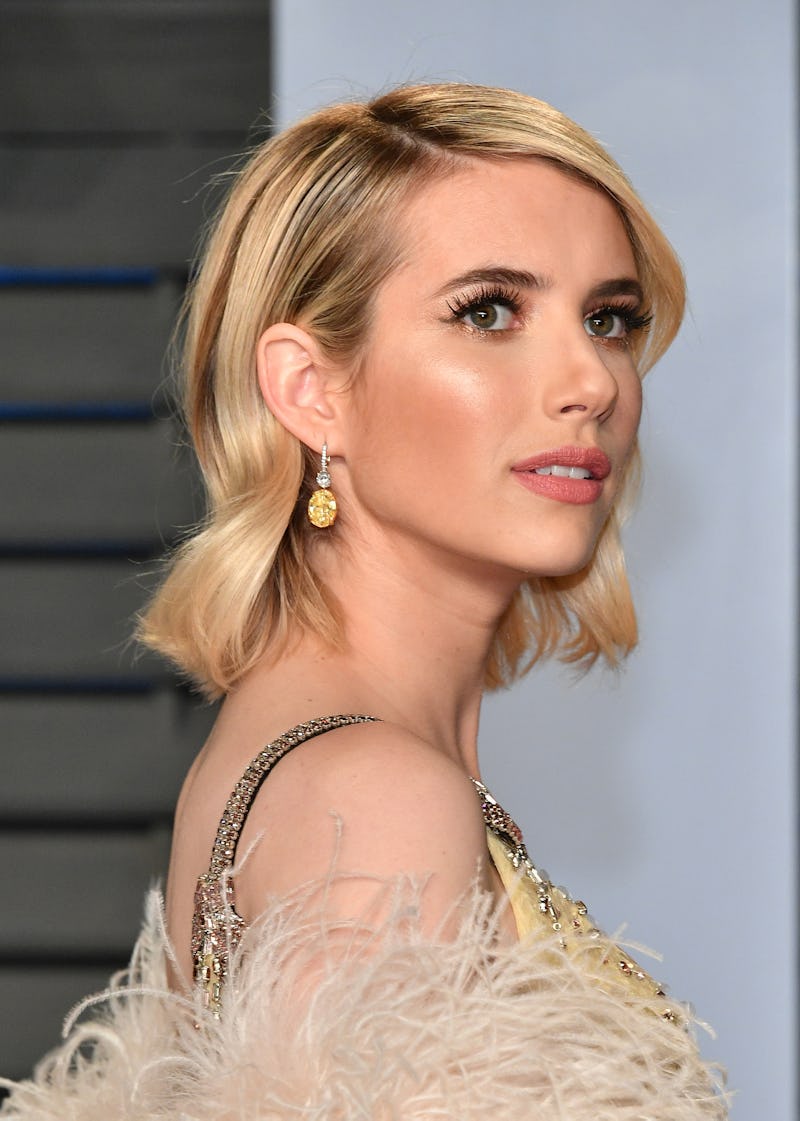 Dia Dipasupil/Getty Images Entertainment/Getty Images
Emma Roberts is something of a hair chameleon in Hollywood, where she changes up her style faster than the most of us change socks. But her love of experimenting is what makes her such an inspiration — she definitely makes people want to pick up the scissors and try something new. Which is where Emma Roberts' new bob comes in: She just went super short, and you're going to want to follow her right into the hairdresser's chair.
Previously, Roberts was sporting a wavy blonde lob, where the ends just hovered over her shoulders and bent to create a subtle wave. At one point she had the beauty world buzzing when she debuted sci-fi inspired baby bangs at the Critics' Choice Awards in January, following in the footsteps of Ariana Grande and Emma Watson when it came to micro fringe. Knowing how open Roberts is to new looks, people wouldn't put it past her if they were real, but later on her stylist confirmed that it was just a wig.
Her newest chop, though, definitely isn't a wig. Shared on hairstylist's Chris McMillan's Instagram, we see that the actress now has a sleek, above-the-chin blond bob. Parted on the side and having a slight flip to the ends, McMillan shared that he achieved this no-fuss look by running Sebastian mousse through her short tresses and then popped her underneath a hood dryer for 15 minutes. After he just tousled her hair with his fingers, and that was it. The perfect minimalist look.
Roberts hasn't shared her new look on Instagram yet, but to show you how much of a difference this new cut is, check out her lob look from just a few weeks ago. It's only a few inches, but the new style really packs a punch.
Having her hair cut by McMillan is quite the treat-yourself appointment, too, seeing how he's something of a legend in the hair world. Having been cutting hair for over three decades, he's the man behind famous cuts like "the Rachel," which defined the '90s and had women everywhere scrambling to get the flipped layers of the Friends star; and Miley Cyrus' iconic pixie cut that helped her transition from Hannah Montana to Wrecking Ball. He was also the trusted stylist requested for Kim Kardashian's Florence wedding.
So suffice it to say, Roberts was in excellent hands.
The comments underneath the photos are all positive, where everyone loved the blunt new bob. "Youthful and edgy!! Love!!" one follower wrote. "Makes me want to chop mine again!" posted another.
Roberts isn't the only celeb playing with the big short right now, either. It seems like the ear-grazing bob is the way to go this season, as more and more stars sheer down their length.
Jenna Dewan revealed a sleek bob at the 2018 Billboard Music Awards red carpet, rocking a shiny, perfectly rounded hairstyle.
Emilia Clarke also made her lob shorter, where she felt like she had to take off some length in order to snip off the fried ends of her bleach blonde hair. She revealed the new look on Instagram, captioning, "In other news this FABULOUS new bob is the chicest way to style out some burnt-out mother of dragons split ends." She followed it with a hashtag that all Game of Thrones fans and bleached blondes understood on a spiritual level, writing, "#whenyoulooklikeawildlingitstimetochop."
Kate Hudson has also been seen rocking a short bob recently, where she was spotted with an asymmetrical chin-grazing cut while out shopping in Los Angeles with her mom, Goldie Hawn. Her look turned out to be a wig, where the actress wanted a longer 'do for an afternoon while patiently growing out her pixie cut.
From Roberts to Dewan to Clarke, everyone is taking the short hairstyle plunge. If you're in the mood to try something drastic and new yourself, use their boldness as inspiration!