The Fate Of TJ Miller's 'Silicon Valley' Character Has Been Revealed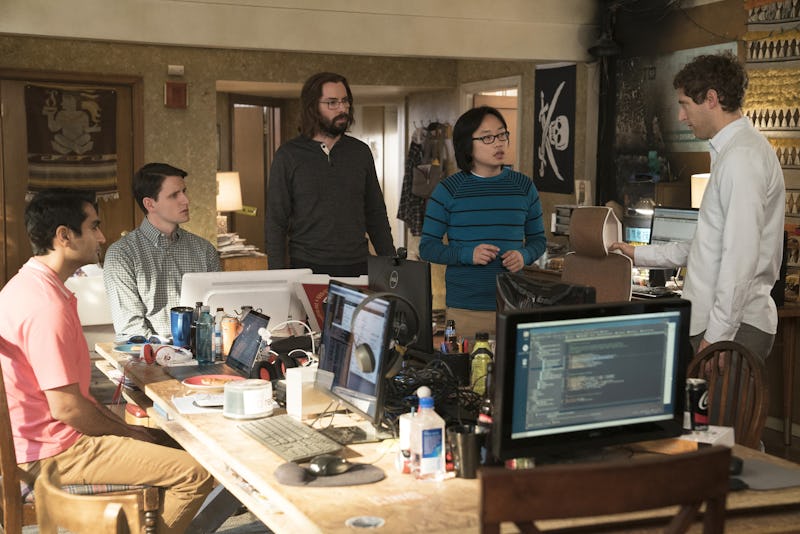 Paige Goldstein/HBO
Silicon Valley lost one of its core cast members at the end of Season 4, and is treating that departure in typical Silicon Valley fashion with a heavy dose of cynicism. The Season 4 finale showed venture capitalist and early Pied Piper investor Erlich Bachman retiring to an opium den in Tibet, which marked the final appearance of Erlich on Silicon Valley. The Silicon Valley Season 5 premiere, however, features one character trying to kill off Erlich — or at least make it appear that Erlich Bachman is dead on Silicon Valley.
The fifth and latest season of the series shows Pied Piper reaching their highest point yet, owning their own high-end office and hiring a full staff to take on their ambitious work. However, while Richard Hendricks, played by Thomas Middleditch, is using increasingly shady tactics to get his way, and Erlich's absence has left one character aimless — Jian-Yang. Erlich and Jian-Yang have long been counterparts, often finding ways to try and undercut each other, but Jian-Yang seems to be taking things to the next level.
It's revealed in the Season 5 premiere that no one has heard from Erlich in months, and Jian-Yang uses this as an opportunity to try and get Erlich's house from him. However, a comment from Pied Piper's legal counsel inspires Jian-Yang to try something more complicated — convincing people that Erlich Bachman is dead and that he left Jian-Yang his house and his 10 percent of Pied Piper share in his will. While Erlich Bachman may not be technically killed off, the show is still having fun by killing the character off in its own way.
Over the course of the first episode, Jian-Yang hatches a plot to prove that Erlich Bachman is dead which will likely continue throughout the season. While this could be setting up some kind of conflict between him and Erlich should he return from his opium den, it's safe to say that TJ Miller will not be returning to the HBO series any time soon. Miller said in an interview with The Hollywood Reporter that his departure from the show came from him wanting to leave the show to focus on other projects, but also because he felt the show would improve without him. However, his interview also hinted that there was some tension between him and other members of the cast and crew.
When talking about his preference for being a comedic actor, Miller claimed, "I'm not sitting here saying, 'I need more lines. I'm not funny enough.' I'm not Thomas Middleditch." Miller also had choice words to say about showrunner Alec Berg, saying, "I didn't talk to Alec, because I don't like Alec," and of Berg's alma mater of Harvard, Miller believes that "we all know those kids are f*cking idiots. That Crimson trash."
So, it obviously does not sound like Miller has any interest in returning.
And, at this point, it's possible Silicon Valley doesn't want Miller back anyway. A few months after his interview with The Hollywood Reporter, Miller was accused of physical and sexual assault. Per The Daily Beast, an alleged victim who remained anonymous claimed that Miller allegedly assaulted her while the two were attending George Washington University. When asked for comment on the assault, Bustle received the following statement from Miller and his wife, Kate:
"We met this woman over a decade ago while studying together in college, she attempted to break us up back then by plotting for over a year before making contradictory claims and accusations. She attempted to discredit both of our voices and use us against one another by trying to portray Kate to be a continuous abuse victim of T.J. (further efforts to hurt the two of us). She was asked to leave our university comedy group because of worrisome and disturbing behavior, which angered her immensely, she then became fixated on our relationship, and began telling people around campus "I'm going to destroy them" & "I'm going to ruin him."
We are confident that a full consideration of accounts from and since that time will shed light and clarity on the true nature of not only this person's character, and also on the real facts of the matter. We stand together in stating this is nothing more than an unfortunate resurgence of her lies designed to wreak havoc on two happily married people in the public eye.
She began again to circulate rumors online once our relationship became public. Sadly she is now using the current climate to bandwagon and launch these false accusations again. It is unfortunate that she is choosing this route as it undermines the important movement to make women feel safe coming forward about legitimate claims against real known predators.
We stand together and will not allow this person to take advantage of a serious movement toward gender equality by allowing her to use this moment to muddy the water with an unrelated personal agenda. We feel we all have an obligation now more than ever to prevent people from using reporters to spin lies into headlines, and focus instead on what is real. We both champion and continue to stand up for people everywhere who have truly suffered injustice seeking to have justice brought into their lives."
While the accusation came out months after Miller had agreed to leave Silicon Valley, the controversy surrounding Miller could cast a shadow over any continued involvement in the series. The plotline of Jian-Yang orchestrating Bachman's "death" could be seen as Silicon Valley distancing itself from Miller, but whatever the series' intention behind the plotline is, it's proving that the show is just as funny as it ever was — even without Miller.