Eureka Faces A Shocking Twist On 'RuPaul's Drag Race'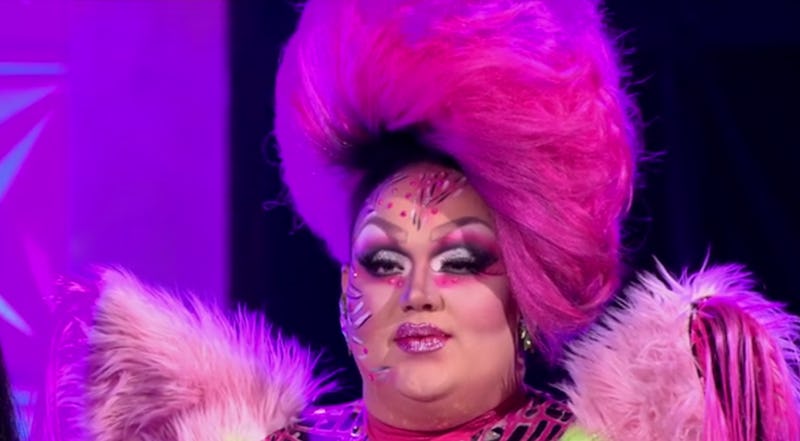 Spoilers ahead. Herstory was officially in the making during episode 5 of RuPaul's Drag Race, when fan-favorite Eureka O'Hara faced a surprise elimination with an additional twist: an "open invitation" to return for Season 10. It was a shocking moment and an unprecedented move, even for a show as full of twists as RuPaul's Drag Race. But, as shocking as it was, the elimination also highlighted a more pertinent question — is Eureka O'Hara OK?
Because, having injured herself during the cheerleading challenge of the second episode (when the bodacious queen heard her knee "pop" while doing a cartwheel), Eureka spent the entirety of episode 5 on crutches. And while it was admirable to see the contestant so determined to not let her injuries hold her back from serving up pure excellence (including a star turn as North West in Kardashian: The Musical), it was clear that her injuries, which were later revealed to be a torn ACL, might've been more serious than she was willing to admit.
So, when Mama Ru left the stage to take a "moment" to deliberate over which of the bottom-two queens, Cynthia Lee Fontaine or Farrah Moan, would sashay away that week, it was truly a shock to hear Eureka's name called instead. However, the reasoning was solid and came from a place of love: Ru had "been in touch with the doctor" and decided that what Eureka needed was "time to heal," not to compromise her health by continuing to compete. So, what's next for the queen? Has she healed? And will Eureka return for Season 10 of RuPaul's Drag Race?
On Saturday morning, the latest episode of UNTUCKED gave fans a glimpse of Eureka's mindset following her departure, and, though clearly heartbroken, it was also clear that the queen wasn't letting the disappointment dampen her drive. Describing her sorrow at having to leave Season 9, Eureka managed to remain positive and said,
"I just feel sad because I finally got the break that I worked so many years, so hard, gave up so much of my life, to get. And to be halted for something that I can't control, it makes me bitter with destiny a little ... What can I do? Except move forward and be fabulous everywhere that I go."
Which are the fighting sentiments of a survivor, right there. So, it's no surprise at all to hear that the queen is officially on the mend already. In a post-elimination interview with Chron, Eureka explained her "healing process," as being "a path that I'm meant to lead," and that she's currently "getting active again." She's even back to performing drag in Texas following emergency reconstructive surgery on her knee.
So, will she be returning next season? In an interview with Entertainment Weekly, Eureka confirmed her potential return to RuPaul's Drag Race. She said,
"I'm coming to the closing end of seeing doctors after knee surgery. I'm doing really well, and as long as the powers that be allow it, I'm definitely going to be back."
As is often the case on RuPaul's Drag Race, Eureka is proof that you can't keep a good queen down. And I, for one, am relishing her potential comeback already.