Evan Peters Might Say Goodbye To 'American Horror Story' For This One Reason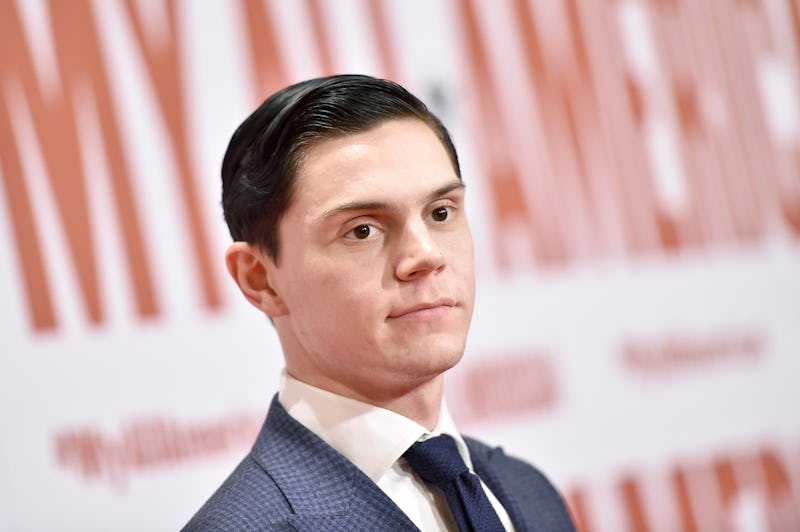 Mike Windle/Getty Images Entertainment/Getty Images
Friends, it appears as if the end of an era may soon be upon us. According to a recent interview with GQ, Evan Peters might be done with American Horror Story. Finished. No more. On to greener pastures ... maybe. While Peters didn't exactly say he's done with AHS, per se, he did admit that he was kind of fed up with playing such notoriously dark and intense characters on the FX show. "Yeah, I'm not doing it anymore," he told GQ in an interview published on July 23. "I just made a decision. I said to myself, 'I can't do it anymore.' It's not me. It's not who I am!" Bustle reached out to Evan Peters, but did not receive a response before publication.
The 31-year-old actor has appeared in every single season of Ryan Murphy's horror anthology series up to this point, and honestly, it's hard to imagine the show without him. It's also hard to imagine him as characters other than the creepy personas he's adopted on AHS. But the actor insists it's not who he is, nor is it what he wants to be known as forever.
Wait, so Peters isn't an undead trouble teen, or a mass murderer, or a psychopathic cult leader in real life? Is he at least a little bit like the creeps he plays on TV? Nope, apparently not. "I'm goofy, I'm silly, I like to have fun," the actor told GQ. "I don't like to yell and scream. I actually hate it. I think it's disgusting and really awful, and it's been a challenge for me. Horror Story sort of demanded that of me."
Peters went on to tell the publication exactly how several seasons of sinister roles had begun to effect him, and how's he tried to find a balance.
The actor explained:
"It's just exhausting. It's really mentally draining, and you don't want to go to those places ever in your life. And so you have to go there for the scenes, and it ends up integrating it somehow into your life. You're in traffic and you find yourself screaming and you're like, 'What the hell? This isn't who I am.' I fight really hard to combat that and make sure that I'm watching comedies and hanging out with my fiancée [actor Emma Roberts] and chilling with friends and watching movies."
Peters told W Magazine in July that Murphy's creativity with the show has made it hard for him to reject those kinds of super intense AHS roles in the past. "[Murphy] basically just calls you and tells you what the role is," he explained. "You go into it like, 'I'm not going to play anybody crazy again. I don't want to do that. That's too much.' Then he's like, 'You're playing this kind of Charles Manson‐esque crazy guy.' And you're like, 'Okay, sure.'"
It's the challenge that draws Peters to the darker roles, as he noted in his W Magazine interivew:
"But he just makes it so, I don't know, so appealing, and makes it sound so fun and interesting to do—and always, always a challenge. Then you can't resist and you're like, 'Well, maybe I could do it. Maybe I should definitely try to do that. That'll be good.'"
It seems as if AHS' most recent season, Cult, was a bit of a breaking point for Peters, though. The actor starred as Kai, the aforementioned "Charles Manson-esque crazy guy" cult leader, who built his following during a time of all-too-familiar political unrest.
Back in March, however, Murphy confirmed that Peters — in addition to AHS alums Kathy Bates and Sarah Paulson — would be back in a main role for the upcoming, eighth season, American Horror Story: Apocalypse. Despite declaring himself done with dark roles, Peters seemingly couldn't resit coming back for more. this time around, though, he'll get to play a bit on the lighter side of things, according to writer-creator Ryan Murphy. "[Cult] was very taxing on Evan," Murphy acknowledged during an AHS promotional event in April, as reported by Deadline. "And around Thanksgiving, I was talking to Evan and he said, 'You know this show is so hard, it's so difficult to do.' So [his] part this year is a comedic part, [he is] comedic and [he plays] a hairstylist."
It's unclear whether or not Peters is already skilled with a pair of shears, but it seems like a comedic role will definitely suit his real-life personality so much better.