Fifth Harmony Didn't Say They're Breaking Up For Good… But They Could Be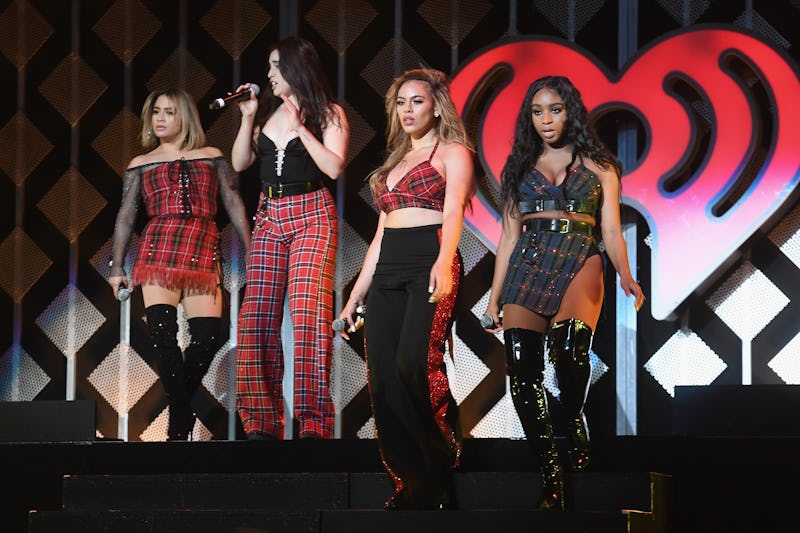 Paras Griffin/Getty Images Entertainment/Getty Images
On Monday, Fifth Harmony announced an indefinite hiatus and it could be bad news for Harmonizers. Fans are worried Fifth Harmony is breaking up for good, and it could be a long time before the group performs together again. The group's four remaining members — Dinah Jane, Normani Kordei, Ally Brooke, and Lauren Jauregui — announced on Twitter that they would be taking a break to pursue solo projects. The announcement comes one year after singer Camila Cabello revealed that she would leave the group. Fifth Harmony continued on as a foursome after the line-up change, but may be coming to an end after six years of writing and performing together.
The members of Fifth Harmony met on The X-Factor in 2012, and eventually found major success. Their album 7/27 featured several chart-topping hits, including "Work From Home". The song was their first Top 10 single on the Billboard 100, and the album was a breakthrough moment for the girl group. In their statement on Twitter, they acknowledged their progress over the years. "Reflecting on the past six years since we started on X-Factor, we've realized just how far we've come and we appreciate everything so much, more now than ever," the post reads. "We've really had one hell of a memorable journey together and can't begin to express our gratitude to y'all for coming along with us on this wild ride!"
Fifth Harmony noted the break would allow for members to pursue solo projects. "After six years going hard, non-stop, we also realized that in order to stay authentic to ourselves and to you, we do need to take some time for now to go on a hiatus from Fifth Harmony in order to pursue solo endeavors," the group said.
The note seems to hint the four members will one day return to the group, but it doesn't mention specifics. It just says: "We are all very excited and grateful to be able to take this time to learn and grow creatively and really find our footing as individuals. In doing this we are allowing ourselves to gain new experiences, strengths and perspectives that we can bring back to our Fifth Harmony family."
The group's break feels similar to the end of One Direction, who also met on The X-Factor. In 2015, the group went on an indefinite hiatus shortly after Zayn Malik departed to pursue solo projects. In the three years since the hiatus was announced, the members have found individual success. It's been exciting to watch them pursue their own style of music, but a 1D reunion doesn't seem to be in the immediate future. If Fifth Harmony is splitting to pursue solo careers, odds are their break will also be pretty long.
On Twitter, Harmonizers seem to think the split is final. Many fans posted small eulogies for the group, sharing memories or thanks for the music. A few people weren't surprised by the announcement, but most still felt sad about the hiatus.
These fans were convinced that the hiatus meant an official breakup is coming, or at least the break will be pretty long:
Other fans seemed to recognize that the break was coming, but still took a moment to share what the group meant to them over the six years:
It's clear that the feeling is mutual, and Fifth Harmony took a moment to recognize their fans in the Twitter announcement. The four singers wrote: "To our Harmonizers, thank you for everything we have been able to build as Fifty Harmony. With your love and encouragement we will continue to build on ourselves, support one another in everything we do, and keep making you proud, each other proud and ourselves proud."
It's not clear what will come next for the now-solo artists, but if they follow in the path of 1D, each will likely sign new record deals soon. Since leaving the group in 2016, Camila Cabello's solo music has done well. Her breakout single "Havana" cracked the Billboard Top 10, and created a lot of buzz for her self-titled solo album, Camila. The album debuted at #1 on the Billboard charts, making her the first woman to take the spot with a debut studio album in three years. The other members of Fifth Harmony could find similar success, and it will be exciting to see what their future projects hold.