'White Famous' Has A Very Real & Frustrating Inspiration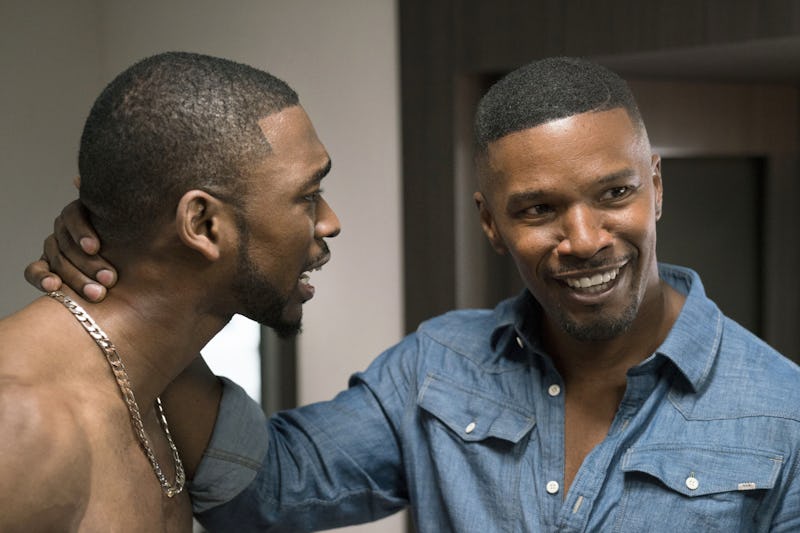 Michael Desmond/SHOWTIME
Showtime's White Famous focuses on a specific facet of the intersection between race and mainstream fame. Floyd, a young up-and-coming comic, is forced to decide if he's happy being famous amongst his own community or if he's willing to try and become "white famous," or popular amongst white audiences. While Floyd of White Famous is not based on one real person, the character is inspired by multiple young black comics who have faced similar situations — specifically show creator and guest star Jamie Foxx.
White Famous claims to be "based on [Foxx's] experiences," as a rising comic in Hollywood and unfortunately having to balance appealing to his own black community and satisfying the largely white world of Hollywood. Foxx himself has become a massive cultural figure, having garnered box office success and critical acclaim, including an Oscar for Best Actor in 2005 for the film Ray. While Floyd's story is not a direct adaptation of Foxx's life — White Famous talks about the trials and tribulations of the 2017, while Foxx came to prominence in the 1990s and early 2000s — the experiences that Floyd goes through are not atypical of many famous black men who have tried to make their livings as comedians.
In an interview with Variety, Foxx explained that "Floyd is going to start this incredible journey to how he can become mainstream famous and at the same time hold onto himself," which is similar to Floyd portrayer Jay Pharoah's own struggles in the industry. While SNL is a launching pad for many comedians, Pharoah claimed in an interview on Hot97 that "[SNL] put people into boxes. And they want you do what they expect you to do. And I'm fiery. I'm not a yes n*****." (Bustle previously reached out to NBC about Pharoah's leaving SNL and was told that the show does not comment on cast departures.)
While Pharoah wasn't willing to compromise, White Famous pays tribute to the many black comics who have been put in the same impossible situation. Foxx spoke to this in his Variety interview, pointing out that "in the first episode there's a moment with a dress and there's always that question of whether a comic should wear a dress and is it selling out if they wear a dress? It's a tip of the hat to all the comics that have to deal with that." The trope of black men wearing dresses as comedic fodder has been seen throughout entertainment history, from Eddie Murphy to Martin Lawrence and Tyler Perry. Black men dressing in women's clothes for humorous purposes just seems to be one of the many steps that are expected of them to become "white famous."
In an interview with Backstage, Pharoah explained that he related to Floyd's struggle — wanting to break through to a larger audience but not wanting to compromise one's self. "Being on the chitlin circuit, being a hot underground comic and trying to cross over, I know how that feels," he explained. "Floyd doesn't feel like he has to compromise himself ... Me neither. Anything you don't feel comfortable with, you don't gotta do it." Pharoah seems to be optimistic that, although other black comedians may have had to compromise their own beliefs to find worldwide success, that the time is coming where black artists will rightfully be accepted for who they already are.
White Famous isn't inspired by the story of any one comedian, but is inspired by many different stories about what happens when someone tries to reach for success in a close-minded world. Floyd is a fictional character, but serves as a representative for Pharaoh, Foxx, and the many black male comedians that have come before them. And, his story couldn't be more important in this day and age.