Ginnifer Goodwin's Vocals Shine In The 'OUAT' Musical Episode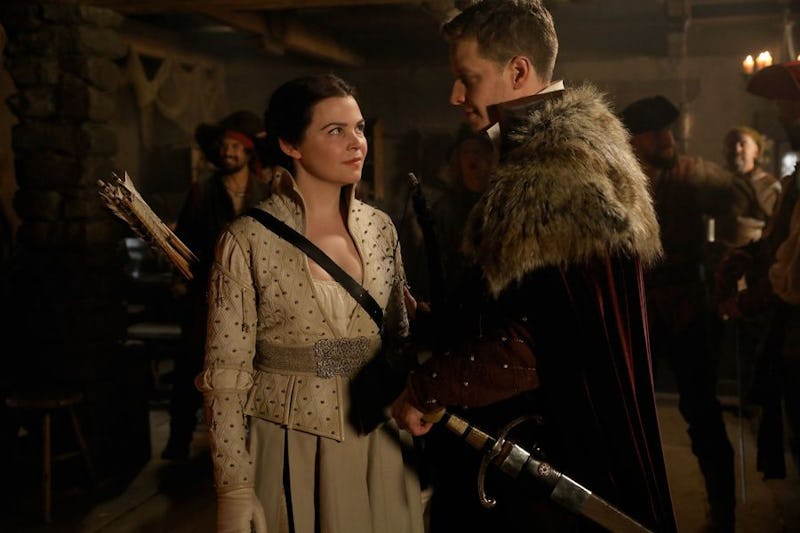 Jack Rowand/ABC
The Once Upon a Time musical episode (and the Hook/Emma wedding!) is finally on its way, and the characters will be belting out their feelings in multiple original musical numbers. But are the cast members, like Ginnifer Goodwin, really singing in Once Upon a Time's musical episode? Get excited, because yes, all of the cast members whose characters will be affected by the magical wish that makes the characters start to sing will be using their real voices, and that includes Goodwin. It makes sense that Snow will be singing, because it's her wish to protect Emma that creates the singing enchantment across Storybrooke.
According to the official list of eight songs that will be in the episode, "The Song in Your Heart" will feature Goodwin's original vocal performance in four tracks: "Powerful Heart," "The Queen Sings," "Charmings Vs. Evil Queen," and "A Happy Beginning." Co-showrunner Adam Horowitz explained to Entertainment Weekly how "Powerful Heart," Snow & Charming's duet, will stay true to their characters. "In the same respect, when we see Snow and Charming's song, there's a duet and a true love element to it. Through all of them, we try to have the songs and the style of the songs tie into who the characters are and what they're going through.
And while Snow will play a big role in the episode and in the music, Ginnifer Goodwin wasn't particularly experienced when it comes to singing onscreen. Ginnifer Goodwin & Josh Dallas tell TVGuide that they had to "audition" for their parts... just so the music could be tailored specifically to their vocal ranges. "They did say, 'You're going to do a musical episode, how do you feel about it?'" Goodwin explains. "And I said, 'If you put me in the background with jazz hands, I will serve the story very well.' But that's not what happened."
Co-showrunner Edward Kitsis told EW that Goodwin is just being modest about her abilities. "I'll be honest, about a month before, Ginny [Goodwin] kept saying, "Oh, I can't sing, I can't sing," and then when we heard her voice, we were like, "Why did you lie to us?" ... she kept saying she couldn't sing, and then when we heard her, it was phenomenal."
Goodwin told to TVGuide, "No one had ever heard us. I mean I had done a little bit of singing for animation," like the voiceover performance she gave on Sofia the First.
Experienced or novice, it seems Goodwin, along with the rest of the Once Upon a Time cast, is ready to jump into the musical crossover and has some pretty impressive singing abilities.