Tony Nappo Says There Was "No Cheating" When It Came To Playing His 'Bad Blood' Character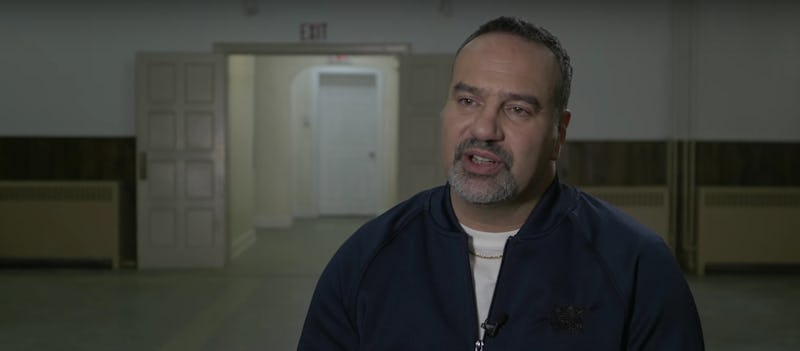 Screenshot/Youtube
Bad Blood mixes truth and fiction to tell the story of Vito Rizzuto, the "Teflon Don" who held a great deal of power in the Montreal criminal underworld for a significant portion of the 21st century. While the show's central character — Vito Rizzuto — is directly inspired by his real-life counterpart, several of the important figures in the Rizzuto crime family are actually fictional representations of real people. This includes everyone from right-hand man Declan to lowly solider Gio, played by Tony Nappo. While Bad Blood's Gio is not be a real person, it's possible that Gio is filling in for various soldiers in the Rizzuto family and telling a variety of stories about lower-level Rizzuto operatives through that character.
While there's only one boss to the Rizzuto crime family, Vito himself, the family, like many organized crime organizations, has a variety of soldiers, a position that can be thought of as a manager, overseeing the duties of associates while also being willing and able to get their own hands dirty with grunt work. With a crime family as large as the Rizzuto family was at their peak, it's likely that every instance in which Gio is seen on screen, it's representative of something that one of many soldiers did. Of course, it's also possibly that all of Gio's actions are fictionalized, such is the case when fictionalizing a true story as Bad Blood does with Business or Blood: Mafia Boss Vito Rizzuto's Last War by Peter Edwards and Antonio Nicaso.
While Gio isn't based off of a real person, the fictitious role still provided a great deal of challenge for Nappo. In an interview with EBoss Canada, Nappo said that of his many film roles, the most difficult role of his life was that of Gio. Nappo explains that Gio "mostly observed and didn't say much," meaning that a great deal of Gio's emotional experience of being in the Rizzuto family had to be communicated without words — a challenge for any actor who, like Nappo, relies on "usual tricks of ad libbing or sneaking stuff in that I knew would make the audience like the guy." In short, "There was no cheating," he said, when it came to playing Gio.
While Nappo may not be a household name in America, the role of Gio comes after years of working on a variety of projects in Canada, including the CBC drama Shoot The Messenger and the Teletoon animated series Fugget About It, where he voiced Italian mobster Jimmy Falcone to comedic effect. Nappo has played a great deal of criminals and gangsters of Italian heritage, with roles ranging from "Enzo" in The Uncles to "Uncle Nicky Pollina" in Homie Spumoni listed across his IMDB page, suggesting that while Gio is entirely within Nappo's wheelhouse, it appears that the import of the character provides an extra challenge for the actor.
Gio may not be a real person, but Nappo's performance on Bad Blood makes him a perfect stand-in for the many soldiers that acted out the events that Gio is inspired by.