'Snowfall's Mexican Wrestler Will Find Family In The LA Drug Scene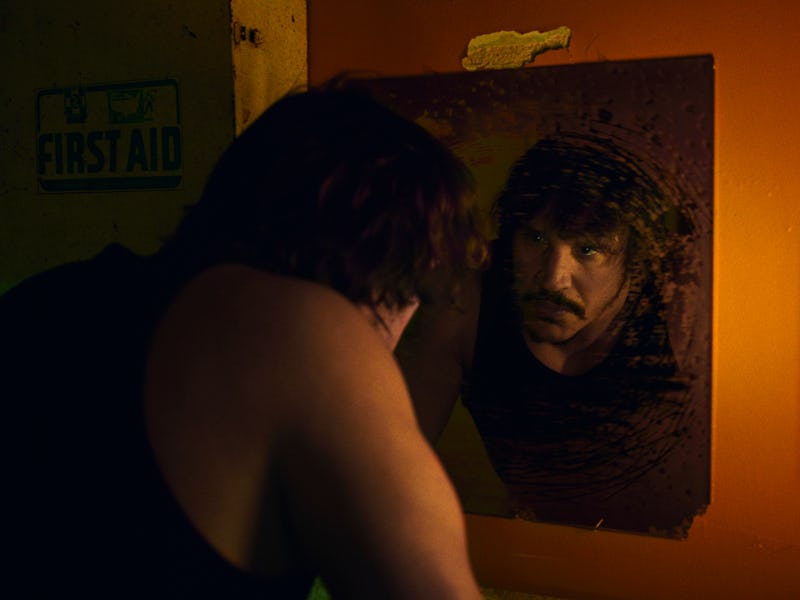 Matthias Clamer/FX
FX has proven to have a knack for producing gritty, hard-hitting dramas that tackle real-life events and fictionalized versions of the past. The network's latest, co-created by Boyz N The Hood auteur John Singleton, is Snowfall, which tells the story of how crack cocaine became an epidemic in Los Angeles and beyond. But how much of the show is based on real, individual experiences? Snowfall is fleshed out with some compelling supporting characters, so is Gustavo Zapata from Snowfall a real person?
The synopsis from the FX website describes Snowfall pretty succinctly. It reads, "Los Angeles. 1983. A storm is coming and its name is crack. Snowfall is a one-hour drama set against the infancy of the crack cocaine epidemic and its ultimate radical impact on the culture as we know it." Snowfall follows an ensemble of characters who are on a "violent collision course," including Franklin Saint, a young drug dealer; Teddy McDonald, a CIA operative "running from a dark past;" Lucia Villanueva, the daughter of a Mexican crime lord; and Gustavo "El Oso" Zapata, "a Mexican wrestler caught up in a power struggle within a crime family." If the name Gustavo Zapata rings a bell, you may be a sports fan. Gustavo Zapata is a retired Argentinean soccer player. He played as a midfielder on the Argentine national team in the 1991 Copa América, the 1993 Copa América, and the 1998 FIFA World Cup.
Clearly, though, the Snowfall character is not based on that Gustavo Zapata, who is not Mexican, from Los Angeles, or a wrestler. In doing some Internet research, I found that the only search results that come up for the terms "Gustavo Zapata" and "wrestler" together are related to Snowfall and its casting. Therefore, I think it's safe to say that this Gustavo is a completely fictional persona. Described as "an outsider since birth," Snowfall's Gustavo will "finally find a place in a Los Angeles crime family that values his brutal ways." He's being played by Spanish actor Sergio Peris-Mencheta, recently seen in films like Life Itself with Annette Bening and Oscar Isaac and Love Ranch with Helen Mirren.
So, what role will Gustavo play in Snowfall? While it's impossible to say for sure this early, my guess is that he'll be an enforcer of sorts for the aforementioned crime family. He's a wrestler, and he's probably all muscle. But I'm sure he'll get in too deep, want out, and be unable to leave — that seems like appropriate fare for a show like this.
I appreciate that Snowfall is telling the story of crack cocaine from all sides — the street, the supplier, and everyone in between. It will be interesting to see how far the show goes, and just how far Gustavo will go to make his dreams of belonging come true.