Why Gypsy Rose Blanchard's Prison Life Is So Unique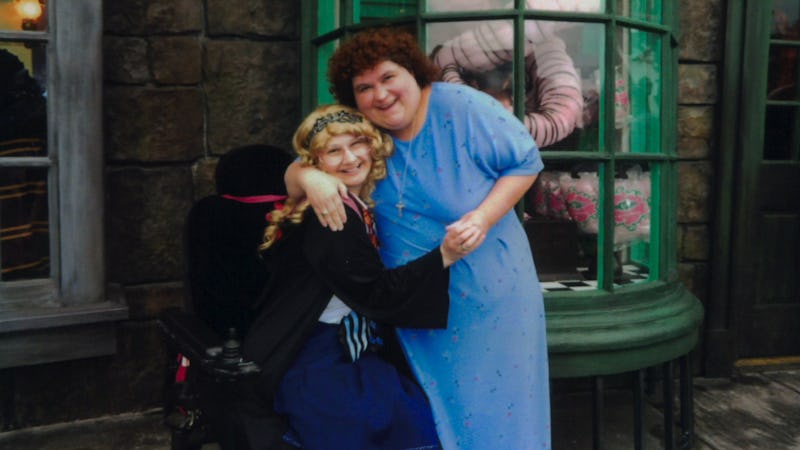 Courtesy Investigation Discovery
It's one of the strangest murder cases you'll ever hear about. According to People magazine, Dee Dee Blanchard was stabbed to death in 2015, and her daughter, Gypsy Rose Blanchard, is now in jail for the crime. After Dee Dee's death, it was revealed that her daughter's many illnesses had been fabricated, and doctors now believe Dee Dee suffered from Munchausen by proxy, according to ABC News.
The outlet reported that Munchausen by proxy is when someone invents or causes illness in their child to receive medical attention. Gypsy Rose explained to ABC News why she believes her mother lied about her medical conditions. "She was constantly seeking attention for herself. Because she didn't feel loved. So let's make this baby girl sick so it forever needs you," she said. Gypsy Rose told ABC News that she grew up believing that she suffered from leukemia, asthma, muscular dystrophy, and seizures, among other ailments.
Now, People magazine reports that Gypsy Rose in prison. She's serving out a 10-year sentence after pleading guilty to second-degree murder for her role in Dee Dee's death. But where prison is restricting for most people, Gypsy Rose's step-mom Kristy Blanchard told the Springfield News-Leader that her step-daughter is doing well behind bars.
"She is thriving," Kristy said. "There has been no long-term side effects from all the medication her mom had given her. She has a clean bill of health, thank god — and I really only think what it has done was stunt her growth."
Kristy added, "Despite everything, she still tells me that she's happier now than with her mom. And that if she had a choice to either be in jail, or back with her mom, she would rather be in jail."
Gypsy Rose echoed similar sentiments to ABC News. "The prison that I was living in before, with my mom — I couldn't walk. I couldn't eat. I couldn't have friends," Gypsy Rose said. "I feel like I'm freer in prison than living with my mom. I guess now I'm allowed to just live like a normal woman." According to Missouri inmate records, Gypsy Rose is now 27 years old. She resides in the Chillicothe Correctional Center in Chillicothe, Missouri and her most recent mug shot, from 2017, shows a completely different person than the sickly girl she grew up thinking she was.
HBO
Missouri Department Of Corrections
On Tuesday, Nov. 6 at 9 p.m. ET, Investigation Discovery is airing a two-hour special called Gypsy's Revenge chronicling this complicated case. You can tune in to see how Gypsy Rose is doing in 2018, and what she has planned next.
According to Rolling Stone, she's eligible for parole in 2024 when she will be 32. After a life in a prison of her mother's making, and then in actual prison, Gypsy Rose said that being released will give her a chance to start fresh. According to Rolling Stone, she said in the HBO documentary Mommy Dead and Dearest, "I get to start over. I'm newly born."
People magazine reported that her father and step-mother's house is waiting for her when she gets out. "She'll always have a home here … We'll put her on the right path," her dad told the magazine. But, for now, she'll continue doing her time and feeling like one of the only free people in prison.