Halsey Just Made A MAJOR Change To Her Hair & It's Wickedly Goth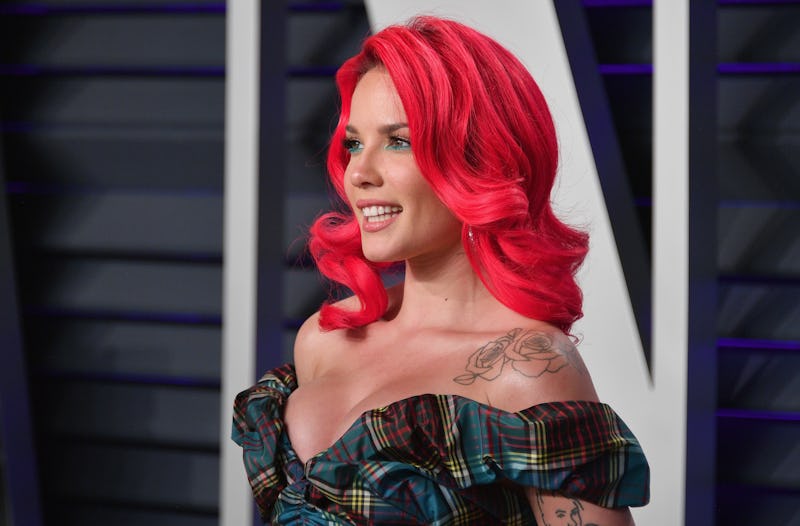 Dia Dipasupil/Getty Images Entertainment/Getty Images
Halsey has become a hair chameleon on the same level as her fellow pop stars Rihanna and Lady Gaga. The singer constantly switches up her coif cut and color. Halsey's latest hair change finds her with jet black strands. Basically, Halsey has just gone from bubblegum pink to straight goth.
The singer posted a video on her personal Instagram while rocking two inky black space buns on either side of her head. The style was such a late '90s move, too. Halsey simply captioned the clip with the phrase "paint it black." That's a Rolling Stones song and a My Chemical Romance lyric. However, in this case, it was likely a clever reference to Halsey's new hue.
Halsey's black hair does appear to be the work of dye. But did she go through some semi-permanent processing or is it a temporary, wash out color? Is it even her real hair? There are so many questions and so few answers, and it's hard to keep up. That's because as recently as a few days ago, Halsey was rocking the same side buns but with bangs and in a hot pink hue. She had a pink pixie back in February yet rocked more length in March, which may have been the work of a wig or an assist from extensions.
Halsey also has enough length to fashion her hair into space buns. Therefore, this 'do could very well be extensions that she dyed dark or it could be dark new extensions. It's quite the mane mystery.
Since Halsey has had cotton candy and hot pink locks over the past few months, this is quite a drastic shift to stark black. But she totally slays this look. Notice the mismatched scrunchies, which is also a totally '90s and aughts signature.
Fans were excited about both the style and the shade and they were quick to share their excitement in the comments of the post. One user enthused, "I missed your longer black hair. She's back OMG." Another posted, "These space buns are a look, lil punk princess." Another stated, "You are thriving and I am here for it." Halsey certainly channeled inspiration from a variety of sources and decades with this look, from Princess Leia to Gwen Stefani.
In case you missed it, here's Halsey's powder pink hair with dark roots from the iHeartRadio Music Awards in March 2019.
Halsey was totally giving off Ariel from The Little Mermaid vibes at the 2019 Vanity Fair Oscar party in February, thanks to her electric pink locks.
She had a punky pink pixie when she hosted and performed on Saturday Night Live back in February of this year.
Halsey crushed blonde hair and bangs in January 2019. As you can see, she has changed up her length, style, and shade several times in the span of a few months.
It's TBD how long Halsey will remain committed to her black hair and her space buns. What is clear is that she is fearless when it comes to her strands and will try anything.