'I'm Dying Up Here' Creates New Stories From Real Inspiration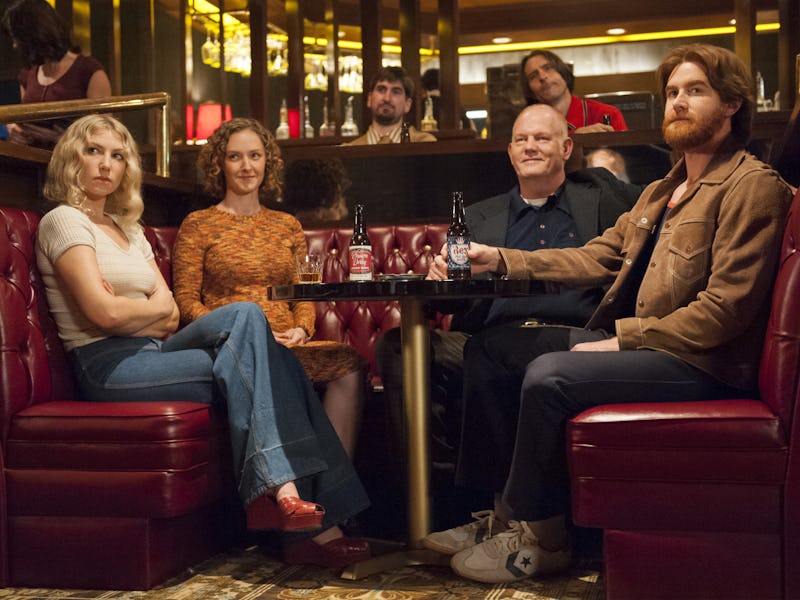 Showtime's latest series is all about the drama of comedy — it follows a variety of up-and-coming stand-up comedians in the 1970s trying to make it big in Hollywood. Stand-up has become one of the most reliable ways for budding writers and performers to ensure that their material is performed, and Showtime's I'm Dying Up Here hopes to capture the spirit, the magic, and the tribulations of being a struggling artist in Los Angeles. It's an very specific world to try and capture on television, but the writers aren't just taking wild guesses at what that world may have been like. While I'm Dying Up Here isn't based on a true story directly, it does take inspiration from the real history of stand-up to tell its own stories.
The show is the first major executive producer project from Jim Carrey, and it follows the stand-up comedy world of mid-'70s Los Angeles, specifically the Comedy Store, a famous L.A. comedy club that saw some of the world's biggest comedians find their start. Carrey told The LA Times that "nowhere else you could go where you would see Richard Pryor and Robin Williams and Eddie Murphy and everybody who's anybody showing up and baring their soul. It was phenomenal." While the world of the show is very real, it's combining many various stories and creating fictional comedians to bring a real part of history to life.
Aside from having Carrey as an executive producer, the show also has it's own source material to draw from. The book I'm Dying Up Here: Heartbreak and High Times in Stand-Up Comedy's Golden Era by William Knoedelseder, who used to write about the world of stand-up comedy for the Los Angeles Times, serves as the main inspiration for the television series. The book chronicles a variety of comics who made a home for themselves in Los Angeles hoping to make it big, land a spot on the Tonight Show, and form a steady career making jokes.
Despite the deep well of true stories to pull from, the writers of the show use them not as a guideline for their own stories, but more as a loose foundation to build their own stories on top of. Instead of doing a direct adaptation with Melissa Leo playing Comedy Store owner Mitzi Shore, who was crucial in helping comedians like Jim Carrey, Robin Williams, and Jay Leno, Leo plays a character named Goldie running a comedy club entirely different from the Comedy Store. By not telling a true story, but merely a show based inspired by one, the show allows itself using new, interesting stories instead of re-telling the actual events.
While comedy historians may be disappointed by the liberties taken by the show in telling it's own story, those unfamiliar with the history of comedy will get a vivid view at not just what it means to have been a comic in the 1970s, but what it means to be a struggling comic at any time since the advent of stand-up. The events of I'm Dying Up Here may not be real, but the show is more interested in making sure they feel real.