Confederate Monuments Are Legally Protected In Some States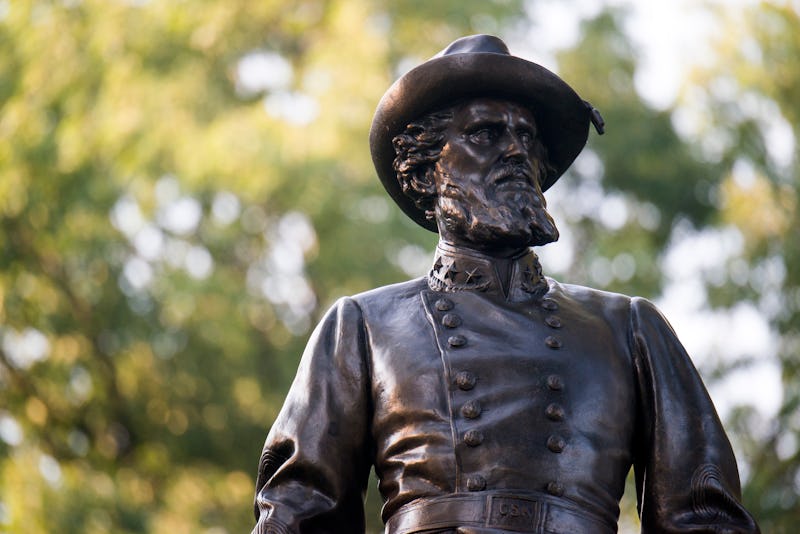 Ty Wright/Getty Images News/Getty Images
Last Saturday thousands of white supremacists marched in Charlottesville, VA to protest the city's decision to remove of a statue of Confederate Gen. Robert E. Lee. During the rally, groups of anti-racist counter-protesters gathered to stand against the crowds of white supremacists who marched with torches chanting "white lives matter" and "the Jews will not replace us." In the wake of the Unite The Right rally, several confederate statues have been toppled by activists in the past week. But is it legal to remove Confederate monuments?
The answer is not a simple yes or no, as it shifts according to state. While there is no overarching federal law making it illegal to remove Confederate monuments, many (primarily) Southern states have created state laws protecting the statues. So basically, it depends on the local politics and the support of state and city leadership.
On Tuesday night, just before dawn, the city of Baltimore removed three confederate statues. After consulting other city officials about the move, Mayor Catherine Pugh ordered the statues to be quietly removed with cranes overnight. The three statues honored the Confederate Generals Robert E. Lee and Stonewall Jackson, as well as the author of the Supreme Court's Dred Scott opinion, Roger B. Taney.
"It's done," Pugh told The Baltimore Sun on Wednesday, "They needed to come down. My concern is for the safety and security of our people. We moved as quickly as we could."
While the case of Baltimore represents a legal and unpunished removal of Confederate monuments, protesters and constituents in other states face legal barriers.
Another recent case of removing Confederate monuments in North Carolina ended vastly differently.
On Monday night a group of activists toppled a statue of an armed Confederate soldier outside the Durham County Courthouse. As of Wednesday, seven have been arrested for toppling the statue with identical charges. The seven activists face charges of participation in a riot with property damage in excess of $1,500 and inciting others to riot, and disorderly conduct by injury to a statue and damage to property.
Two years ago, the North Carolina General Assembly passed a law that barred people from removing "objects of remembrance" on public property. North Carolina is far from alone when it comes to punishing and blocking the removal of confederate monuments.
In South Carolina, at least two thirds of legislatures must vote to remove a monument before it can be legally removed. Similarly, in Tennessee there is a state historical commission that oversees the placement and removal of monuments.
However, this is not the case in all states. In the past week state officials across the country have made moves to remove Confederate monuments as a symbolic move against white supremacy. According to The New York Magazine, the list of Confederate monuments removed across the country includes statues in Wisconsin, Ohio, Maryland, California, New York, Florida, Missouri, and Louisiana. Some of these were removed by protesters, while others were ordered by officials.
So, in answer to the question of whether it's legal to remove a confederate monument? It completely depends on the state, and perhaps more importantly, whether the state chooses to press charges after the fact.