FOX's New Show Has A Very Real Inspiration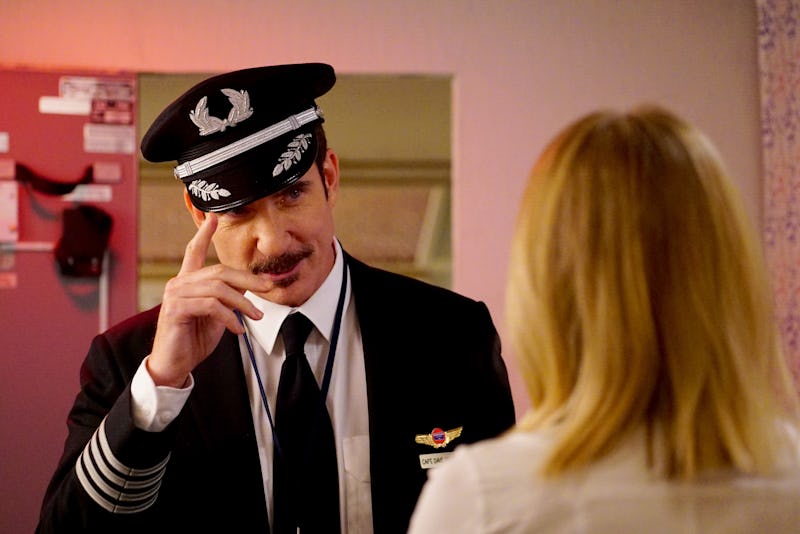 FOX
Perhaps after seeing all your family during the holiday season what you may need now is a vacation from your vacation. FOX's new series, LA to Vegas gives viewers a fictional trip, but is Jackpot Airlines on LA to Vegas real? It would be a thrifty lifesaver if so.
Premiering on Jan. 2, LA to Vegas is a scripted, workplace comedy series centered around an airline crew whose route is, as the title suggests, one that flies between these two cities, with an expanse of passengers that go along for the ride. This flight crew takes a weekly trip from Los Angeles to Las Vegas ferrying passengers who want to gamble, see shows, shop, and enjoy the decidedly adult-oriented version of Las Vegas. According to a press release from FOX, its producers include Will Ferrell, Adam McKay, Lon Zimmet, and Steve Levitan.
But while the airline itself isn't real, there is a real plane that's been emblazoned with the show's logo and the fictional airline's trademark style. According to World Airline News, Miami Air has allowed its leased Boeing 737 to serve as advertising and as a prop for the show. It also served as the location for the premiere of the series, as well.
According to a writer for Electronic Urban Report, the show's premiere happened at 30,000 feet in that official plane, pictured above. FOX, also reportedly took over 50 people on that season premiere LA to Vegas flight. Once they landed, the group went onto gamble and party at none other than the iconic Bellagio Hotel and Casino with the cast of the show. Of course, we don't know how much, if anything, they won — as the saying goes, "what happens in Vegas, stays in Vegas" — but the passengers all returned back to LAX by the end of the day.
And while real world airlines may struggle to deal with customers on social media, the official Twitter account for LA to Vegas had some fun this holiday season. The account has been responding to real world air travel complaints in the raunchy, comical tone of the show. For example, when one Twitter user lamented about a crying baby on a flight, the show's Twitter responded by saying, "Your only option is to drink until you no longer hear the baby crying."
According to FOX Television Group CMO Shannon Ryan, that social media strategy is by design. In speaking to Adweek, Ryan said that the show "leaned into" its unique identity, talking to people in the cynical and humorous way of the show. "It started at Thanksgiving and is ongoing through the premiere and beyond and we're really engaging with people who are frustrated by holiday travel," she said. "We worked with our in-house social team, as well as the writers, to come up with some great lines to hit back travelers with some funny lines in the tone of the show."
Just because you can't fly Jackpot Airlines doesn't mean you can't fly to Jackpot though. If reading about the prospect of a group of would-be gamblers flying together makes you want to try your own luck, you could always gamble in the real-world town of Jackpot. Jackpot is a small town in Nevada, a bit of a miniature Las Vegas. According to the 2010 census, it's only home to about 1,200 people but it does have its own regional airport and a fair share of casinos and hotels. While it is unclear if Jackpot Airlines is named after the small town, it would not be the first time that the town of Jackpot played a part in a major television series. The town was featured in a CSI: Crime Scene Investigation episode back in 2003.
So, while the airline isn't real, the fun certainly is. And, perhaps fans not able to take their own Vegas getaway will enjoy living vicariously though the characters in the series. That way, what happens in Vegas stays in the show.